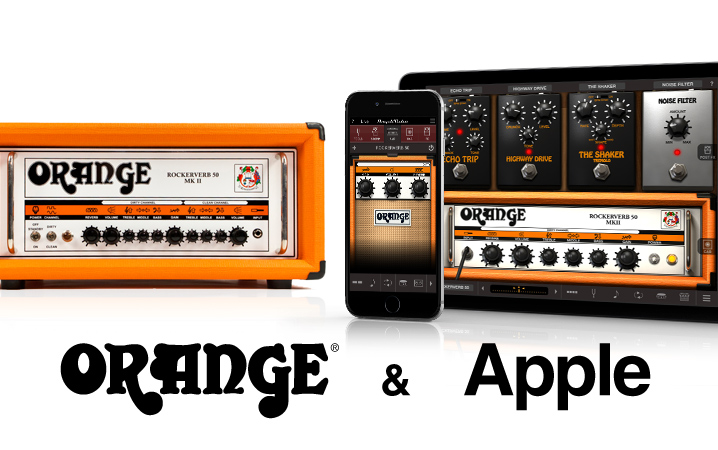 AmpliTube Orange for iPhone and iPad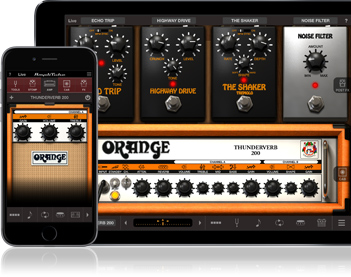 Real-time mobile Orange amps and effects
Now, no matter where you go, you can take your Orange rig with you! With AmpliTube Orange® for iPhone and iPad, you'll never be without the unmistakable classic British tone that only Orange amps deliver. From sparklingly clean to huge overdriven power tones, AmpliTube Orange will delight even the most discerning guitar player.
AmpliTube Orange is a complete, full-featured guitar/bass amp and effects rig for your iPhone and iPad that includes a single track (expandable to 8 tracks) recorder for capturing your performances on the go. It features intuitive tools, tones and controls that will inspire you beyond your wildest expectations.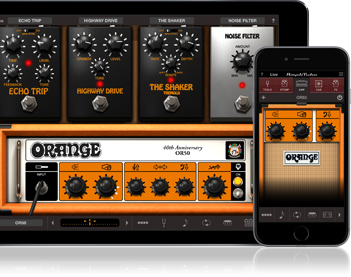 Based upon the extremely successful desktop computer version, AmpliTube Orange is designed to be familiar for guitar and bass players.
It lets you drag and drop pieces of virtual gear to create custom guitar and bass rigs comprised of 6 stompbox effects (4 pre-amp and 2 post), an amplifier and a speaker cabinet with up to 2 positionable microphones.
Plus, AmpliTube Orange comes with a recording section with up to 8 tracks of layering.

Orange Legacy
Legendary guitarists and bass players the caliber of Led Zeppelin's Jimmy Page and Rush's Geddy Lee have been proud users of Orange amps on timeless classic albums.
Now the Orange heritage is carried on by younger artists and bands like Mastodon or Slipknot lending testimony to the vast array of sounds these models are able to reproduce, from classic and vintage tones to extreme and modern.
Orange Amps
AmpliTube Orange is loaded with Orange Amplifiers — 5 Guitar Amps and 1 bass amp. The amps are perfectly matched with component speaker cabinets, but you can also mix and match heads and cabinets for new, unheard sounds and textures.
The Tone Orchard — Amps included in AmpliTube Orange
If you love the sound of Orange Amps (and who doesn't?), you'll love the sound of AmpliTube Orange. It includes 6 amps — 5 guitar heads, 1 bass head and matching cabinets. Included are the OR50, Rockerverb 50, Thunderverb 200, the Tiny Terror, the AD 30 and AD 200 Bass MK 3. Speaker cabinets include the 4x12" PPC, 1x12" PPC, 2x12" PPC, 2x12" AD30 and the 1x15" OBC.
The Stomps
In the stompbox section, you'll find some extremely cool and useful effects. These stomps are not Orange effects, but are derived from some of our best effects in AmpliTube.
Mike it in the Cab Room
You're going to have a lot of fun experimenting and exploring sonic possibilities with AmpliTube Orange. Its "Cab Room" feature gives you the keys to your very own virtual studio room that you can use to mike your speaker cabinets in 3D with up to 2 different microphones.
Now you can easily find the sweet spot for any amp/cabinet combo or try wild, new combinations for an unlimited assortment of inspiring tones.
Read more about Cab Room here.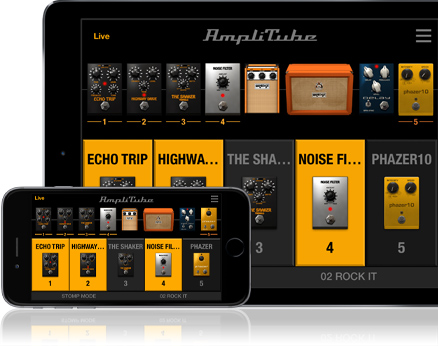 Ready for the stage
AmpliTube's new Live Mode offers all the essential information you need, at a glance and in a layout that's easy to read on-stage.
See your entire chain clearly, with visual indicators of what's on and off, or easily see and change your presets.
Live Mode activates with a touch and eliminates anything that would distract you from your performance.
You get a live-optimized interface that rivals any pedalboard, without sacrificing AmpliTube's world-class studio sound.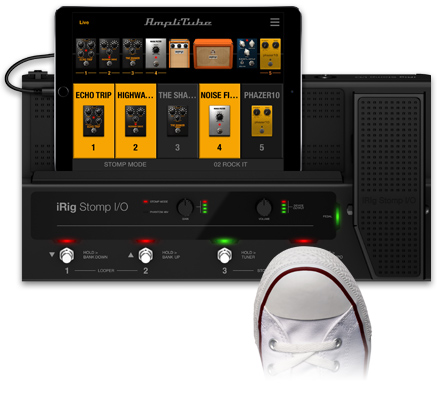 Control yourself
AmpliTube offers deep, easy to edit integration with a range of controllers. Connect iRig Stomp I/O, IK's revolutionary USB pedalboard controller and audio interface that lets you stomp effects, change presets, adjust settings and more, all with the feel of a traditional pedalboard. Or connect iRig BlueBoard and enjoy editable, wireless control over presets and effects. AmpliTube is also MIDI compatible so IK's MIDI interfaces (like iRig MIDI 2) let you connect external controllers and associate patches or parameters with just a few taps.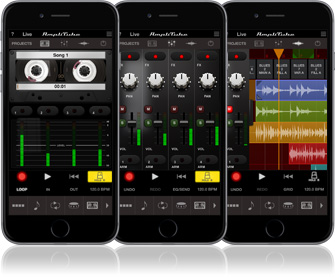 The portable professional recording studio
And you can record those inspiring tones, and even turn them into full songs, thanks to AmpliTube Orange's many recording features. It comes with a built-in recording, mixing and editing system that can be expanded to up to 8 tracks. The recording mixer gives you full track controls: mute, solo, pan, level, per-channel sends and more.
And as if that wasn't enough, AmpliTube Orange's optional Studio mode lets you harness the raw potential of DAW-style timeline waveform editing. This means that you can compose, arrange, remix, edit and produce complete songs from start to finish while on the go.
And when you're finished you can export and share your masterpieces as high-quality WAV or m4A files.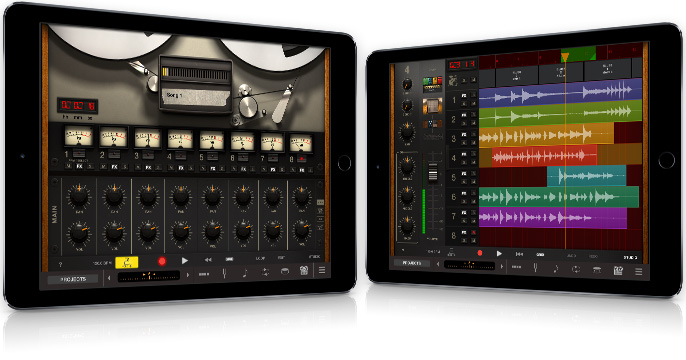 Read more about Recording Studio here.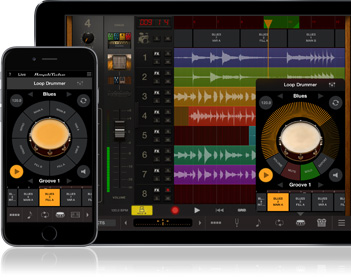 Groove man!
AmpliTube Orange has a secret weapon. It's called Loop Drummer, and it's like a drummer who always shows up, is always in the pocket and doesn't hit on your girlfriend. It's a loop-based drum module that gives you smokin' drum tracks to record, jam and practice with.
It comes with a selection of rock loops, and you can easily expand your collection thanks to its versatile library of additional Style Packs (with 64 loops in each) that cover nearly every rhythm you can imagine: Rock, Blues, Country, Pop, Funk, Punk, Metal, Electro and more. All in all, the Loop Drummer library has over 500 loops to choose from!
Read more about Loop Drummer here.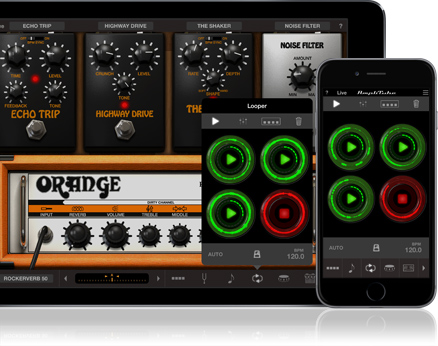 A truly super looper
Like to get loopy? AmpliTube Orange's optional Looper feature gives you a convenient way to record and play up to 4 loops at a time. And you can export your creations using its handy export function. It's the perfect thing for when you want to experiment and come up with cool new ideas. Now you can create your own accompaniment and play with all sorts of different melodies, leads and chord progressions on the fly, and at the touch of a button.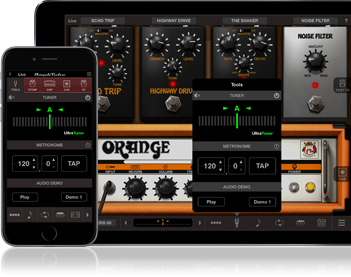 The most precise tuner for iOS ever
AmpliTube Orange comes with a pretty accurate tuner and metronome. But you can augment this with IK's UltraTuner, the most precise tuner for iOS ever. It's accurate down to 1/100th of a cent (that's 10 times more accurate than mechanical strobe tuners, the hardware "gold standard" equivalent). It also features two modes that let you switch depending on whether you need an extremely visible tuner for low-light stage use or a hyper-accurate pitch-over-time display for more complex tuning scenarios: It's great for tuning all kinds of instruments and even for vocal and instrument pitch training and practice.
Read more about UltraTuner here.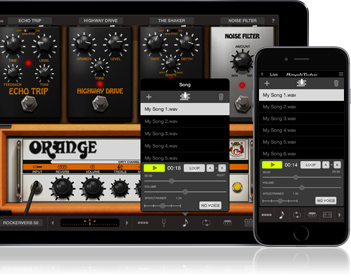 Learn your favorite riffs
AmpliTube Orange is also a great tool for improving your chops. It has a slick song player section that lets you import songs and backing tracks. You get full control over these tracks, so you can speed them up or slow them down — all without changing pitch. It's perfect for when you want to learn complex riffs and licks. It also features a "NO VOICE" mid-range cancelling feature that lets you turn off the lead vocal or guitar solo from an existing track so that you can step up and take center stage.
Get Connected
Connections are important. Connections are creative. And with AmpliTube Orange you can take full advantage of iOS' app-to-app routing options. You can use AmpliTube Orange with Inter-App Audio to process and add effects to the sound of all your favorite mobile music creation apps. This means that AmpliTube Orange's realistic amplifiers, stompbox effects and other cool pieces of gear can be used with things like Apple GarageBand.
AmpliTube is also fully compatible with Audiobus (a third party app, sold separately). This lets you route audio through up to three apps. With it, you can use AmpliTube Orange as an effects processor for an instrument or for audio coming from another app. You can also use AmpliTube Orange to process and/or record the audio coming from other apps in the chain.
---
Features
Real-time Orange amp and effects guitar/bass suite for iPhone and iPad
Comes with 4 stompboxes, 6 amps, 6 cabinets and 2 mics
6 Classic and modern officially certified Orange guitar amps: OR50, Rockerverb 50, Thunderverb 200, Tiny Terror, AD 30 and the AD 200 MK 3 Bass Amp
Make your dream rig from 6 stompbox effects (4 pre amp, 2 post), 1 amp, 1 cabinet and 2 positionable mics
Utilizes the same great-sounding DSP as AmpliTube Custom Shop for OS X and PC
"Cab Room" for 3D miking of cabinets for the utmost in sonic realism
Built-in recorder (expandable to 8 tracks via in-app purchase)
Advanced DAW-style editing (via in-app purchase)
Loop Drummer drum module, a loop-based programmable drum module (additional Style Packs available via in-app purchase)
UltraTuner, the most precise tuner for iOS (normally a standalone app), can be installed via in-app purchase
Looper, a powerful 4-track looping tool (available via in-app purchase)
Export high quality audio (WAV/m4A) via email, FTP, iTunes and direct to SoundCloud
Import and play songs for use as backing tracks directly from your device library or computer
NO VOICE feature lets you effectively remove the led vocal or guitar solo
Powerful management system for presets, gear browsing and other navigation
Includes a tuner and metronome
Compatible with Audiobus
Compatible with Apple's InterApp Audio feature
MIDI Controllable
Standalone app or available as in-app bundle in AmpliTube for iPhone and iPad
Native support for iRig BlueBoard
Use iCloud to transfer in-app purchases between all AmpliTube versions
What's new
Seamless integration with iRig Stomp I/O and iRig BlueBoard for easy on-stage control
Expanded 2-track recorder available free
DAW-style Studio section available via in-app purchase
"Cab Room" feature that allows 3D miking of cabinets with up to two mics (available via in-app purchase)
16 high-end studio mics now available via in-app purchase
Looper feature (available via in-app purchase)
Loop drummer module plays in sync with the recorder
UltraTuner available for in-app purchase
Added drag and drop stompbox FX placement
You can now place 2 FX after the amp for even more sonic possibilities
Complete project compatibility between iPhone and iPad AmpliTube versions
---
IMPORTANT: if you own AmpliTube for iPhone or iPad and you want to add all of the components of AmpliTube Orange® into it, we advise you NOT to purchase the AmpliTube Orange® app but instead add the AmpliTube Orange® amps and effects all together or single a-la-carte gear directly in AmpliTube through in-app purchase.
You can also use iCloud to transfer your in-app gear purchases between the main versions of AmpliTube.
Use our line of iRig guitar and bass interfaces and MIDI controllers to connect your instrument to your iPhone, iPad, Mac and PC in order to control AmpliTube.

Apps