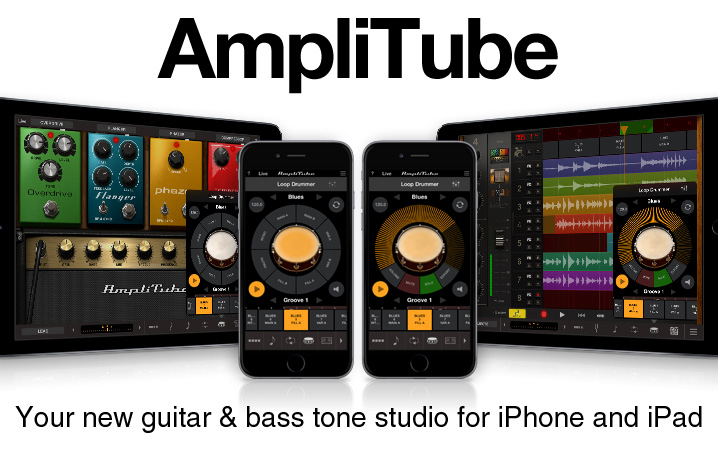 Your personal session drummer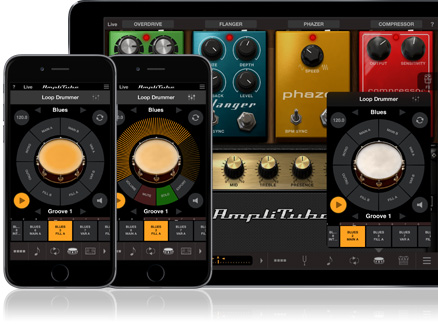 Inside AmpliTube, you'll find a powerful loop-based rhythm module called Loop Drummer that lets you quickly create great sounding drum tracks.
Loop Drummer can play on its own or act as the drum section for AmpliTube's built-in recorder. It automatically syncs to the recorder, so when you hit play or record, Loop Drummer plays along in perfect time. But Loop Drummer offers way more than just loops that play over and over, its unique Remix feature intelligently generates full-length drum parts with intros, beats, fills and endings. Or, if you prefer, you can also use Loop Drummer to build your own patterns. It's even got its own mix window.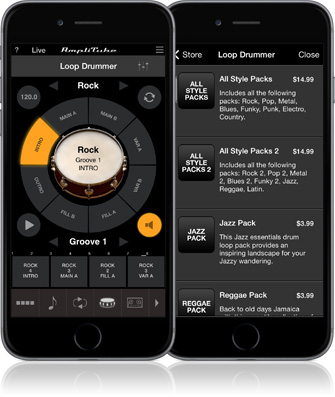 The loops
Loop Drummer comes with a collection of rock loops, but you can expand it easily and inexpensively via in-app purchase. We offer Style Packs that contain 64 loops each, and give you eight different song-construction kits based around a core drumbeat. For each you get all the song parts you'll need to put an awesome, and full-length drum track together.
The Style Packs come in all major genres including Rock, Blues, Country, Pop, Funk, Punk, Metal, Electro, Jazz, Reggae and more. You can buy them individually or purchase them in pre-selected groups. All told, there are over 1000 loops in the Loop Drummer collection!
Instant drums
Press the Remix button and Loop Drummer will instantly construct a full drum track for you just like a producer would. Each time you press this button, you'll get a different variation. It's a great feature that offers an endless source of inspiration that will take your jam, practice and composition sessions to the next level.

And if you're a "hands-on" kind of musician, don't worry. You can also build drum tracks yourself by auditioning loops in Loop Drummer's browser. Just drag and drop the loops you like onto the timeline. If you want to tweak a part, it's easy. You can your loops, add crashes, tap in new tempos and a whole lot more — it's all just a touch away.
All together now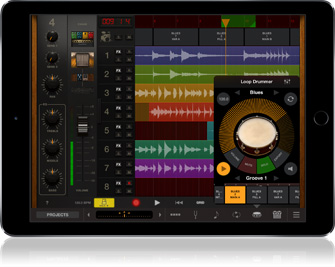 One of the most impressive features about Loop Drummer is how it works in tandem with AmpliTube's recorder. Hit play or record on the recorder, and Loop Drummer will plays along in perfect sync. And if you have the multitrack option for the recorder (available as an in-app purchase), you'll have all the tools you need to put together entire productions, including authentic-sounding drum parts.
Another great thing: Loop Drummer's audio doesn't take up any tracks on the recorder. It has its own separate audio channel that's combined automatically with the recorder's output. To adjust the drum level in the mix, all you have to do is adjust Loop Drummer's volume control.
Export options
You can also use your favorite Loop Drummer arrangements in other applications. It's easy: Just press the Export button in Mix Mode to bring up the "Export Sequence" screen. This lets you send you send your sequence to the iOS Clipboard or to the File Sharing app folder (for iTunes File Sharing with your computer).
How to use Loop Drummer
Loop Drummer's interface is super simple. Choose a Style and Groove by pressing the arrows near the top and bottom of the screen respectively. Choose loops from the Ring Browser — it's the circle in the middle of the window with the snare drum in it.
The button outside the ring with the speaker icon is the Preview button. Press it. When it lights, it's activated. Now press any loop in the Ring Browser and it will play.
The Timeline at the bottom of the window is where the loops in the drum sequence go. If you're using the Remix feature, the arrangement will show up there after you press the Remix button (the circular arrows on the upper right of the screen). If you're building the arrangement manually, drag a loop from the browser into the timeline. It will now be a part of your arrangement.
To switch the arrangement of your loops just press, hold and drag. You can also add crashes on the downbeat by highlighting a chosen loop on the timeline. You can set the overall tempo by tapping the tempo button (or you can just enter a value if you want to be precise).
Press the Mix button to access the circular volume control. This also adjusts Loop Drummer's tempo and functions as a reverb send.
Features
Loop-based drum module that can be opened from inside AmpliTube
1024 loops available in a variety of musical styles
Syncs automatically with AmpliTube recorder
Remix button intelligently generates unique drum sequences from the loops in the Groove
Audio from Loop Drummer appears as a separate audio channel on the AmpiTube recorder
Loops change tempo to match Loop Drummer's tempo setting
Mixer section allows for independent drum volume adjustment and drum track soloing
Timeline-style arranging of drum parts
Set custom-length looping sections
Export drum sequences to iOS Clipboard or via File Sharing