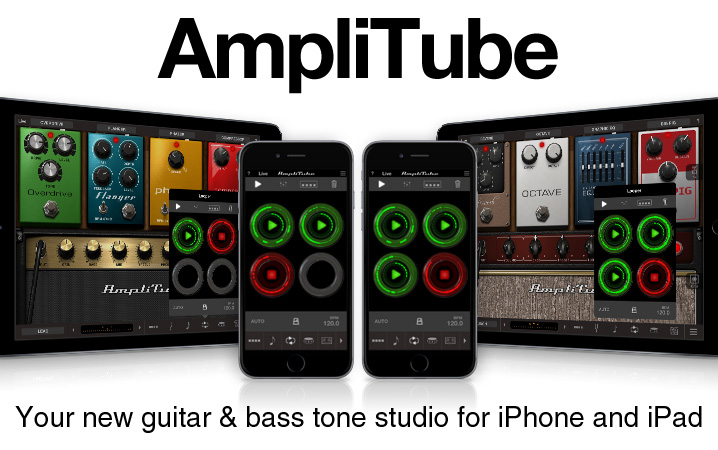 A truly super looper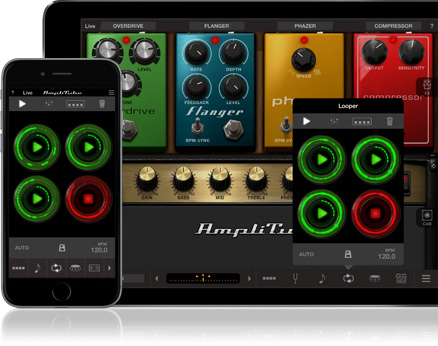 Unlock your creativity
Looper is one of the many useful tools available as an add-on for AmpliTube. As its name suggests, it gives you a quick and easy way to create up to 4 synced audio loops. Created a looped-up masterpiece? Looper lets you easily save and export your work. It's the perfect sketchpad for new ideas; it's intuitive interface that's designed for experimentation and self-accompaniment will inspire you to think in an entirely new (and loopy) musical way. Record melodic loops, leads, percussive riffs, vocals, chord progressions and more, all at the touch of a button.
As easy as 1,2,3...4
Using Looper is easy. Just set your preferred BPM and enable the metronome feature. Then tap the "rec" icon on the first loop button. From there it's 4, 3, 2, 1, go! Loop 1 will begin recording automatically, and it wont stop recording until you tap on the button again.
Super sound
And no matter when you tap to end your loop, your loops will always sound good because each loop is quantized to the nearest quarter note. Once closed, Loop 1 will continue to play, setting the stage for you to repeat the process with loops 2 through 4. Just tap the "rec" icon on the second loop to start recording the next layer, and so on. The length of your first loop determines the length of all the loops the follow.
Once you've captured your audio, you can mute and un-mute individual loops by simply tapping on the loop you want to silence with your finger. It's really that easy!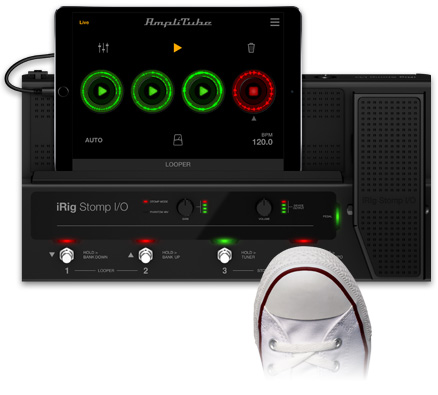 Get tricky with MIDI
Want to get tricky while performing live with your loops? That's also a piece of cake: Looper can also be controlled via iRig Stomp I/O and iRig BlueBoard (or any MIDI controller).
That means you can assign each of Looper's loop buttons to a corresponding physical button on a pedal board.
Now you can trigger loops from the floor, leaving your hands for more creative things, like playing your guitar.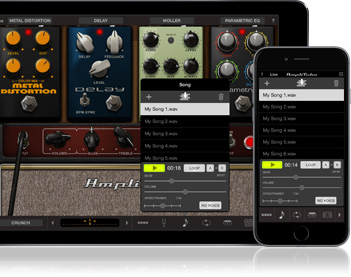 Learn your favorite riffs
AmpliTube is also a great tool for improving your chops. It has a slick song player section that lets you import songs and backing tracks. You get full control over these tracks, so you can speed them up or slow them down — all without changing pitch. It's perfect for when you want to learn complex riffs and licks. It also features a "NO VOICE" mid-range cancelling feature that lets you turn off the lead vocal or guitar solo from an existing track so that you can step up and take center stage.