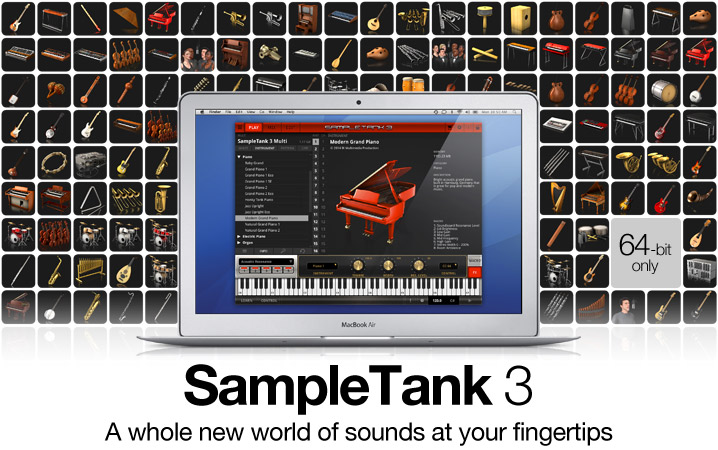 Sounds
The power of sound
The reason SampleTank has remained an industry standard after all these years is due to its superior sound quality, extensive variety and ease of use. With its easy-to-use interface, all the sounds you need are just a click away.
SampleTank 3 pushes this even further by giving you one of the widest selections of quality sounds that stretch across every possible category. Not so with competing products, which often provide just one set of instrument samples — their additional "instruments" are generally just alternate programmings of the same worn-out sounds hidden behind different effects, filters and envelopes. Instead, SampleTank 3 provides multiple sample sets in each category which then have various programming variations under each unique instrument.
This puts SampleTank 3's library — with its unparalled depth and variety — on a much higher level than any other similar instrument on the market today.
Expand your universe of sounds
Customize SampleTank 3 with Instrument libraries
You can expand SampleTank 3's massive library via additional SampleTank 3 Instrument Collections available via the Custom Shop feature and on the IK Online Store. This additional content lets you customize your SampleTank 3 experience so that you can access even more entirely new, wild and exciting creative frontiers in its rapidly expanding universe of sounds.
You can add SampleTank Instrument libraries to your mixes in three ways:
Add them to your existing SampleTank SE or SampleTank Full version using the built-in Custom Shop feature
Purchase and download them directly from the IK Multimedia online store
Download the new FREE version of SampleTank Custom Shop and purchase them from within the Custom Shop feature
Sounds included in SampleTank 3