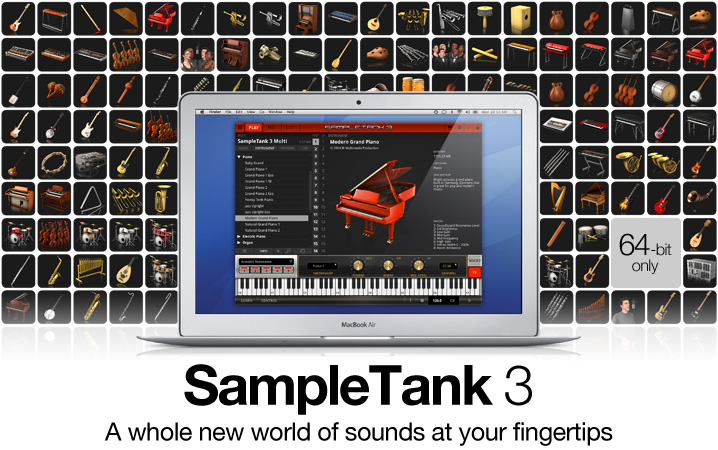 Play
The Play Page: Browse thousands of instruments from Hip Hop to Classical and make quick adjustments on the fly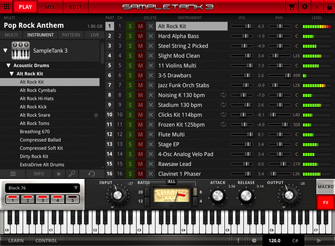 If you enjoyed the ease of SampleTank 2, you'll love SampleTank 3. It gives you 16 "Parts" that work like a channel on a mixing board or a track on a DAW.
Parts are powerful. You will use them when selecting instruments, applying effects and using MIDI Patterns. Each Part can contain one instrument and up to 128 MIDI Patterns, and each has its own 5 insert effect slots — now you have a quick way to modify your sounds individually. For more global effects, each part also contains 4 insert effect sends that let you easily send your sounds to effects that process multiple instruments simultaneously like delays and reverbs. Parts are also flexible. Each Part can be assigned to any MIDI channel letting you layer, split and perform complex multi-timbral sequencing with ease. And now, with SampleTank 3's integration with iRig Pads, you can also assign its 16 parts to the pads on your hardware controller.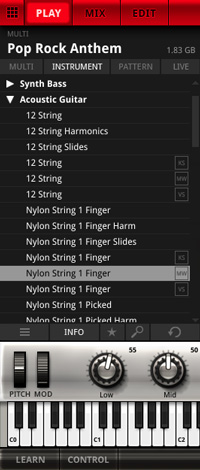 The Browser
Finding sounds has never been easier. SampleTank 3 features an easy-to-use streamlined browser. Use it to quickly find the sounds you need. Its tabs let you easily navigate between all the essential elements of the Play Page: MULTI, INSTRUMENT, PATTERN and LIVE.
Need help? Try the INFO tab at the bottom of the Browser, that's where you'll find all the important details for each sound: its description, a list of its assigned controllers and a vivid 3D representation of the selected instrument.
For patterns, switch to the PATTERN tab for a quick way to try out new patterns at various tempos with the sounds you've already loaded.
Looking for something? SEARCH lets you use keywords to quickly find the sounds you're looking for using simple terms like music genres or sonic attributes. For example, if you want a pad sound to fill out your electronic track type "atmospheric," and SampleTank 3 will present you with a tailored sound palette of Instruments and Multis. Now you can get back to the more important business of finishing your song.
With SampleTank 3, naming, saving and deleting your Multis or Instruments is easy. Just click on the menu icon in the bottom left.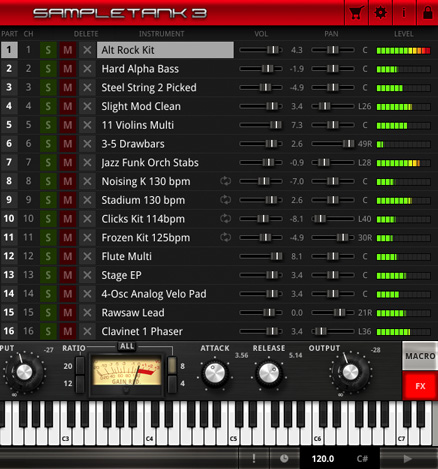 The Part Viewer
On the right is the Part Viewer. It features an overview of the 16 Parts in your selected Multi. For each Part, you can see the loaded Instrument along with easy-access controls for volume and pan.
Previous SampleTank users will find this panel very familiar! The Part Viewer is also where you select the Part to load an Instrument into or to access its Macro controls and insert effects in the control panel at the bottom.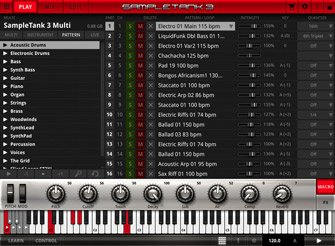 Working with Patterns
Want to get in the groove? SampleTank 3 includes an outstanding collection of pre-made MIDI Patterns that you can use to spice up your songs. When you click the PATTERN tab you'll see a list of the MIDI Patterns available — all easily previewable with the Browser's dedicated preview button. You can load up to 128 MIDI patterns per part with each conveniently organized on your keyboard starting from C0 with one pattern per note.
A keyboard loaded with patterns is a potent creative tool. Just imagine the possibilities of being able to trigger SampleTank 3's professionally created MIDI sequences as part of a live performance. And with these Patterns you'll always find something that fits. Once assigned to keys you can edit your Patterns to suit the tone of your song by applying quantization, changing the intensity of the Pattern's dynamics or even transposing the Pattern up-or-down. And should you need to take it further you can drag your edited Pattern straight into the DAW of your choice, and it will retain all of your carefully considered fine-tuning.
Once your patterns have been loaded where you want them, you can use the Global Play button at the bottom to start and stop all enabled Patterns simultaneously.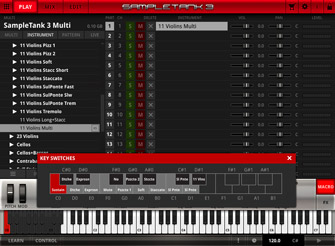 Realistic playing with Articulation
Different playing styles are what give real instruments their distinct character. SampleTank 3 gives you an unparalleled degree of dynamic expressiveness through its "round robin" feature and multiple articulations, both of which help you mimic the organic tonality of real instruments.
Think of articulations as different playing styles. For example, a violinist doesn't just trigger notes but instead uses a variety of techniques — like Pizzicato plucks, abrupt Staccato bursts and sustained Sostenuto tones — to express a full spectrum of musical emotions. SampleTank 3 lets you apply the same principle to a majority of its sounds. These articulations are easy to use and can be played in a variety of ways: assign them to a specific key, control them with the modulation wheel or simply cue them by playing different velocities. This is particularly noticeable when it comes to acoustic instruments where subtle changes in technique — like finger plucking versus pick playing on a bass — make all the difference.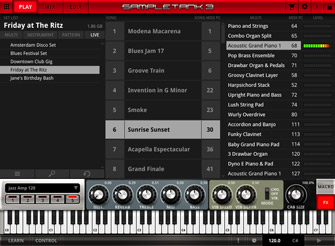 Going Live
If you have a gig to go to, you've got to check out SampleTank 3's LIVE tab. It's where you can quickly organize your sounds for live performance.
After you've picked your instruments you can create an entire Setlist. And with SampleTank 3's smart loading system, you will have all your Instruments, Multis and Effects pre-loaded for you so you can switch sounds instantaneously and segue into your next song without having to wait. SampleTank 3 handles the details — now you have a sound workstation that you can perform with on stage with confidence.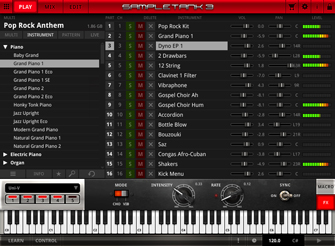 Layers, Splits and Multi-Timbral sequencing
Mix, match and let your creativity run wild: SampleTank 3 makes it easy to use multiple instruments. Want to combine an Acoustic Bass with a Vibraphone? It's a breeze. Just assign whatever Parts you'd like to the same MIDI channel. It's just as simple to split your keyboard to play multiple instruments. Just do the same thing but use the Edit page to choose which keys trigger which instrument. To play multiple parts at once, such as with a sequencer or DAW, assign each Part to its own MIDI channel. Now you can play each Part as though it were its own sound module.
With 5 insert effects and 4 effect sends on every Part — plus additional racks of outboard processors — it's like having 16 different sound modules to play with! SampleTank 3 gives you the power, flexibility and versatility to develop complex sounds and arrangements with an interface so effortless that even a non-musician can understand it.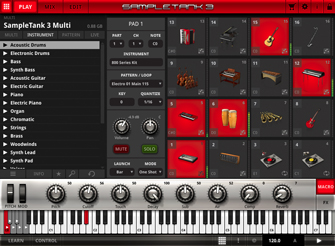 Grooves to go
SampleTank 3 is fully compatible with iRig Pads, IK's full-featured, ultra-portable MIDI groove controller. Now you can take your beatmaking and electronic music production to the next level; iRig Pads Full Integration lets you enjoy an entirely new and tactile "out-of-the-box" musical experience when using SampleTank 3.
The new "Pad" interface lets you plug in and immediately start playing SampleTank from your iRig Pads. It provides full integration, allowing for a new way to control SampleTank's 16 parts without having to click a mouse.
When using this screen, each pad on iRig Pads can mirror the settings on each individual part. Now you can launch samples, loops and patterns while controlling other essential parameters like quantization, volume and note transposition - everything is integrated seamlessly for an experience that's both powerful and easy to use.
And while it's been designed for easy use with iRig Pads, you can also plug in your favorite pad-based MIDI controller as well. SampleTank 3 gives you the same flexibility of control no matter what device you're using.
The Macro Panel: Sound Editing Made Easy
Immediately take control with SampleTank 3's new Macro Panel. Now each and every instrument in SampleTank 3's 33 gigabyte sound library comes with a customized instrument-specific Macro Panel that features 8 of the most relevant controls. Now you can quickly fine-tune the sounds you want: adjust the release of your pads, the key percussion of your organ, the volume of the kick in your drum kit and much more. Now you'll spend more time playing and less time editing.

As noted, these Macro controls vary from instrument to instrument. For example, on a piano you can control its lid, its harp resonance and the amount of room reverb applied. Or, on a drum kit, you can adjust the volume of each individual drum and cymbal as well as the level of compression applied. These Macros are there to make your life easier. Now you'll always have the controls you want, right where you need them.
The FX Panel: fast access to your insert effects
SampleTank 3 is all about keeping your workflow clean and efficient, which is why it now lets you quickly preview the the effects in a Part's 5 effects slot via the "FX" button.

Click the FX button at the lower right to change the panel's display from the Macros to the FX. Select the Part you want in the Part Viewer above, then simply click the effect slot to view, edit or bypass the loaded effects. For maximum ease you can even load new effects right from this panel.