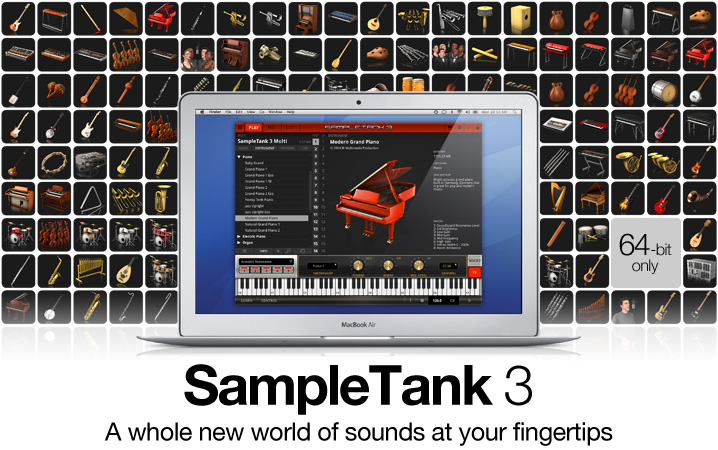 Edit
The Edit Page: A powerhouse synth engine to customize and fine-tune your instruments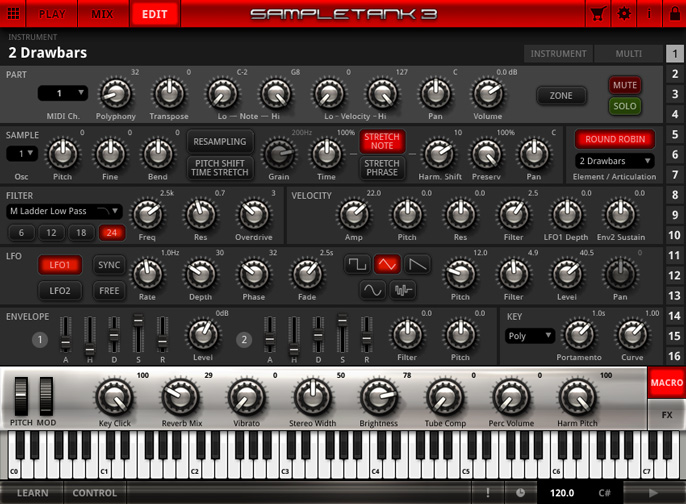 Imagine taking any instrument and being able to process it through a state-of-the-art precision synthesizer. Now you can with SampleTank 3's robust Edit Page which lets you customize and sculpt your sound through a full array of oscillators, filters and envelopes. It gives you the power to combine SampleTank 3's high-quality sample library with a powerful synthesizer engine. Now you can take a classic guitar, a priceless violin, a perfectly tuned custom snare drum or even a concert grand piano and then radically reshape and transform it to fit any song. You can do this with any sound in SampleTank 3.
Now you have the power you need to carve out the sounds of your deepest sonic dreams and you don't need an engineering degree to do it either. The Edit page gives you 3 playback modes suitable for all kinds of source material, 16 classic and modern filters as well as all the LFOs and envelopes you'd expect. Everything is so clearly labeled and logically laid out that even a beginner can turn the knobs and make interesting sounds. And if you find something you like, SampleTank 3 makes it easy to save what you've got.
3 Playback Engines - The Power of STRETCH
More engines means more power. SampleTank 3 features a robust next-generation sampling engine that avoids the problems of more conventional samplers.

Have you ever tried to sample a vocal only to hear it played back in the upper registers with that dreaded unnatural "chipmunk" effect? SampleTank gets around this problem with its two new high-powered engines: The first is PS/TS which stands for "Pitch Shift"/"Time Stretch." This engine works to ensure your drum grooves and kits sound good and punchy — just like they were intended to be heard. The second is STRETCH™, which stands for "SampleTank Time REsynthesis TeCHnology." It's there to give you realistic sounding vocals, woodwinds, basses and other organic sounds.
Sound preservation

STRETCH™ is the engine that gets around that dreaded "chipmunk" effect produced by more traditional samplers. It does this by using an exclusive new resampling technology that shifts all aspects of a sound — sound fundamentals and formant components. This results in extremely realistic sounds even in the upper register. Because of this, SampleTank 3 is able to provide extreme realism on Vocals, Woodwinds, Brass and other organic instruments.
Want to import your own sounds? Use the power of STRETCH™ to build your own realistic sounding instruments. With SampleTank 3 all you need is just one sample!
Like having a time machine

SampleTank 3 includes thousands of ready-to-go loops for Drums, Percussions and groove creation. And thanks to its advanced pitch-shift/time-stretch re-sampling feature, you'll have full tempo control while retaining the best possible sound quality. Change groove tempos and sync loops seamlessly. With SampleTank 3 you'll have a blast and get perfect results.
16 Powerhouse Filters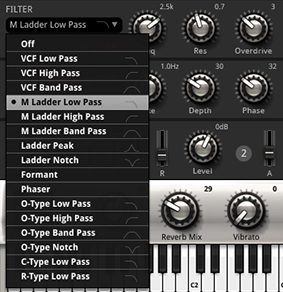 Powerful filters make for a powerful program. SampleTank 3 features 16 filters with all kinds of resonance and overdrive to help color your sound. They're easy to use and feature a flexible controllability that you won't find on even the best analog synthesizers. With SampleTank 3, you can turn a pure piano into a mighty synthesizer lead or turn a mighty electronic synthesizer lead into a soft and fluffy pad! SampleTank 3 gives you all the filters you need to make the sounds you want: there's a famous analog transistor ladder filter, a renowned IC chip filter and iconic state-variable filters as well as formant, phaser and multimode filters. SampleTank 3's included filters let you color your sound any shade you can possibly imagine.
SampleTank 3 also gives you unique effects. One example is filter overdrive which lets you process your sound by soft-clipping the input to the filter section just like the best classic analog synthesizers of the past. This is an effect that's still emulated today in pop and aggressive forms of electronic music. With SampleTank 3, you'll have effects like filter overdrive which impart an unmistakable sonic character and leave a lasting impression.
LFOs that Sync and Swim
Electronic music runs on LFOs. Now with SampleTank 3 you have full control of them. Called "Low Frequency Oscillators," these oscillators produce an inaudible frequency that can be used to control filter, amplitude and pitch — think the characteristic "wobble" bass of Dubstep or the warbling tones of moody film soundscapes. SampleTank 3 lets you create sounds resembling both and a whole lot more — plus the ability to sync your LFOs to your master tempo. Now you can make everything from machine-driven electro to subtly organic atmospheric sounds. The only limit is your own creativity.

SampleTank 3 gives you the power and flexibility to sync each LFO independently or lock everything together with a single click using the Sync button.
The Envelope, Please

Most synthesizers provide a typical attack, decay, sustain and release envelope section. SampleTank 3 goes far beyond this with an added "Hold" stage that lets you get creative when working with loops. Have you ever wanted to apply an envelope to a loop and have it timed with the start time? SampleTank 3's Hold stage lets you adjust the envelope to account for this. Try programming that with a traditional ADSR envelope — you simply can't! SampleTank 3 is on the cutting-edge of music technology, and it'll take you into a whole new world of sampling.