Reviews
"Great sound, great price"
24 February 2017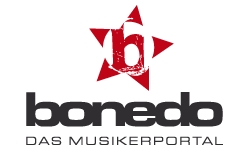 Bonedo's Lennart A. Salomon has put IK's new iRig Acoustic Stage through its paces and is clearly impressed by the sound quality and authenticity of the device. Here are some of his key comments.
"I'm positively surprised: highs, a lot of bass and simply the sound of my own acoustic guitar immediately starts coming out of the speakers."

"Those artificial sounding highs that can be very annoying with piezo pickups are simply not an issue here [with iRig Acoustic Stage]. Everything really does sound like an acoustic guitar is supposed to."
"IK Multimedia's iRig Acoustic Stage is a very good and affordable alternative to built-in mics and piezo pickups."

"The sound of iRig Acoustic Stage is very natural and warm and it does not sound artificial at all. It offers many possibilities for adjusting the sound to that of your own instrument. Furthermore, the device is very intuitive and can be easily used pretty much without having to think about it."

+ Can be attached fast
+ Easy to use
+ Great sound
+ Great price
Here are some quotes from the original review in German.
"Ich bin positiv überrascht. Schon beim ersten Natural-Sound kommen Höhen, viel Bass und einfach der Sound meiner Akustikgitarre aus den Boxen."

"Das, was einen schnell an Piezo-Pickups stört, diese artifiziell klingenden Höhen – ist hier einfach nicht da: Es klingt nach Akustikgitarre."

"Das IK Multimedia iRig Acoustic Stage ist eine sehr gute und günstige Alternative zu Einbaumikrofonen und Piezo Pickups. Es gibt natürlich von anderen Anbietern wie LR Baggs ähnliche Systeme, die sind dann aber schon wieder teurer und nicht so einfach an- und abnehmbar wie das iRig Acoustic Stage. Natürlich gibt es auch andere Piezo Systeme. Die müssen dann aber entweder wie bei Fishman eingebaut werden, oder klingen nicht so gut. Der Sound vom iRig Acoustic Stage kommt natürlich und warm daher und klingt nicht künstlich. Es gibt genügend Möglichkeiten, den Klang auf das eigene Instrument abzustimmen. Außerdem ist das Gerät sehr intuitiv und ohne großes Nachdenken bedienbar."

+ schnell angebaut
+ einfache Bedienbarkeit
+ guter Sound
+ guter Preis
Visit bonedo HERE
Learn more about iRig Acoustic Stage HERE