Artists
Legendary, multi award winning singer/songwriter tells us about her iRig Acoustic Stage
2 May 2017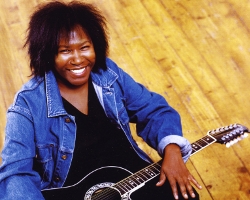 Joan with her beloved Ovation 12 string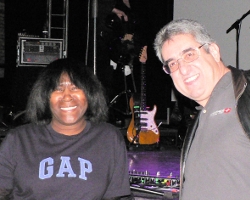 Backstage before a gig in Cambridge, UK with our Paul Kaufman
Probably one of the world's best known, and best loved, singer/songwriters, multiple Grammy nominated Joan Armatrading has been telling us about her iRig Acoustic Stage:
"I've just been trying out IK Multimedia's iRig Acoustic Stage. It sounds great. I'm writing at the moment and have used it to record. I'm loving the a real acoustic sounds that are coming back at me from my DAW.
Next thing for me is to actually try it on stage. It certainly works in the studio!"
Joan has been an enthusiastic IK fan since 2006 and uses many of our products both on stage and in the studio. During her electric set she has been spotted using an IK Stomp I/O to control her AmpliTube software while on stage (in fact we understand that she has 3 of them!).
In a recording career spanning 40 years, Joan Armatrading has released 18 studio albums, as well as several live albums and compilations. She was awarded an MBE in 2001. In April 2016, she was presented with a Lifetime Achievement Award at the 2016 BBC Radio 2 Folk Awards in recognition of her "influence on a generation of singer-songwriters as one of the outstanding voices in British music since the 1970s".
Although a formidable electric guitar player, having played alongside international legends such as Eric Clapton, Bob Dylan and Queen, she is perhaps best known for her acoustic ballads. The iRig Acoustic Stage gives a natural acoustic sound which remains true to the tone of the guitar.
Visit Joan's website here
Learn more about iRig Acoustic Stage here