Reviews
Exclusive interview on Slash's 'Gadget Life'
8 November 2012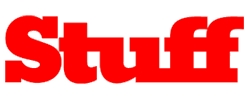 Stuff Magazine are well known for their regular 'My Gadget Life' column which has recently featured such highly acclaimed personalities such as Stephen Fry, Usain Bolt and the Stig from Top Gear.  Stuff turned their atttention to guitar maestro Slash in their December 2012 issue. Covering subjects as diverse as horror movies, guitars, Bill Gates and badgers, he was eager to highlight AmpliTube Slash:
"In between shows, I spend most of my time writing and catching quick snippets of ideas. The AmpliTube app is a perfect example of how tech can make it more convenient."
"I've got this array of different amps in AmpliTube and I can practise or record in my hotel room, on the bus - in the bathroom, if I want."
Slash then goes on to talk about his favourite guitars, meeting Bill Gates, Brian May's campaign to protect badgers in the UK and setting up his own film production company, Slasher Films.
AmpliTube Slash is available for iOS and Mac OSX/Windows
Check out Stuff Magazine here and Slash's own website here
Versions