Reviews
5/5 Stars for AmpliTube 2.5 and 4/5 Stars for iRig Stomp
6 August 2012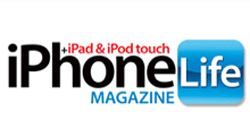 Here are quotes from Mike Riley's review of AmpliTube 2.5 for iPad and the iRig Stomp on iPhoneLife.com:
"Anyone familiar with the physical world corollary knows that if you were to assemble everything that AmpliTube simulates in actual hardware effects boxes and desktop recording software, the costs would be in the hundreds of dollars. And yet, even with decking out AmpliTube with the initial purchase plus all the in-app purchase add-ins (which include the effects found in AmpliTube Fender and AmpliTube Slash) would still cost under a hundred dollars for one of the most comprehensive guitar effects collections available on the iPad today."
"What I find most impressive is that even a first generation iPad can keep pace with processing all these effects in real-time. This makes AmpliTube a terrific replacement for what used to be an unwieldily expensive collection of hardware stapled to a pedalboard. And with the addition of iRig Stomp, you don't even have to say goodbye to the ever helpful foot switch. AmpliTube 'just works' with iRig Stomp, making it a killer combination."
"What sets AmpliTube apart from other guitar effects and audio processing apps for the iPad is its rich set of add-ons available for selective in-app purchasing. As mentioned previously, both the AmpliTube Fender and AmpliTube Slash effects can be purchased."
"The AmpliTube in-app purchase approach allows you to mix Marshall amps with Fender stompbox effects and vice versa. Another AmpliTube in-app purchase incorporates a several vocal effects available in another popular IK Multimedia iOS app, VocaLive. Combining all of these abilities under a single umbrella app makes a lot of sense, especially when dealing with the limited multi-tasking capabilities of iOS (of course, the built-in mixer/recorder with its tap tempo, visual metronome and loop points is more than adequate for recording licks and even entire songs). Not only is everything in one unified, easy-to-use interface, but you also don't have to bounce from app to app tweaking settings while hoping not to run out of system resources."
"iRig Stomp is a natural and, especially for live performances, essential accessory that any discerning AmpliTube fan will benefit from. The size and price are right, as are the hands-free freedom that the iRig Stomp has to offer."
Read the full review of AmpliTube for iPhone, iPod touch and iPad and the iRig Stomp on iPhoneLife.com.
AWARDS: AmpliTube 2.5 for iPhone, iPod touch and iPad Wins 5/5 Stars!
iRig Stomp guitar & bass interface for iOS devices Wins 4/5 Stars!
Learn more about playing and recording guitar and bass with AmpliTube, AmpliTube Slash & AmpliTube Fender, and connecting into your mobile device with the iRig Stomp.
Versions