Reviews
Obsédé de Guitare reviews AmpliTube Slash Custom Shop models
19 July 2012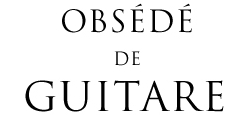 Obsédé de Guitare's Julien Beurks Bitoun has got his hands on AmpliTube Slash Custom Shop models and very much likes what he discovered.
Read some of his comments here.

"With the WahDist, it is impossible to fail to cut through the mix for a solo, even if you wanted to!"

"I am not an expert amp emulation plugin user, but in this case I must admit that I had a really great time."

"Slash's sound at your fingertips. The included presets clearly help achieving the sound of specific songs."

"I found the typical strong bass response of a Marshall with the 4x12 cabinet, as well as the strong, spellbinding sound that had me dreaming of both "Use Your Illusion" albums."

"You'll forget that you're playing on a computer, and you'll surrender to the sheer pleasure of playing, just as you'd do with a good real amp. This is probably the best evidence of AmpliTube's success."

"The subtleties of your playing as well as the volume control variations on the guitar translate very well."

"In a complete song, the sounds easily find their place in the mix."
Here are some quotes from the original review in French:
"Ultra simple et agréable"

"Il y a vraiment de quoi s'amuser"

"Avec la WahDist, il devient impossible de ne pas percer dans le mix pour un solo, même en le voulant."

"Je ne suis pas très habitué aux émulations au format plug in, [...], mais je dois avouer que là j'ai franchement pris mon pied."

"Le son Slash est effectivement à portée de doigts, d'autant plus que les presets spécifiques livrés avec le logiciel reprennent clairement des noms de morceaux."

"J'ai retrouvé les graves emphatiques typiques d'un Marshall sur un 4x12 et le grain épais et incandescent qui m'avait fait rêver sur les deux Use Your Illusion."

"On en vient à oublier qu'on joue sur un ordi et on se perd dans le plaisir de jouer, comme le permettrait un "vrai" bon ampli, il n'y a sans doute pas de meilleure preuve de la réussite d'AmpliTube."

"Les finesses de jeu comme les variations de volume au potard de la guitare sont très bien retranscrites."

"Dans le cadre d'un morceau complet, les sons [...] trouvent leur place dans un mix sans forcer."
Read the full review in French HERE

Versions