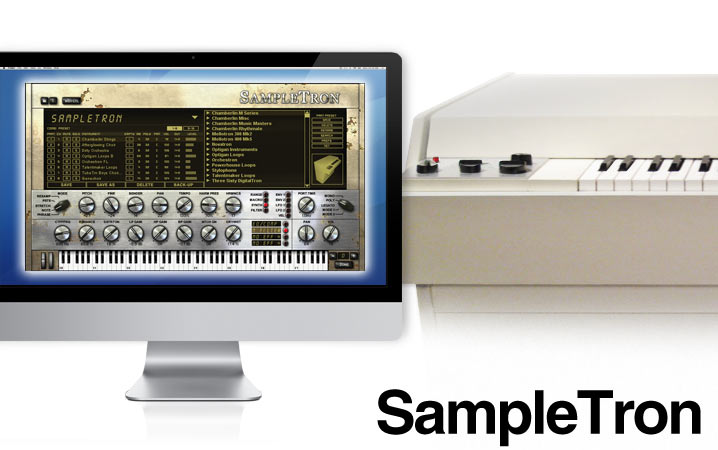 Add that vintage charm to your recordings and performances with the most complete collection of "Trons" ever assembled
17 rare, collectible instruments in one easy-to-use product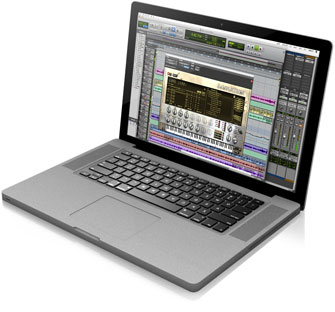 Welcome to the "Tron" Garage
SampleTron is a virtual instrument that combines the authentic recreation of "Tron" sounds such as Mellotrons, Chamberlins, and Optigans with the powerful editing and playback features of the SampleTank engine. No other product allows you to manipulate, process and stretch such gritty, emotional and quirky lo-fi sounds all from within a single powerful and easy to use interface like SampleTron.
SampleTron is a virtual instrument made for many styles from hip hop to electronic to classic rock and offers some of the most unique musically useful tones you can imagine. From the nostalgic sounds used by The Beatles, Moody Blues, Genesis, Yes and other rock bands of the 60's and 70's to the modern production of artists like Kanye West, Smashing Pumpkins and Beck to new sonic creations now possible only with SampleTron, the sounds in this package are diverse, powerful and inspiring!
---
SampleTron Features:
The first and only "Tron" anthology, containing over 600 presets from 17 rare and vintage Mellotrons, Chamberlins, and their derivatives
Chromatic samples capture the complete, authentic tone of each instrument
Powered by SampleTank to bring these vintage sounds into the modern world
4 "Tron" specific controls allow for fast and flexible creativity
16 part multitimbral and 32 effects let you create otherworldly sounds quickly and easily
Includes "loop" and "non-loop" modes for greater flexibility and authenticity
3 synth engines: STRETCH™ and Pitch-Shift/Time-Stretch (PS/TS) plus traditional Resampling
Powerful Multi-Effects section that includes 5 insert effects per Part
32 built-in DSP effects
Part and Master Loop Sync
Independent Part and Master Volume/Pan controls
Works as a standalone application as well as a host sequencer plug-in in Mac OS (Universal Binary), and Windows (XP/Vista)
Supported plug-in formats: VST, RTAS, and AU
Sounds can be read by SampleTank 2.5 and can be used to expand its world of sounds
---
How it works
But First, A Little Tron History
The unique, easily recognizable, and instantly classic sound of the "Tron" instruments started with the Chamberlin keyboards in the 1950's, and peaked with the Mellotron 400, in the 1970's. This precursor to today's samplers used tapes to play back prerecorded sounds at the touch of the keys. These tapes were large and easily broken, but have such a unique compelling sound that it's difficult not to love the nostalgic tone and instant 'vintage' gratification that comes from hearing one.
Mellotron® M400
Mellotron M400 photo courtesy of www.eboardmuseum.com
Chamberlin® Music Master® & Rhythmate®
Chamberlin Music Master 600 photo courtesy of Ken Leonard
Optigan® and Talentmaker®
Optigan photo courtesy of Dave Kerzner
Déjà Vu
Whether you know it or not, you've heard the sound of a Mellotron or one of its siblings. Just about every famous artist or band has used one in a song at one point or another. Possibly the most famous example of the "tron" sound can be heard in the opening bars of "Strawberry Fields Forever". This is the classic "tron" flute that is still widely used by artists today. Mellotrons have been used in countless songs, and just about all genres, from '60s and '70s rock, to the hip-hop of today, this is an instrument that works with just about everything.
One of the amazing things about the "tron" instruments is that, although relatively few have been made, they still bear a large relevance in today's music. In fact, they are in such high demand that the makers of the original Mellotrons, Streetly Music, began making them again in 2007 (although with some upgrades to 'modernize' them). However, unfortunately for most of us, these hand-made keyboards are out of all but the most die-hard enthusiast's price-range. That is until now.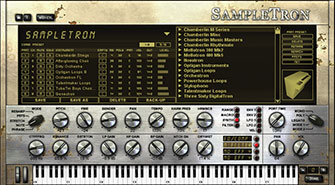 The Modern "Tron"
SampleTron brings the "tron" sounds into new music. Through careful sampling of some of the world's best-kept (and, in some cases, worst-kept!) machines, IK Multimedia and Sonic Reality have been able to preserve a wide-ranging cross section of memorable tones. But this is only a piece of the magic.
Twisted Morph-Filtered Effected Distortionized Vintage:
The SampleTron Synth Engines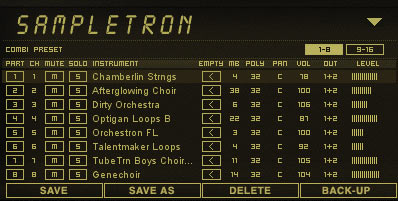 SampleTron also harnesses the power of the SampleTank engine, which allows these instruments to be taken into new sonic worlds quickly and easily. You can layer up to 16 instruments at a time to create lush soundscapes, or create key-splits for easy playability of several instruments at the same time across the entire range of your keyboard. Affect these tones with up to four simultaneous effects, selectable from a huge 32-effect library of killer delays, choruses, flangers, distortions, and reverbs, as well as exclusive synth-based effects such as FM and Am modulation, Lo-Fi, and Slicer.
Resample, PS/TS or STRETCH
The SampleTron synth engine also provides three different sample engine types — Resampling, Pitch-Shift/Time-Stretch, and STRETCH — to truly twist and re-shape your sound into something never before heard! The Resample engine performs just like traditional synthesizers and provides

Synth-Sampler
SampleTron gives you full control of its powerful synth engine through the SYNTH-SAMPLER section. Here you can control more than 50 parameters divided into 9 sections: Synth, Range, Filter, Macro, Envelope 1-2, LFO 1-2, and Velocity. Plus, SampleTron has a MIDI Control feature that lets you assign any of the 50 parameters per part to an associated control, giving you instant access to your favorite controls from your keyboard.
Powerful Multi-Effects Unit with 32 DSP Effects
SampleTron contains an integrated multi-effects engine which offers high quality DSP effects (reverbs, delays, filter envelopes, wahs, choruses, preamp and cabinet emulators, etc.) giving you maximum flexibility, creativity, and realism to all the instruments. All of the effects are world-class and have been derived from our award-winning AmpliTube and T-RackS programs and are chosen specifically for sound shaping.

8 Seconds or Forever
Since the original Trons' sounds were actually recorded onto tape and triggered by key presses, the actual length of the sound was limited… thus, no looping unless you knew exactly where the end of the sample was. This provided some pretty cool effects and forced players to be creative "on the fly." SampleTron is true to this feature, allowing approximately 8 seconds of a sound to play. BUT, with the use of the macro "SUS" control, you can set SampleTron to "sustain" the sound indefinitely. So really it's the best of both worlds — "true to the original" performance, or modern features and functionality. Your choice.
Instrument Browser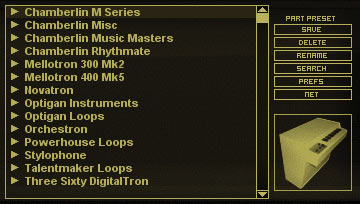 You'll get over 600 preset sounds with SampleTron, all organized in one of the fastest sound browsers of any Sample-based virtual instrument. Its clear folder structure (which reflects your folder's organization on your hard-disk) is enhanced with a collapsible folder view, making it easy to pick the right sounds among thousands in a flash. Plus, you can also add customized searchable keywords to the built-in factory keywords to find sounds, using SampleTron exclusive built-in sound Database.
SampleTron truly is the modern successor to the "tron" family of instruments, and is a superb addition to every producer's library. From hip-hop and RnB to electronica and filmscores, this historically significant instrument enhanced with modern technological advancements will elevate your compositions and performances to new levels.
SampleTron™ is an IK Multimedia product
done in cooperation with Sonic Reality.
Software