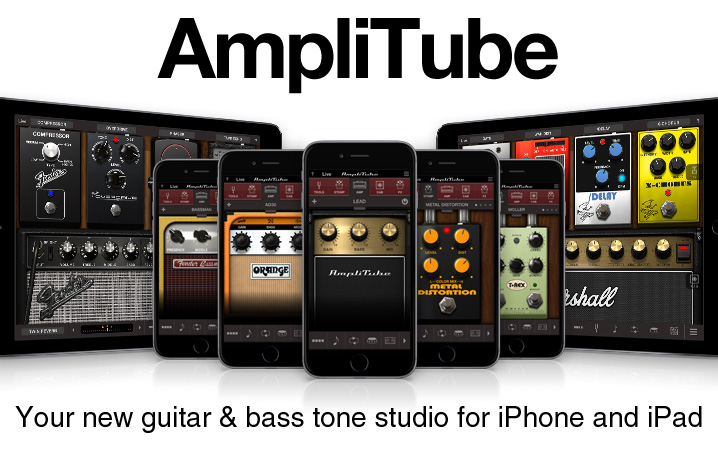 Over 100 pieces of real gear
Right from the start, you get 17 creative stompbox effects (Crusher, Dcomp, Electric Flanger, Feedback, Phazer 10, Swell, Delay, Fuzz, Overdrive, Wah, Envelope Filter, Chorus, Flanger, Phaser, Octave, Noise Filter and Distortion), 8 amplifiers (360Bass, British Copper 30 TB, Vintage Metal Lead, Clean, Crunch, Lead, Metal and Bass), 10 speaker cabinets and 2 microphones (Dynamic 57 and Condenser 87).
And did we mention that it sounds amazing? That's because every piece of gear in AmpliTube for iOS uses the same high-definition digital signal processor (DSP) as AmpliTube for Mac and PC. This DSP is so advanced that it's considered an industry benchmark.

Trust us, you'll immediately hear why AmpliTube has been used on countless songs by professional musicians and recording studios. The truly mind-blowing thing about it all is that you can have this level of sound quality literally anywhere and everywhere you go.
This DSP also applies to the massive library of expansion content that you can use to augment your AmpliTube experience. There's an entire world of gear waiting for you inside AmpliTube, all you have to do is dive in. Its intuitive carousel system and ultra-realistic graphics make the whole "checking out new gear" experience as fun and effortless as walking into your local guitar store. The only difference is that you dont have to hear a bunch of jerks mangling their way through "Stairway to Heaven" while you browse. How's that for technological progress?
You will be amazed by the comprehensiveness of AmpliTube's expansion content. We've got a selection of droolworthy gear from some of the most respected brands in the business: MESA/Booogie®, Orange®, Fender®, ENGL®, Soldano®, Ampeg®, Marshall® — you name it, we've probably got it. And if we don't, you can be sure that we're actively working on adding it soon. We've also got killer artists collections to choose from that let you act out your guitar god fantasies with the exact rigs favored by such legends as Slash and Jimi Hendrix. You can get entire collections or individual models like the MESA/Boogie® Triple Rectifier, ENGL® Powerball, the classic Ampeg® B15R Portaflex "Flip Top," the T Rex Engineering® "Moller" Classic overdrive and more. Wanna shred like the pros? AmpliTube gives you the gear; the rest is up to you.
And once you've purchased a piece of gear, it's yours. You can use iCloud to transfer your purchased gear between versions and devices, such as from AmpliTube CS (FREE) to AmpliTube LE or from your iPad to your iPhone (limited to 10 device transfers per user).
Amplifiers
Stomp Effects
Cab Room