Reviews
Oscar winning producer, Paul Epworth, tells us which ones are "rocking my boat right now"!
21 February 2013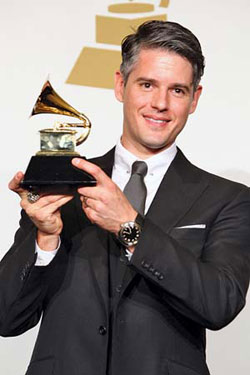 Paul Epworth with his Grammy award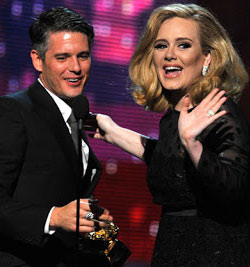 Paul and singer Adele
Winner of Oscar for Best Song at the 2013 Academy Awards, Producer of the Year with multiple Grammy Awards AND also winner of a Golden Globe, Paul Epworth recently spoke to us about recording the Skyfall theme which he co-wrote with Adele for the current James Bond movie and using IK plug-ins in his recordings.
Apart from being the man behind Adele, Paul has worked with John Legend, Florence and the Machine, Cee Lo Green, Paul McCartney, Primal Scream, Bloc Party, Kate Nash, Maximo Park and many, many more.
We managed to speak with Paul just as he was preparing to leave the UK to fly to Hollywood for the 2013 Oscar Awards.  He kindly agreed to answer a few questions for us:

The Skyfall theme was recorded at Abbey Road studios in London. Which IK plug-ins did you use in it?
I mainly used Ampeg SVX. It's great for getting not only a great bass sound but the room around it effectively within the box.

What is that you particularly like about IK plug-ins?
I own the full range of IK plug-ins - I've found them very useful and complimentary to much of the stuff I already use. There are many versions of similar plug ins from different companies but IK make products unique to them.

Do you have any particular favourites?
I think they are all first class. AmpliTube 3 and T-RackS CS are rocking my boat right now!
Where else have you found IK titles useful?
We've used Ampeg SVX for a couple of years on Friendly Fires and Big Pink albums.
Sadly Paul ran out of time (although he had a pretty good reason!), but for more information about Paul Epworth and information on both his current and past projects, we recommend a visit to his website .