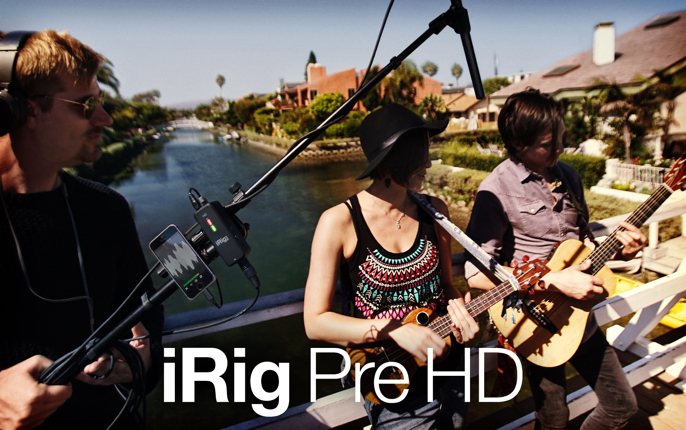 Get the sound of your favorite XLR mic on the go with iOS, Mac and PC
19 October 2017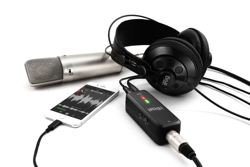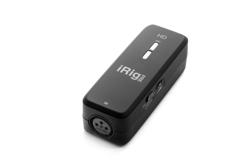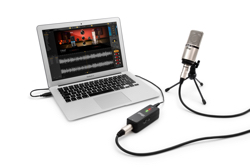 The best way to get your mic sound on the ground is with iRig Pre HD, a high-definition, ultra-compact digital interface for microphones with a Class A studio-quality preamplifier designed to deliver best-in-category audio performance with iPhone®, iPad®, Mac® and PC. It offers the ability to record anytime and anywhere using any kind of professional microphone with a XLR connector, including gain-hungry models and those requiring phantom power. Featuring an integrated 1/8" headphone output, no latency direct audio monitoring, high-quality internal converters and a suite of professional audio apps, iRig Pre HD is the most comprehensive, portable digital microphone interface for professional applications on the market.
Delivering exceptional sound quality with up to 96kHz/24-bit resolution and full frequency response from 20Hz to 20kHz (+/- 1.5dB), iRig Pre HD is the bridge between the world of portable devices and professional microphones for recording instruments, sound for media, video, speech, interviews, documentaries and more. Whether you are a musician, podcaster, journalist, videographer or vlogger, you know how important it is for your content to be the highest quality possible and that audio plays a critical role.
iRig Pre HD features a professional quality Class A mic preamp with an adjustable gain range of 48dB, a multicolor LED level indicator and switchable +48V phantom power (via 2 AA batteries included) to capture unrivaled sound quality with any XLR-connected dynamic, ribbon or condenser microphone.
The 1/8" headphone output with dedicated volume control can also be used as an auxiliary out to send recorded sound to external devices like an amplifier, PA, or a mixer. It can also be used to drive a set of quality headphones to enjoy high-resolution digital music on every device (even the latest iPhone), taking advantage of the pristine quality and full dynamics of the internal D/A converters.
iRig Pre HD features a direct monitor switch that allows you listen to the sound being recorded in real time. This means you can easily monitor yourself while recording a vocal take or listen to an interview guest in a noisy environment with no latency. With a simple flick of the switch, you can change to regular monitoring and check the playback or listen to other audio files.
Being an Apple certified MFi interface ("Made for iPhone and iPad,") iRig Pre HD is guaranteed to work out of the box with all iOS devices with a Lightning port using the included Lighting cable.  The included USB cable connects Mac and PC computers and the interface also comes with 2 AA batteries and a velcro strip for securing it to a mic stand or other supports while in use.
iRig Pre HD includes IK's renowned Mic Room, the creative application for Mac/PC (and iOS app) that lets users record with the same character and sound modeled from some of the greatest microphones ever manufactured. iPad and iPhone users will also enjoy the included versions of the Mic Pack for VocaLive, and the Pro Bundle for iRig Recorder.