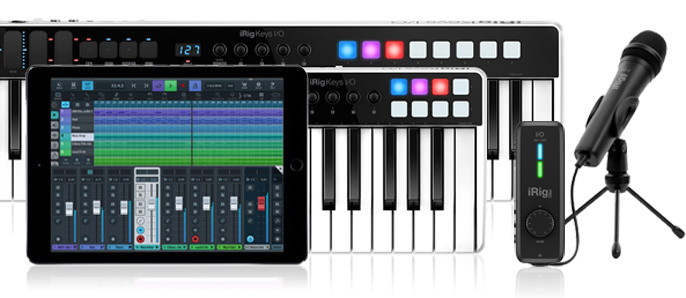 iRig Pro I/O, iRig Keys I/O & iRig Mic HD 2 owners get a free DAW for their iPad
21 November 2017
Did you know owning an iRig Pro I/O, iRig Keys I/O or iRig Mic HD 2 allows you to unlock the Cubasis LE feature set? That's right… IK and Steinberg have teamed up to bring you a complete mobile recording studio you can take anywhere.  And now with the release of Cubasis LE 2.3, you'll be blown away by what you can do with its new features like, real-time time-stretch and pitch-shifting, a studio-grade channel strip, Spin FX, massive instrument refills and many more powerful features.

These newest products are not the only items to unlock Cubasis LE 2. If you own any of IK Multimedia's iRig hardware products including iRig Keys I/O 25, iRig Keys I/O 49, iRig Keys, iRig Keys Mini, iRig Keys Pro, iRig Pads, iRig Mic HD 2,  iRig Mic HD, iRig Mic Studio, iRig HD, iRig Pro I/O,  iRig Pro and iRig Pro Duo the Cubasis LE 2 feature set will automatically unlock when you plug your accessory in.

Cubasis LE 2 features up to 4 audio and 4 MIDI tracks, 2 stereo inputs, 4 effects plugins (Delay, StudioEQ, Chorus, Brickwall Limiter), 25 instrument sounds, 22 MicroSonic instrument presets and 3 Allen Morgan drum instruments. Plus, for a limited time you can save up to 50% on additional features and add-ons to celebrate the launch of Cubasis LE 2. You can upgrade to the Full Cubasis feature set for only $14.99 (normally $29.99), and get the FX Pack 1 & FX pack 2 for only $3.99 each until December 5th, 2017. The full Cubasis 2 app and in-apps are also up to 50% off during this special promotion.

Cubasis LE 2 is the compact version of Steinberg's streamlined, multitouch sequencer for the iPad, providing the same look and feel of its bigger brother Cubasis 2. Designed for quick and easy operation, Cubasis LE 2 makes recording, editing and mixing a breeze. With MicroSonic, Cubasis LE 2 includes a virtual instrument, which can be played with IK's iRig Keys line or iRig Pads MIDI controllers. Capture your song ideas with up to four audio and four MIDI tracks and further edit and polish them to perfection with integrated editors, mixer and selected effects. Thanks to the project importer, you can even open Cubasis LE 2 projects in Cubase - both for Windows and Mac.

When users upgrade to the Cubasis 2 full feature set they also get Inter-app audio, which means you can use your IK hardware and IK apps like AmpliTube®, AmpliTube MESA/Boogie®, AmpliTube Fender®, AmpliTube Jimi Hendrix™ and AmpliTube Slash, plus SampleTank, iGrand Piano and iLectric Piano inside of Cubasis LE 2 to get the best possible industry-standard tones and sounds.

IK's compatible hardware products are available now from the IK Online Store or from Authorized IK retailers worldwide. The iRig Keys line of MIDI controllers includes: iRig Keys I/O 25 for $199.99, iRig Keys I/O 49 for $299.99, iRig Keys Mini for $/€79.99, iRig Keys for $/€129.99, iRig Keys Pro for $/€149.99. iRig Pads, IK's 4x4 Pads MIDI controller is $/€149.99. iRig Mic HD 2 is $129.99, iRig Mic HD is $/€129.99, iRig Mic Studio is $/€179.99, iRig HD is $/€79.99, iRig Pro I/O for $149.99, iRig Pro $/€129.99 & iRig Pro Duo is $/€199.99.

Cubasis LE 2 is free to download on the App Store and the features set will be unlocked once your compatible hardware is connected. Don't forget to check out the special pricing and take advantage before it ends December 5th, 2017.