The official guide by music industry veteran and acclaimed author, Bobby Owsinski
12 October 2010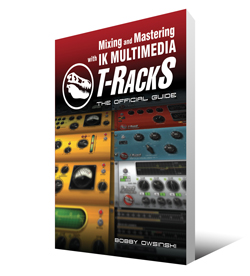 Mixing and Mastering with IK Multimedia T-RackS: The Official Guide, brought to you by Course Technology PTR/Cengage Learning, is about the art and craft of music mixing and mastering, the two important steps between recording and final output of a finished audio product.
T-RackS 3
provides a wealth of tools for Mixing and Mastering and has a strong and growing user base among today's engineers and producers. The book begins with a discussion of the fundamental concepts involved in mixing and mastering, with emphasis on mastering. The foundational skills and techniques will then be illustrated and applied using the T-RackS tools, so readers will learn the concepts and then learn how to apply them in the T-RackS setup.

Chapters Include:

1. Mix Preparation
2. Monitoring
3. Using T-RackS Dynamics during Mixing
4. Using the T-RackS EQ and Metering during Mixing
5. Mix Buss Compression
6. Preparation for Mastering
7. Introduction to Mastering
8. Monitoring during Mastering
9. Metering
10. Mastering
11. Mastering with T-RackS 3
12. Exporting Your Project

At the end of each chapter, there are a number of questions that will help you to better understand some of the principles of mixing and mastering.
About the Author
A long-time music industry veteran,
Bobby Owsinski
started his career as a guitar and keyboard player, songwriter and arranger. Eventually he became an in-demand producer/engineer working not only with a variety of recording artists, but on commercials, television and motion pictures. Using his music and recording experience combined with an easy-to-understand writing style, Bobby has become one of the best selling authors in the music industry.

Pricing and availability
The book's retails price is $29.99/€19.99 and can be purchased directly from the IK Web Store, or through Amazon.com, Barnes and Noble.com and select music retailers.
You may
preview the book
at Amazon.com's Mixing and Mastering with T-RackS page.
If you do not own T-RackS 3 yet, you can download the free 10-day fully functional
trial version
of T-RackS 3 Deluxe.