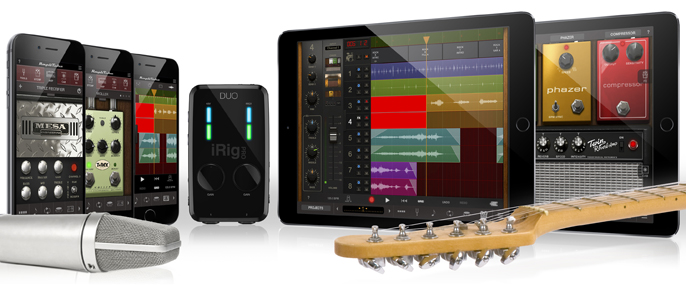 Record duos, songwriter projects or the entire band with iRig Pro Duo and your iPad/iPhone
24 May 2016
Now AmpliTube for iPhone/iPad as well as AmpliTube MESA/Boogie for iPhone/iPad, supports simultaneous multi-channel recording in the available 8-track Recorder/DAW. This means that now you can record duos, singer/songwriter projects, or your entire band using your iRig Pro Duo or other class compliant multi-channel USB interface without ever leaving the AmpliTube app on your iPhone or iPad!
AmpliTube is the industry leading guitar amp and effects studio for iPhone, iPad, Mac and PC. And now AmpliTube and AmpliTube MESA/Boogie for iPhone and iPad feature the same hyper-realistic sound and performance as in the desktop versions. AmpliTube is a complete guitar/bass signal path that lets you configure the tone chain just like on stage: pedalboard with multiple stompbox effects, a guitar amp, speaker cabinet room with two selectable and positionable microphones, plus an available full multi-track recording suite with DAW style editing features. There's an optional 4-track Looper, a built-in Loop Drummer plus an array of guitarist-friendly tools for tuning, staying in time and learning songs.
AmpliTube is also expandable with gear from the industry's top manufacturers and artists including official gear from MESA/Boogie®, Fender™, Orange®, Jimi Hendrix™, Slash and more. You can also add more gear and features as you need through the integrated AmpliTube "shop".
iRig Pro Duo is a compact and portable dual-channel audio and MIDI interface that lets you record two individual channels of audio simultaneously on your iPad, iPhone, Mac or PC. iRig Pro Duo is the perfect companion for recording two channels of pro quality audio at the same time anywhere, any time.
Pricing and Availability
AmpliTube for iPhone and AmpliTube for iPad are available now on the App Store for $/€19.99 each. AmpliTube LE is also available on the App Store for just $/€2.99. AmpliTube MESA/Boogie featuring 5 of MESA/Boogie's classic and modern tone machines is available now on the App Store for only $/€24.99. The multi-track Recorder/DAW suite is available as an in-app purchase for $/€19.99. Current users can update their versions of AmpliTube and the Recorder/DAW free of charge.
Check out this video by Hero's Last Mission and see what you can do with AmpliTube for iPhone and iPad along with iRig Pro Duo!