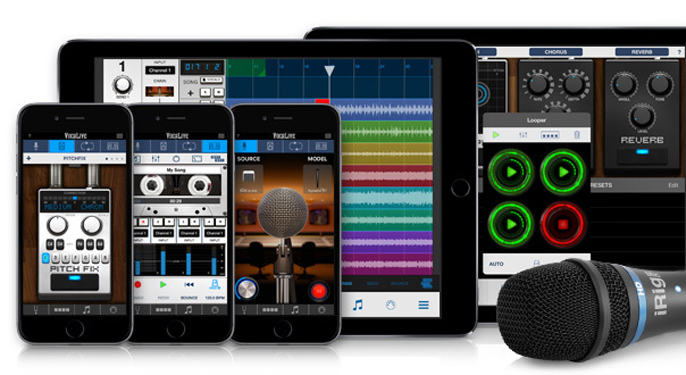 Now with Mic Room, 4-track looper and simultaneous multi-track recording
12 May 2016
Introducing VocaLive 3, a major update to the professional, full-featured vocal effects and production suite that lets vocalists create stunning vocal tracks on their iPhone or iPad. It features 5 vocal effects — Pitch Fix, Choir, Morph, De-esser, and Doubler, plus 7 utility studio effects - Reverb, Delay, Parametric EQ, Compressor, Chorus, Phazer and Envelope Filter. Users can add up to 4 effects in the processor chain and use their iPhone or iPad to perform live or record with its integrated, expandable DAW/Recorder. VocaLive 3 now offers simultaneous multi-track recording, a 4-track audio Looper, the Mic Room microphone modeler and more.
Mic Room — a mic choice for every voice
VocaLive 3 has a new available Mic Room microphone modeling feature that lets you choose from 20 studio microphone emulations and add the sound and coloration of some of the world's most coveted microphones used for recording.
Loop in creativity
VocaLive features new available 4-track Looper that is extremely intuitive and easy to use. The Looper lets you get creative and develop melodies, harmonies, lyrical concepts and more by layering your vocals with other sounds and different application of effects. The Looper can be activated and controlled hands-free with a MIDI controller like the Rig BlueBoard.
Simultaneous multi-track recording
Inside VocaLive 3 is the ability to have up to 8-channels of simultaneous multi-track recordings with the integrated, expandable DAW/Recorder. The DAW/Recorder section provides you with an integrated multi-track recording studio with features found in some of the most popular desktop setups.
Reign with the chain
VocaLive 3 contains an array of utility and FX processing tools in the form of virtual stompboxes that can be set up in a chain of up to 4 slots in both iPhone and iPad versions. Once you have a defined effects chain, you can control the effects with a MIDI controller, and save their virtual setups and configurations as presets for easy recall on the fly.
Pricing and availability
VocaLive 3 for iPhone and VocaLive 3 for iPad are available now on the App Store for $/€19.99 each. Free versions are also available for iPhone and iPad on the App Store. Additional features are available via in-app purchase like the Mic Expansion Pack ($/€9.99), 4-Track Looper ($/€9.99), and 8-Track Recorder/Studio ($/€19.99).