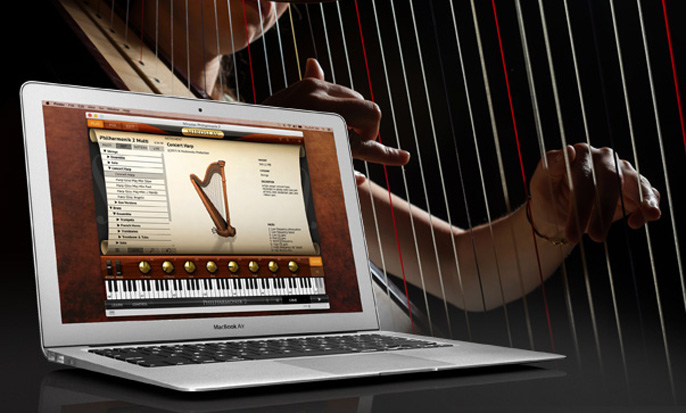 New Concert Harps Instrument Collection now included in Miroslav Philharmonik 2 and FREE for registered users
22 February 2016
Soaring strings, animated woodwinds, majestic brass and now angelic harps! Now you can add a touch of sublime to your next composition with the new Concert Harp Instrument Collection, now included in Miroslav Philharmonik 2 and available as a FREE add-on instrument collection for all Miroslav Philharmonik 2 registered users.
The New Concert Harps Instrument Collection was meticulously sampled in Blumlein stereo using 2 stereo pairs of audiophile microphones - a condenser pair and a ribbon pair- through top-quality, low-noise preamps. It naturally pans from left to right as you play up the scale for a realistic playing experience with a natural sound stage. Other play styles include plucked or 4 different glissando styles to make your productions sing with emotion. Glissando styles include fast and slow playing in both major and minor key with one hand, mid-tempo two-handed playing and an "Angelic" long major scale strum.
With Miroslav Philharmonik 2 you get over 2,700 instruments and over 55GB of sound content, all recorded in beautiful high-resolution sound. Miroslav Philharmonik 2 offers an amazingly real composing experience full of power, passion, and emotion unmatched by any other orchestral library.
You can get Miroslav Philharmonik 2 from the IK Online Store or from any of our authorized retailers, starting at $/€299.99 for upgrade pricing. Miroslav Philharmonik 2 is also available as an add-on instrument collection for SampleTank 3 in SampleTank 3 Custom Shop. BUY NOW
The Concert Harp Instrument Collection is free to all current Miroslav Philharmonik 2 registered users. To download them:
Login their User Area
Select "Products"
Go to the "Miroslav Philharmonik 2" section
Click "Sounds Download"
On the drop down menu scroll down to choose "MP2_Concert_Harp.zip."
Be prepared to be amazed!