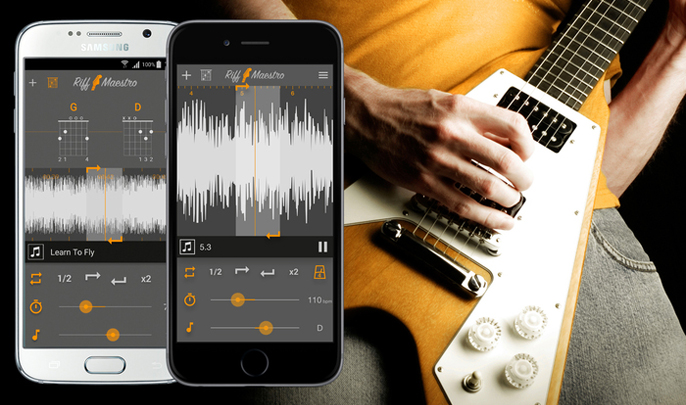 New Free Riff-Learning app for Android, iPhone, iPad and iPod touch
10 December 2015
Your mobile device just became your own personal guitar instructor. Introducing Riff Maestro, the revolutionary FREE app for your mobile device that allows you to learn your favorite riffs and not just the ones a "guitar teacher" thinks you should learn. Now you can load up your favorite songs, set loop points, slow down riffs and pick 'em out note for note until you're a maestro yourself. You'll quickly see that Riff Maestro is the "go-to" learning app for all your riff-learning needs.
Learn your favorites
Riff Maestro makes learning you favorite riffs convenient and easy. Simply import any song from your device's music library and then start jamming. Once you've chosen a song, Riff Maestro begins to work behind the scenes, analyzing the structure and nature of the song so that it can help you learn every part. You can even use it in the background while sculpting your tone with AmpliTube for iPhone/iPad, AmpliTube UA and AmpliTube for Samsung Pro Audio.
Progressive Chord progression
A must have tool, Riff Maestro's powerful Chords detection tool is available via in-app purchase. This essential feature automatically detects and displays chords as they happen in your selected song as easy-to-read chord boxes or as large labels. It's extremely useful for learning the structures of your favorite songs. It helps you understand the scale and key of your favorite tunes so you can play, strum and solo with confidence.
Learning with loops
Practice, practice, practice… Riff Maestro lets you create loops in an effortless DAW-style waveform display. Simply drag the waveform to where you want it to be, find the part you want to loop and then create a "loop region" on the waveform itself. Simply hit "play" and the active loop region will play over and over.
Powerful tools
Riff Maestro also comes equipped with a Tempo slider that lets you speed up or slow down a song without affecting the pitch. Now those insanely complex and speedy solos become manageable and easy to learn. Available as an in-app purchase, Tempo/Transpose HQ improves the sound quality of the tempo and allows you to transpose your song's key by +/- 12 semitones. There's also an automatic BMP detector with a metronome that automatically finds your song's beats-per-minute and plays an optional count-in a bar before your song or loop begins playing.
Riff Maestro is available for your Android device in the Google Play store and the App Store for your iPhone, iPad or iPod touch.