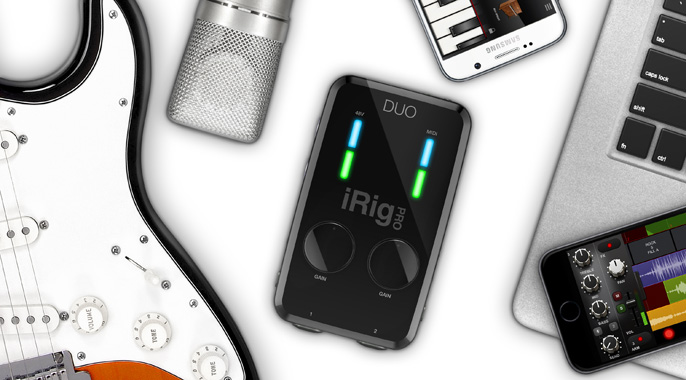 The first truly-mobile and fully-featured dual-channel interface for all devices is now available
27 October 2015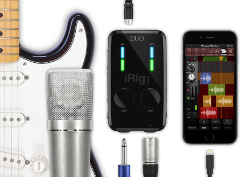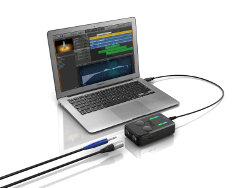 Want to have the recording flexibility of your studio anywhere you go? iRig Pro DUO is the answer. It's the first truly mobile and full-featured universal dual channel audio and MIDI interface that lets you capture your musical ideas on the go or in the studio with plug-and-play simplicity, MIDI connectability and high-quality 24-bit sound.
True mobility
What makes iRig Pro DUO stand out in the crowded interface market is its remarkable level of portability and professional audio quality. It's the smallest full-featured dual channel recording interface available. It has a small size that makes it ideally suited for use on the move. It can be powered by 2 AA batteries (included), from a USB host or via an optional wall power adapter. And measuring just 130 x 75 x 38 mm, it fits easily into a gig bag, laptop bag, pocket or the palm of your hand.
It's a perfectly portable self-contained mobile studio solution for the musician or producer who wants the utmost in recording quality and versatility.
True professional quality
iRig Pro DUO lets you record with stunning studio-quality sound on the go thanks to its professional-grade audio components. Its two identical XLR/TRS audio input jacks can be used to plug in guitars, basses, keyboards, line-level instruments and microphones to capture high quality 24-bit audio. This means you can record two channels of audio simultaneously while using two instruments, two studio microphones or any combination of instruments you desire.
iRig Pro DUO can even accommodate high-end phantom powered condenser microphones — 48V of phantom power is available with the flip of a switch. And lastly, for you MIDI musicians, you can plug in all your favorite MIDI controllers and hardware thanks to its included TRS to MIDI-DIN cables.
True studio sound
iRig Pro DUO sounds excellent thanks to its high-end AD-DA converters and ultra-low noise and high-headroom preamps. Audio from each channel runs through a 24-bit AD-DA converter that delivers stunning recording quality.
Superior output
iRig Pro DUO's two high-quality 1/4" TRS balanced outputs can easily drive any kind of input. They deliver a stunningly clear audio signal thanks to its exceptional output drivers. The totally floating design of iRig Pro DUO's balanced outputs eliminates ground loop issues and buzz when performing onstage with iOS devices or laptops.
Loaded with over $/€450 worth of software and apps
iRig Pro DUO is ready to go right out of the box thanks to its inspiring suite of apps and software from IK Multimedia. From guitar tone studio apps and software to fully loaded sound and groove workstations to the ultimate mastering and mixing suite, iRig Pro DUO is equipped with over $/€450 worth of tools that will help you fuel your creativity and enhance your productivity on your iPhone, iPad, Android, Mac and PC. Click here to see the complete list of included software and apps.
With iRig Pro DUO, true mobility for portable simultaneous dual-channel recording and processing has finally arrived. Check it out in action and order yours today!
Pricing and availability
iRig Pro DUO is now available from music and electronics retailers worldwide, and from the IK online store, for only $/€199.99 (excluding taxes).