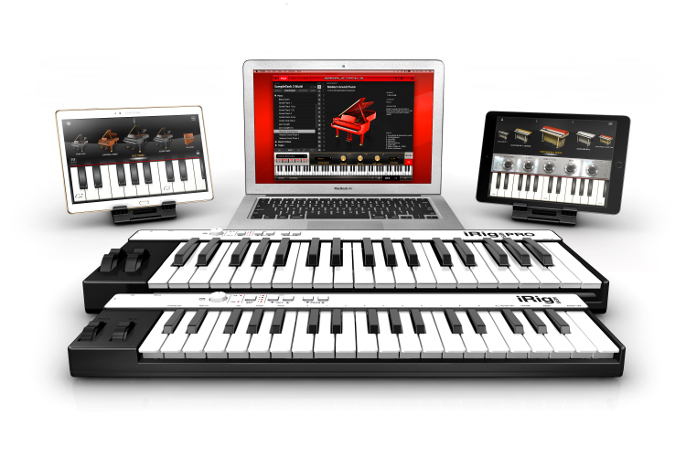 The iRig Keys range now offers universal compatibility right out of the box
30 September 2015
Both the ultra-portable iRig Keys and mobile full-size keyboard iRig Keys PRO controllers will now come with a Micro-USB to OTG cable for Android devices in addition to their Lightning and USB cables. That means that for the exact same affordable price, you can plug in and jam out on a compact and fully functional keyboard with an even wider array of your favorite mobile devices than ever before — iRig Keys and iRig Keys PRO are now ready to go with Lightning-compatible iOS devices, Android devices and Mac/PC.
The iRig Keys line has established itself as a firm favorite of keyboard players across the world. iRig Keys (previously named iRig Keys with Lightning) is an ultra-slim and extremely portable MIDI keyboard controller with 37 mini-keys. iRig Keys Pro is a similarly slim keyboard that gives players the luxury of 37 full-sized keys in a controller that can be easily carried in a gig bag or backpack. Both deliver a portable playing experience like no other thanks to their full 3-octave range (plus 1 note) and extensive set of useful controls.
Comes with
Each will come boxed with Lightning, Micro-USB to OTG and USB cables. In addition, an optional 30-pin cable can also be purchased for use with 30-pin iOS devices.
Who and how to get a free Micro-USB to OTG cable
With the arrival of this announcement, if you purchased an iRig Keys with Lightning or an iRig Keys PRO starting October 1, 2015, you are eligible to receive a free Micro-USB to OTG cable,  if one is not included. Contact IK Support to request your free cable. Make sure to register the iRig Keys with Lightning or iRig Keys PRO and provide proof of purchase. Please allow 4-6 weeks for processing and shipment. Also, all requests must be made within 60 days of purchase.

Works with many apps
Both iRig Keys and iRig Keys PRO come with a full suite of powerful apps and software that will help you express yourself at home and on the move — these include acclaimed sound and groove workstations like SampleTank 3 SE and SampleTank for iPhone and iPad FREE, piano instruments like iGrand Piano FREE and iLectric Piano FREE and more. And, when you register, you'll get tons of free stuff for these apps that'll help you unlock your creative side.
Price and availability
iRig Keys and iRig Keys PRO are available now from music and electronics retailers worldwide, and from the IK online store, for $/€129.99 and $/€149.99 respectively (excluding taxes).
Want to make more music while on the move? Pick up your iRig Keys or iRig Keys PRO today!