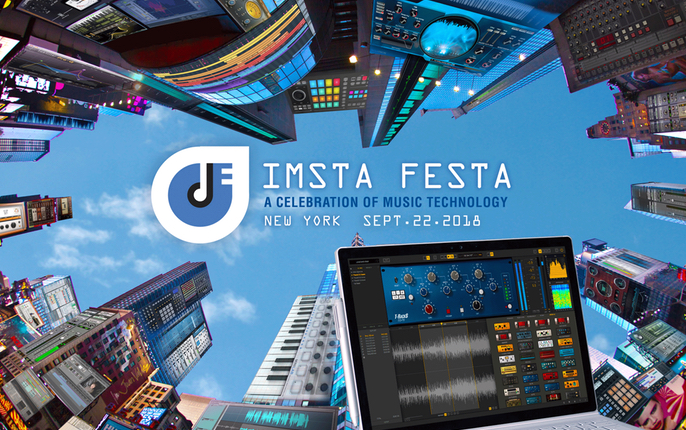 Join us September 22nd at SAE Institute for this FREE industry event!
7 September 2018
IMSTA FESTA is a celebration of music technology packed with Panels, Workshops & Master Classes, Song Critiques, Demonstrations, Contests, and more. Hosting industry experts in an environment where music-makers can network, interact and learn with each other face-to-face, this annual one-day event is not to be missed. It's a FREE event open to anyone interested in the art of music making; professional and semi-professional musicians, songwriters, music producers, and audio engineers, as well as music students and educators.
Come join IK at IMSTA FESTA in New York to check out our latest and upcoming products like UNO Synth, Total Studio 2 MAX, iRig Keys I/O, iLoud Micro Monitor, UNO Synth, and other popular IK products.
Learn music production tricks from an IK product specialist featuring our newest product UNO Synth, Total Studio 2 MAX, iRig Keys I/O, iLoud Micro Monitor, and more!
Gain unique insight into the music industry by attending the Music Production Master Classes.
Receive prizes from a pool of products from exhibiting companies, including IK Multimedia.
Get exclusive show-only deals from IK
Exhibits featuring the latest & greatest in music tech
One-to-One song reviews with critique
Much More!
Going to the event? Take a photo with us and tag us on Facebook, Twitter, and Instagram so we can share it with hundreds of thousands of music production aficionados!
IMSTA FESTA | September 22, 2018 | 11:00AM - 6:00PM
SAE Institute New York | 4th Floor 218 W 18th St. | New York, NY 10011


Admission is FREE, but you must register to gain entrance.