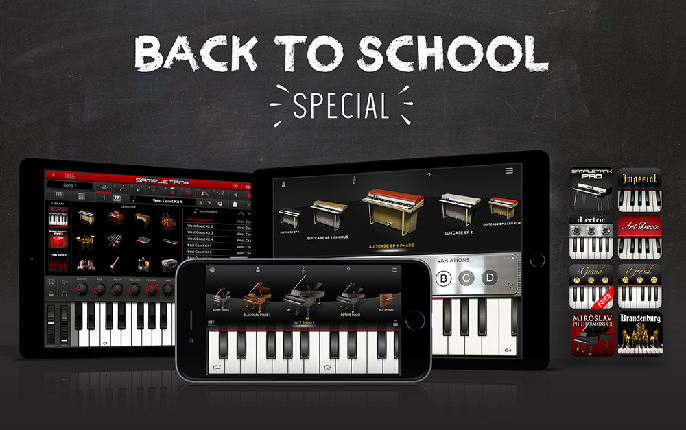 Save 40% on iOS piano libraries and apps!
3 August 2018
From August 6 through September 3, 2018, enjoy 40% off on SampleTank iOS piano libraries and apps like the studio quality iLectric Piano app, the concert quality iGrand Piano app, and more!
With the iLectric Piano app, you can perform with some of the world's most revered vintage instruments. iLectric Piano comes with 19 rich sounds to play with, from luscious and thereal to sharp and funky to down, dirty, and distorted. You even get a free bonus instrument by registering an iRig Pro, iRig Keys Pro, iRig Keys, iRig MIDI 2 or iRig MIDI with IK Multimedia
Expand your iLectric Piano sounds with not one, but two Expansion Packs that can each add 22 vintage keyboards to your collection, totaling a massive 64 total instruments available! You can also save on upgrading the free iLectric Piano right inside the app!  Record and export recordings as WAV or m4a files with ease.
iGrand Piano is the first concert-quality piano app, offering up to 40 gorgeous sounding, true-stereo, multisampled pianos, with fidelity that rivals the best professional piano instruments for Mac and PC. It also provides you with a full suite of MIDI-controllable adjustable parameters, so tailor the sound of any piano to your liking!
Included with the purchase of iGrand Piano are 7 pianos, with a bonus piano available when you register an iRig Pro, iRig Keys Pro, iRig Keys, iRig MIDI 2 hardware. Export your recording as WAV or M4a files as well.
Save on SampleTank for iOS piano expansions like Alan Parsons Imperial Grand, Art Deco Piano, Brandenburg Piano, and the Miroslav 2 piano pack.  You can also save 40% on the Piano Sound Pack, Electric Piano Sound Pack, and even SampleTank PRO Classic Keys right inside SampleTank or SampleTank CS for iOS.  Click here to learn about these SampleTank for iOS sound collections
Get iLectric Piano for iPad on the App Store now for just $/€11.99
Get iGrand Piano for iPad on the App Store now for just $/€11.99
Get iGrand Piano for iPhone or iPod touch on the App Store now for just $/€11.99
Get great sound libraries right inside the app in SampleTank for iOS or SampleTank CS for iOS
You can also save even more on Total Keys Bundle for iPad which has three great apps in one bundle! It turns your iPad into the ultimate mobile keyboard workstation via three high-quality instrument apps: You get SampleTank for iPad, a pro-quality sound and groove workstation that provides hundreds of world-class instrument samples: pianos, organs, drums, bass, guitars, strings, synths, percussion sounds, and a whole lot more.
The pack also comes with iGrand Piano for iPad, a collection of 8 (plus 1 for registering) professional-sounding acoustic piano instruments. And you get iLectric Piano for iPad, the app that lets you play on a selection of 20 professional electric pianos that range from groovy and mellow Rhodes-style pianos to plucky and funky clavinets. All come with built-in multitrack recorders that let you compose, rehearse, perform and record your sessions with ease!
Expand your apps with more piano instruments with the discounted expansion or upgrade packs available as an in-app purchase too!
Although IK strives to provide accurate product and pricing information, unintentional pricing or typographical errors may occur. All prices from the IK online store exclude taxes and may vary by country. In-app purchase and app pricing is shown in USD, your territory pricing will vary based on Apple's App Store pricing model.  IK reserves the right to correct change or update information such as pricing, availability and product descriptions, at any time without notice.