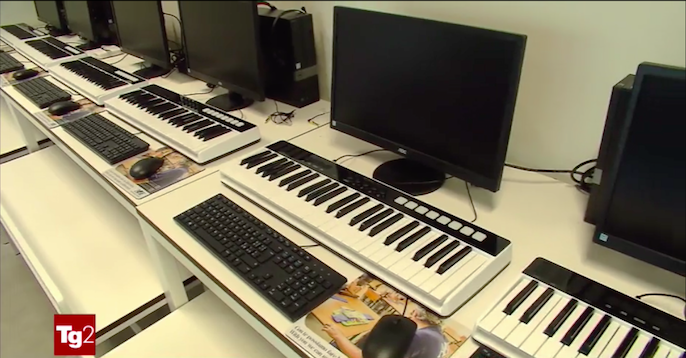 Italian school destroyed by earthquake in 2016 now has a new music lab equipped with 18 IK controllers
7 May 2018
The "Giacomo Leopardi" secondary school in the Marche region of central Italy is finally fully reconstructed and open to students of the Italian village following the devastating earthquake of 2016. The Andrea Bocelli Foundation of the eponymous acclaimed singer, together with the "Only The Brave Foundation" of Renzo Rossi, built an earthquake-proof, eco-sustainable and ultra-modern building in collaboration with the Department of Reconstruction of the Italian government and the school was donated ready to go to the local administration in May 2018.
The Bocelli Foundation did not compromise in their choice of gear for the in-house music laboratory. IK Multimedia's iRig Keys I/O 49 was specially selected in order to encourage the musical education of children with the help of modern technologies, targeting the future. IK Multimedia was extremely delighted and privileged to be part of this unique project.
Watch the complete report on Italian national TV.
Learn more Andrea Bocelli Foundation.
Learn more about Only the Brave Foundation.
Learn more about iRig Keys I/O.