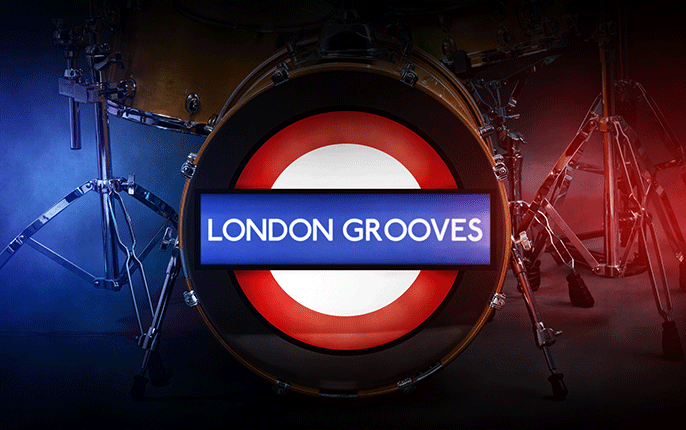 Invite veteran British session drummers to your next production
24 April 2018
IK Multimedia announces London Grooves, an instrument collection of acoustic drum kit grooves for IK's ultimate sound and groove workstation, SampleTank 3. London Grooves is an ideal resource for producers and musicians who are looking to incorporate authentic drum sounds and carefully crafted grooves in their productions.
The Origins
London Grooves was created in collaboration with multiple GRAMMY® Award-winning producer Cameron Craig, two super session drummers - Jason Cooper (The Cure, David Bowie) and Jeremy Stacey (King Crimson, Noel Gallagher's High Flying Birds, Ryan Adams, Roger Daltrey, Sheryl Crow, Tom Jones, etc.) - and Filippo Gaetani of Ray Recordings. Unlike simplistic (and generic-sounding) drum loop collections, London Grooves offers genuine performances where every beat and stroke embodies the unique playing abilities of these drummers.
Incorporate the iconic London drum sound in your productions, covering a massive range of rock, pop and indie styles.
Drums Unlimited
London Grooves offers more than 1500 high-quality WAV files, 1200 ready-to-mix drum stems, and 300 stereo grooves, all recorded in legendary London studios The Pool and Narcissus Studios.
SampleTank's engine allows you to enjoy endless creative potential, but with a unified approach to treating an instrument like an acoustic drum kit, typically recorded using multiple microphones. In London Grooves, loops are treated like the parts of a real drum kit, with its multi-mic setup, and the resulting stems feature multiple audio loops of Kick, Snare, Toms and Room Mics that run simultaneously.
Stems come as separate SampleTank Elements, allowing individual editing of synth-like parameters like pitch, filter, envelopes, and LFOs for a highly creative outcome, whereas SampleTank Macros let you dynamically adjust the level of each stem independently as you would do on a real analog mixing console.
This collection also comes with stereo mixdown versions of SampleTank 3 Instruments. In addition, 44.1kHz/24-Bit WAV files are also available, for immediate drag and drop into your session.
Pricing and Availability
London Grooves is available for download from the IK Multimedia online store for only $/€79.99.
Click Here for more information about London Grooves and the talent and gear behind its recordings.
Click Here for more information about SampleTank 3.