"I've dreamt about something this useful and IK made it!"
20 March 2018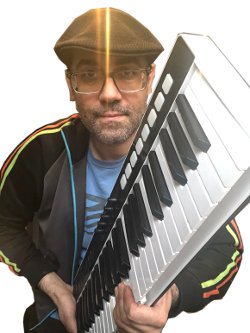 Highly in demand UK producer and engineer, Emre Ramazanoglu, has been talking to us about his iRig Keys I/O which he has been using in his studio since it was announced at the end of 2017.
Emre is the man behind Noel Gallagher's recent 'Man Who Built The Moon' album and also works with an enviable roster of world class artists including:
Shakira, Paloma Faith, Rita Ora, The Prodigy, Sia, Duffy, Lily Allen, Michael Jackson, Pulp and many more. He also worked on the John Lennon biopic, Nowhere Boy and has handled fashion advertising projects for Louis Vuitton, Max Factor and Puma.
In his West London studio, Emre is a long time ProTools user and owns virtually every IK plug-in and virtual instrument available.
Emre was very excited when he received his iRig Keys I/O 49 as it allows him to become fully mobile without being weighed down by heavy equipment.
He told us:
"The iRig Keys I/O opens up limitless possibilities for the modern producer. I use it in my production room, on the road and in major studios. I can carry a multiverse of synths and tools in one iPad and access them instantly with the keyboard or any mic I choose. I've dreamt about something this useful and IK made it!"
Find out more about Emre Ramazanoglu
Learn about iRig Keys I/O