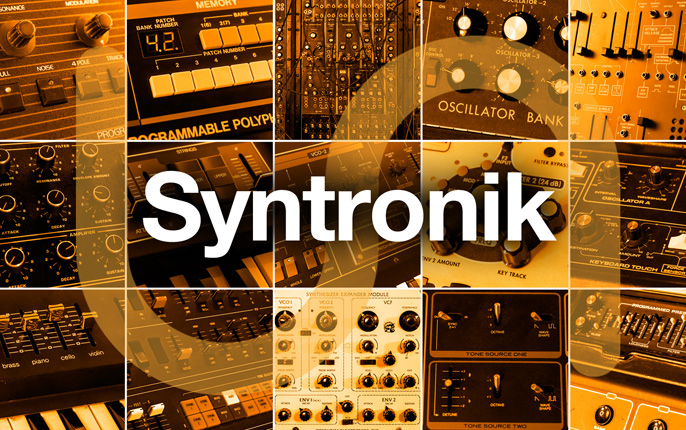 Pre-order now and save big with this legendary synth powerhouse featuring 38 iconic synthesizers and more
25 May 2017
We are pleased to announce Syntronik, a new cutting-edge virtual synthesizer with a combination of the most advanced sampling techniques and a new hybrid sample and modeling synthesis engine to provide players and producers with the ultimate and best-sounding collection of vintage synthesizers to date. And you can pre-order it now and save big, for as low as $/€99.99!

Syntronik includes 17 amazing instruments with over 2,000 preset sounds covering a wide selection of 38 amazing synths and string machines from the iconic to the ultra-rare. Syntronik's hybrid synthesis engine goes well beyond traditional sampling thanks to a brand new circuit-modeled analog filter section. This is coupled with the new exclusive DRIFT™ technology to accurately reproduce the behavior of oscillators from real hardware synths. All of this combined with 38 analog-modeled and digital effects along with advanced features like 4-part layers, splits and arpeggiators make Syntronik the ultimate source of inspiration with the widest palette of synthesizer sounds ranging from exact reproductions of the originals to sounds never heard before that will stand out from the crowd in productions covering any genre and style.

When it comes to accurately reproducing the real sound of vintage synthesizers, sampling their oscillators is the only way to ensure truly authentic results. IK has sourced only the best instruments from private collections and sampled them over the course of several years with the goal of offering a highly editable instrument that would maintain the exact sonic character of the originals.

Syntronik synths include:
Modular Moog, Minimoog Model D, Moog Voyager, Moog Taurus I, Moog Taurus II, Moog Taurus 3, Polymoog, Moog Opus 3, Moog Rogue, Realistic Concertmate MG-1, Multimoog, Micromoog, Moog Prodigy, Sequential Circuits Prophet-5, Sequential Circuits Prophet-10, ARP 2600, Oberheim SEM, Oberheim OB-X, Oberheim OB-Xa, Yamaha CS-80, Yamaha GX-1, Yamaha CS-01II, Yamaha SY99, Roland Juno-60, Roland Jupiter-8, Roland Jupiter-6, Roland Jupiter-4, Roland JX-10, Roland JX-8P, Roland JX-3P, Roland TB-303 Bassline, Alesis Andromeda, PPG Wave 2.3, ARP String Ensemble, Elka Rhapsody 490, Hohner String Performer, Roland RS-505 Paraphonic & Roland RS-09 Organ/Strings.
Syntronik works as a stand-alone instrument for Mac/PC as well as a plug-in for most popular DAW's. Syntronik sounds can also be seamlessly read by SampleTank 3, in the industry-standard sound and groove workstation, to build complete soundtracks for any style of music.

Syntronik will be available July, 2017, for $/€299.99, and $/€199.99 cross grade** price. You can pre-order Syntronik now from the IK Online Store at a special introductory price of only $/€149.99*,  and $/€99.99* cross grade** price.

*All prices excluding taxes.
**Any previous purchase of an IK Multimedia product with a value of $/€99.99 or more qualifies for crossgrade pricing.