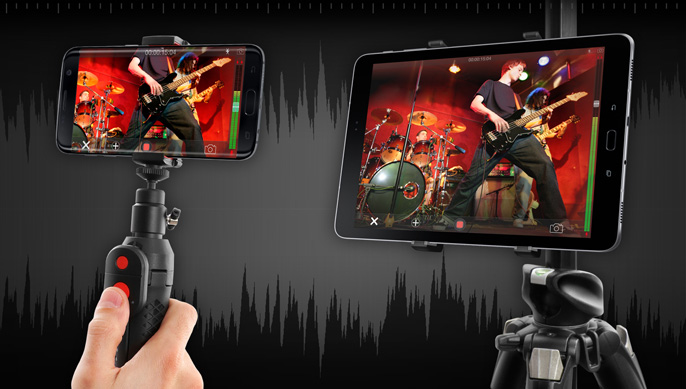 Completely redesigned with new effects, video recording, markers, sharing options and more!
27 April 2017
iRig Recorder 3 for Android is the perfect companion to IK Multimedia's full line of iRig digital microphones and audio interfaces for Android. With an IK microphone or interface and iRig Recorder 3 you'll have everything you need to get that Hollywood-style stereo sound while recording mobile audio for video, interviews, concerts, podcasts and more.
New professional audio effects
iRig Recorder 3 now comprises an expandable collection of up to 17 professional effects such as Normalize, Stereo Imager, Compressor and 3-band EQ as well as creative audio effects such as Morph, Reverb, Chorus and Delay. They can be applied to the audio recordings for sound optimization and creative purposes, doubling the number of effects available in the previous version of the app
Enhanced export/sharing capabilities
One of the features that make iRig Recorder 3 stand out from the crowd is its ability to export  the recorded content in separate files for convenient editing in a DAW or other third-party video editing software. Your content can also be easily shared via a large selection of online services and social media like Facebook®, Twitter®, WhatsApp™, DropBox™ and Google Drive™, in a variety of sizes and formats.
Pricing and availability
iRig Recorder 3 for Android is available in the Google Play Store for FREE and includes the ability to record audio/video, optimize volume (after registration), set markers and sharing options. You also have the option of expanding the effects collection via in-app purchases. You can get Fading for just $/€0.99, High Quality Export for just $/€2.99, the Creative Bundle for just $/€3.99, the Processors Bundle & Waveform Editing for just $/€4.99 each, Pro Bundle for just $/€7.99 and the All Functionalities Bundle for just $/€9.99.