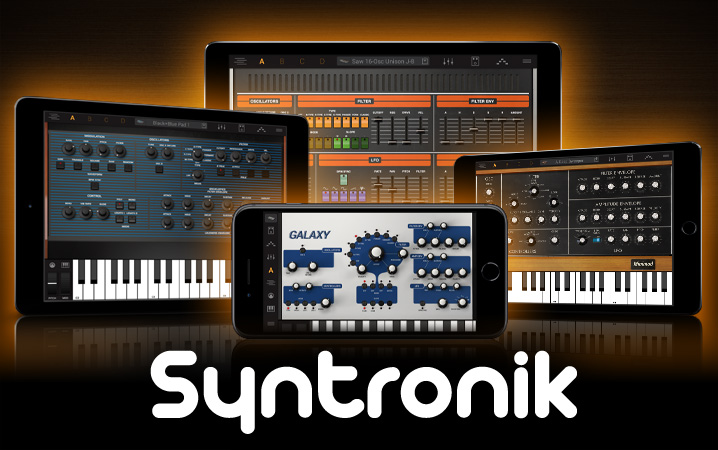 Legendary Synth Powerhouse
for iPhone and iPad
What's new in Syntronik 1.2
Available as a free version (includes 7 presets from 4 synth models: Blau, Minimod, Pro-V and V-80)
5 New Synths added: M-Poly, Memory-V, Modulum, SH-V, VCF3
"Syntronik Deluxe" in-app purchase unlocks all 22 synth models
Turn your device into a classic synth dream studio
Play the vibe. Hear the magic. Syntronik is IK's cutting-edge synthesizer that features some of the most iconic machines that ever graced the planet, all deeply multi-sampled and carefully chosen for their unique feel and magical tone, ready to play on your iPhone® or iPad®.
Syntronik includes recreations of 44 different hardware synthesizers and string machines presented as 22 powerful virtual instruments called "Synths" recognizable by their elegant GUIs.
Instrument presets can be loaded into 4-Part "Multis" for splits and layers, and each Part contains a full Synth with its own dedicated arpeggiator and 5-slot effects rack for uncompromised sound design flexibility.
With a vast array of stellar sounding instrument presets, carefully programmed Multis* and compelling arpeggios, you literally have an inspiration factory at your fingertips.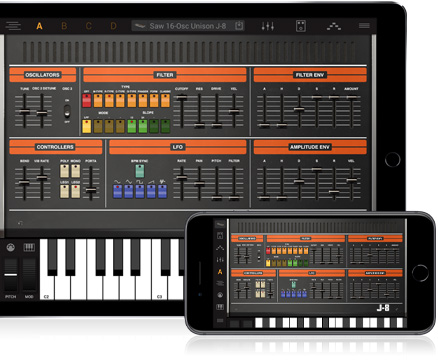 Plus, the accuracy of the multi-sampling process, painstakingly carried out by IK Multimedia's sound design team, combined with the power a hybrid synthesis engine, allows for creating complex, sophisticated sounds and futuristic sonic palettes that will give you the same "playing feel" as the real hardware models yet extending their creative potential even further.
In other words, Syntronik is the one-stop solution for serious musicians, synth aficionados and discerning producers who aim at nothing but the best sonic experience achievable for playing live or recording in the studio.
22 timeless Synths at your fingertips
The 22 Synths included in Syntronik recreate the sound of 44 classic hardware synthesizers and string machines and cover an incredibly wide range of sonic palettes, giving you enormous choice and triggering your inspiration right from the start with over 1,600 instrument presets, easily accessible thanks to a smart browser, 200 meticulously programmed Multis* and 129 exciting arpeggios.
Audio Units plug-in support - record with Syntronik using your favorite app
Syntronik for iOS fully supports Audio Units compatible host applications like GarageBand, Cubasis, Auria, AUM Mixer and others, allowing you to easily record multitrack projects on the go using you favorite synths from the collection.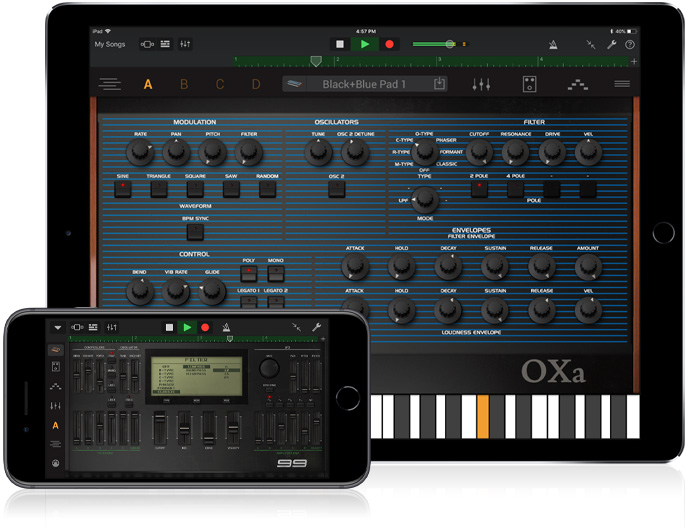 Complete an unbeatably powerful synthesizer studio that suits all your creative needs with a focus on pure performance with:
Capturing Synthesizer DNA
When it comes to accurately reproducing the sound of timeless machines like Moog, Oberheim, Sequential Circuits, ARP, Roland and Yamaha vintage synthesizers, sampling their sound-generating oscillators is the only way to ensure truly authentic sounds. We selected some of the most sought after synthesizers, sourced only the best instruments from private collections, and painstakingly sampled them. Sound designers worked hand in hand with software developers to take full advantage of this "synthesizer DNA," with the goal of offering a highly flexible instrument that would maintain the exact sonic character of the originals while extending their creative potential even further.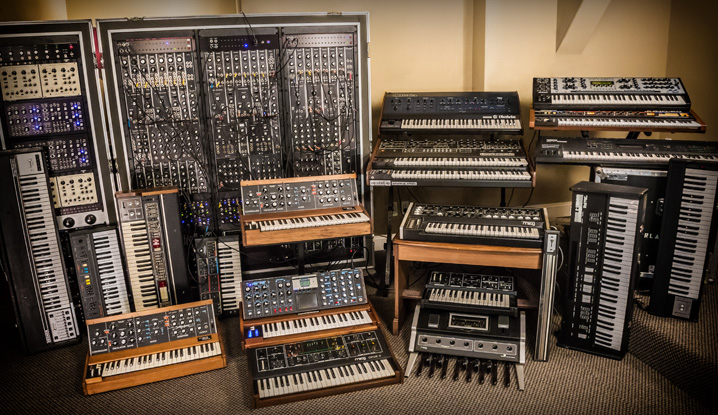 An Array of Synthesizers
Syntronik includes the following 44 amazing synths and string machines offering over 1,600 instrument presets:
Alesis Andromeda
ARP 2600
ARP String Ensemble (Solina)
Elka Rhapsody 490
EMS VCS3 (the Putney)
Hohner String Performer
Korg Mono/Poly
Korg Polysix
Memorymoog
Micromoog
Minimoog Model D
Modular Moog
Moog Opus 3
Moog Prodigy
Moog Rogue
Moog Taurus I
Moog Taurus II
Moog Taurus 3
Moog Voyager
Multimoog
Oberheim OB-X
Oberheim OB-Xa
Oberheim SEM (Synthesizer Expander Module)
Polymoog
PPG Wave 2.3
Realistic Concertmate MG-1
Roland Juno-60
Roland Jupiter-4
Roland Jupiter-6
Roland Jupiter-8
Roland JX-10
Roland JX-3P
Roland JX-8P
Roland RS-09 Organ/Strings
Roland RS-505 Paraphonic
Roland SH-5
Roland SH-2
Roland TB-303 Bassline
Sequential Circuits Prophet-10
Sequential Circuits Prophet-5
Yamaha CS-01II
Yamaha CS-80
Yamaha GX-1
Yamaha SY99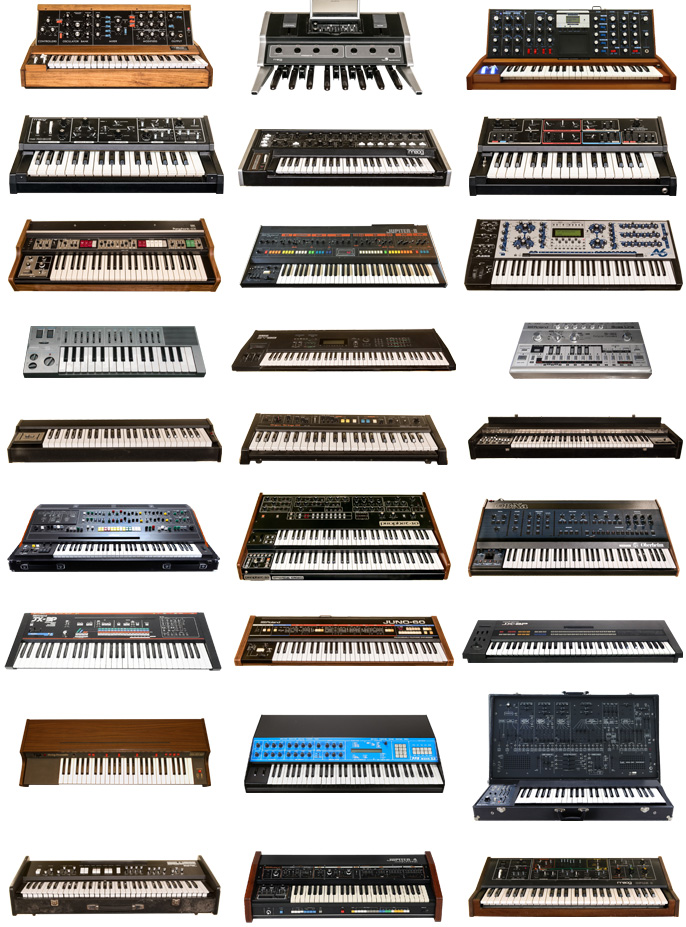 Circuit modeled filters and DRIFT™
So, why does Syntronik sound so good? First of all, it has multi-sampled oscillators and circuit-modeled filters, which recreate 4 classic designs (Moog transistor ladder, Roland's IR3109 chip, Curtis CEM3320 chip, Oberheim SEM state variable filter), freely usable within any of the instruments.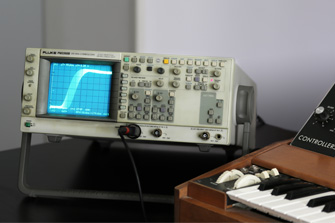 Our team of developers and sound designers worked relentlessly to capture each machine's "DNA" to provide you with the most realistic and flexible instruments possible that would maintain the real character of the originals while extending their creative potential even further.
Just like in Syntronik for Mac/PC, the iPad version exploits IK's exclusive DRIFT™ technology, which emulates the way real analog circuits behave over time, thus recreating that unmistakable and authentic analog sound that sets Syntronik apart from all other virtual synths currently available.
37 powerful effects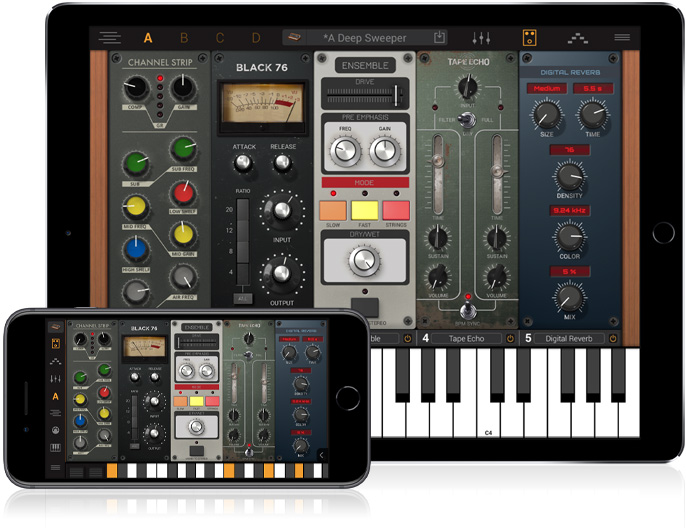 Forge, mangle and shape sounds in all possible ways thank to 37 professional effects ranging from dynamic processors to amps, filters, EQs, modulation effects, reverbs and much more. Each instrument allows for chaining up to 5 different effects, for never-heard-before sound combinations.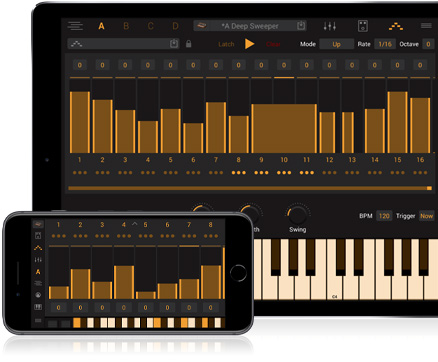 Dynamic Arpeggiators
Syntronik's 4 synthesizer Parts feature a powerful note and chord arpeggiator, each with its own assignable range and settings as well as the ability to store them for instant recall.
This allows you to build complex rhythmic textures and sequences with extreme ease and mind-blowing effectiveness.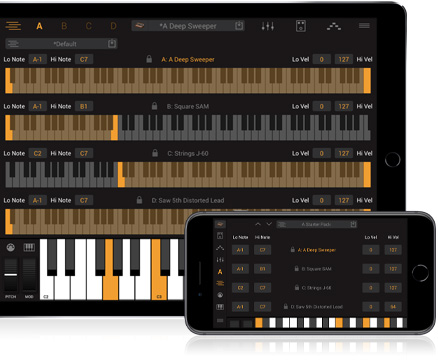 4-Part Multis
Build splits and layers by combining 4 different synthesizer Parts to create unique sounds.
Take any instrument preset, assign ranges, velocity, keyboard split points and effects to come up with unique sounding multis you can easily store and recall.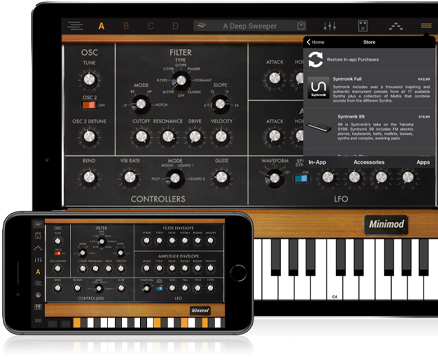 Available as free app
Try Syntronik for iOS risk-free!
Download the free app from the App Store, which is a fully functional version of Syntronik that includes 7 carefully selected instrument presets from 4 synth models and start experimenting and playing with Parts, Multis, effects and arpeggiators.
You can conveniently purchase the full version or each individual model at any time via the in-app shop.
---
Features
22 synthesizer instruments giving you the legendary, timeless sound of 44 classic synthesizers and string machines
Dynamic arpeggiators: create complex and compelling rhythmic lines
4-Part Multis: combine different instrument presets, easily set key ranges and split points, effects and arpeggiators for never-heard-before sounds
37 astounding effects: Black 76, White 2A, Model 670, Parametric EQ, Vintage EQ-1A, Channel Strip, Distortion, Crusher, Overdrive, Overscream, Lo-Fi, Phonograph, AM Modulation, Ensemble Chorus, Chorus C1, Electric Flanger, FM Modulation, Opto Tremolo, Phaser, Rotary Speaker, Small Phazer, Uni-V, AutoPan, Slicer, LFO Filter, Env Filter, Wah, Multi Filter, Digital Reverb, Digital Delay, Spring Reverb, Tape Echo, Stereo Imager, Amp & Cab Echo, Modern Tube Lead, SVT Classic, Jazz Amp 120
DRIFT™ technology: exact emulation of analog circuit behavior over time
4 circuit-modeled classic filters: Moog transistor ladder, Roland's IR3109 chip, Curtis CEM3320 chip, Oberheim SEM state variable filter
Efficient browser: find sounds fast
Over 1,600 stellar sounding instrument presets available, 200 carefully programmed Multis*, 129 ready to use, expressive arpeggios
Audio Units Plug-in support: compatible with GarageBand, Cubasis, Auria, AUM Mixer and more
Inter-App Audio and Audiobus compatible
Single models are available separately via in-app purchase
Comes with 50 presets from 17 synth models
Available as a free version (includes 7 presets from 4 synth models)
Compatible with iPhone and iPad
64-bit application
*Multis are available with the purchase of Syntronik in-app, Syntronik Deluxe in-app or all 17 instruments.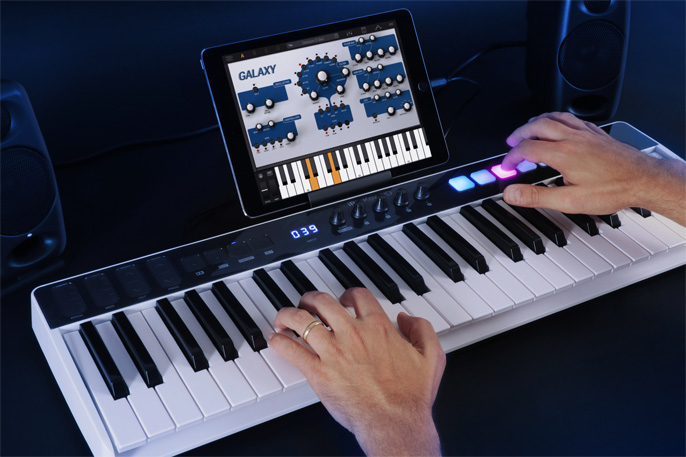 Apps