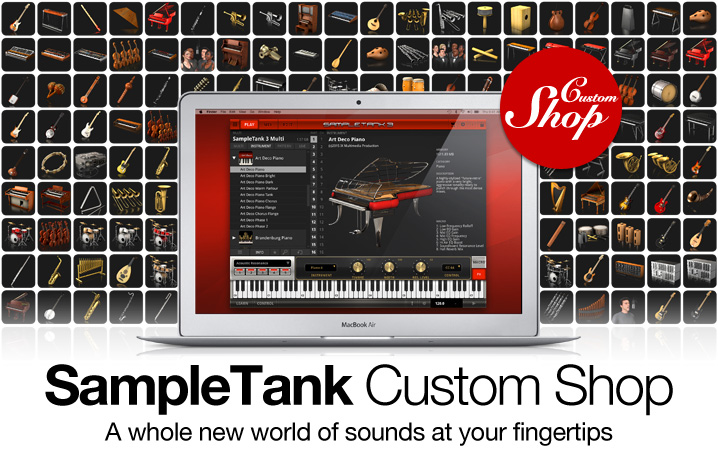 What's new in SampleTank Custom Shop
New effects available: Channel Strip and Ensemble Chorus
6 new analog modeled filter types: C-Type low pass, R-Type low pass, O-Type low pass, high pass, band pass and notch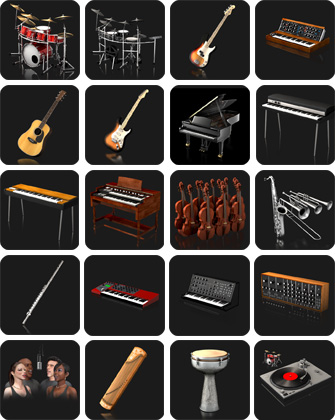 The free,
expandable,
full featured
SampleTank 3
SampleTank Custom Shop is a fully functional free version of SampleTank 3 that is a standalone player and DAW plug-in for all of the SampleTank 3 add-on Instrument collections.
Now you can purchase, play and edit individual SampleTank 3 instrument collections straight from the SampleTank Custom Shop app with no additional software required.
SampleTank Custom Shop is expandable and gives you access to a wide range of additional instrument collections.
With SampleTank Custom Shop, you can now experience the full power of SampleTank for FREE.
Now you have the ability to purchase, play and edit the complete expanding collection of add-on instruments for SampleTank 3 like Syntronik, Miroslav Philharmonik 2, Cinematic Percussion, Alan Parsons Grand Piano, American Acoustic Guitar, Neil Peart Drums, Billy Cobham Drums, Hugh Padgham Drums, Terry Bozzio Drums, Future Synths and more from the convenience of a standalone application or DAW plug-in — and you can do it starting as low as $29.99

Plus, SampleTank Custom Shop gives you the freedom to experiment with a fully functional curated library of 30 high-quality instruments that illustrate SampleTank 3's broad sonic versatility. You can play, use and edit these instruments with all the functionality of the world's best selling sound and groove workstation.
A standalone player and DAW plug-in for SampleTank Instrument collections
Want the new stuff? Need new inspiration? SampleTank Custom Shop is a standalone sound store and player as well as a DAW plug-in for SampleTank add-on instrument collections. You can now purchase, download, play and edit additional instruments from the SampleTank Custom Shop online store. Simply click on the shopping cart icon and you'll enter a completely new world of sonic nirvana full of collections from the top engineers and sound designers.
A Sampling of SampleTank 3
With SampleTank 3 Custom Shop, you get 30 instruments right from the get go. These include extremely nuanced high-end instruments like Grand Piano 1 SE, a pitch-perfect representation of one of the best German-made concert grands of all time. You can get extremely experimental with all of these included instruments — SampleTank 3 Custom Shop lets you get wild and creative with its 3 sample engines, 57 high-quality effects, 20-channel mixer and other advanced features.
A well-curated library
SampleTank 3 Custom Shop's library of free instruments has been carefully curated to show off the astonishing breadth of the full version. It gives you everything from lush strings to delicate woodwinds, electric guitars to buzzing synthesizers and a whole lot more.
---
Instruments included in SampleTank Custom Shop
Piano

Grand Piano 1 SE
A beautifully rendered representation of a Hamburg-made concert grand piano that's been meticulously sampled down to the finest detail. It provides you with an extremely musical, dynamic and naturally versatile instrument that fits perfectly in any style of music from classical to rock and from jazz to soul. Its state-of-the-art programming and included high-end effects — like its virtual piano lid and true-to-life string and soundboard harmonic resonance — make for a fantastic playing experience that will make you believe you're in the room with one of the richest and most beautiful concert grand pianos of all time. And you'll also have infinite sound sculpting possibilities thanks to SampleTank 3's immense studio FX collection: Now you're covered for literally all the acoustic piano sounds your productions could ever call for.
MIDI Patterns
6 MIDI Patterns included.
---
Strings

11 Violins Multi-Articulation with Key Switching
Taken from IK's popular Miroslav Philharmonik Virtual Instrument and optimized especially for SampleTank 3, this classical string section lets you change between multiple articulations with our easy-to-use key switching system — Now you can go from a sustained note to staccato to pizzicato and more in a snap.
MIDI Patterns
3 MIDI Patterns included.
---
Woodwinds

Flute Multi-Articulation with Key Switching
Also from the Miroslav Philharmonik Virtual Instrument and optimized for SampleTank 3 is this solo flute complete with multiple articulations available for instant access via key switching. It's suitable for classical, pop and everything in between.
MIDI Patterns
4 MIDI Patterns included.
---
Brass

Sax, Trombone and Trumpet
A trio of pop brass instruments that you can use to give your tracks some punch and color. New sessions recorded especially for SampleTank 3 let you have full control of this ensemble from your desktop.
MIDI Patterns
4 MIDI Patterns included.
---
Voices

Ooh Soft Ensemble
Another ensemble recorded especially for SampleTank 3, this group of 2 men and 2 women give you the lush vocal "ooh" pads that will benefit every production. Use the macro controls to adjust the attack and release to dial in exactly the envelope your song needs.
MIDI Patterns
3 MIDI Patterns included.
---
Electric Piano

Stage EP
This classic electric piano with a bell-like tine attack and warm, full sustain is the perfect choice for simple chord pads, kinetic comping or full-tilt jazz and R&B jams. The autopan stereo tremolo and plate reverb effect adds to the richness of this iconic instrument.

Wurly Stage
Ballad Wurly
The classic soulful Wurly electric piano with its unmistakable vintage tone evokes the hits of the 60s, 70s and beyond. From rock to pop to R&B soul, it truly transcends genre. Perfect for comping and grooving, this EP sits in a track like no other instrument. Its resurgence in the 90s has continued to present day, and vintage Wurlys now command top dollar on the used market costing much more than their original new price tag! Load this one up in SampleTank 3 and get the groove started. The Ballad Wurly instrument is a softer, warmer variation voiced for more delicate tracks.
MIDI Patterns
7 MIDI Patterns included.
---
Organ

3-5 Drawbars Organ
There is nothing like the sound of a Hammond® tonewheel organ through a rotating speaker with a valve preamp and amplifier. Whether you're playing rock, jazz, R&B, blues or gospel, this instrument will give you everything from pure clean organ tone to the gritty overdrive provided by our top effects imported from AmpliTube.
MIDI Patterns
3 MIDI Patterns included.
---
Chromatic

Clavinet 1 Phaser
Funky is a word you cannot avoid when discussing the sound of a classic Hohner® D6 clavinet. Groovy riffs and comping will flow from your fingers when you hear this vintage beauty and pair it with all the incredible effects that SampleTank 3 has to offer.
MIDI Patterns
2 MIDI Patterns included.
---
Acoustic Guitar

Steel String 2 Picked Multi-Articulation Acoustic Guitar with Key Switching
The timeless sound of a 6-string Martin® D35 acoustic guitar played with a pick. Key switching changes between standard picked, fret slide and harmonic articulations.
MIDI Patterns
3 MIDI Patterns included.
---
Electric Guitar

Single Coil 1 Slight Mod Clean Electric Guitar
The clean, glassy tone of a Fender® Stratocaster® played through a Roland® Jazz Chorus amplifier with a smooth flanger and echo effect to let you play hi-fi arpeggios and chords with a guitar sound that never goes out of style.
MIDI Patterns
5 MIDI Patterns included.
---
Ethnic

Gu Zheng Multi-Articulation with Key Switching
A top-quality Chinese zither played with 6 different articulations available via key switching for startlingly realistic real-time performance. Bring a bit of old world Asia to your productions!
MIDI Patterns
3 MIDI Patterns included.
---
Synth Lead
Rawsaw Lead
A timeless sawtooth wave analog synth lead with delayed vibrato and a rich echoed reverb effect, perfect for everything from cutting-edge EDM to vintage rock and R&B tracks. It also works great as a bass in the low register. Try different FX and filters on this one for endless variations.
MIDI Patterns
3 MIDI Patterns included.
---
Synth Pad

4-Osc Analog Velo Pad
Ultra-warm filtered sawtooth wave strings with a perfectly dialed-in envelope attack. 4 oscillators gives a lush detuning to the pad that you can't get with just a simple chorus effect. Both the mod wheel and aftertouch modulate the filter for extra expression.
Juniper Strings
Juniper BP Sweep
We captured one of the most famous Japanese monster power synths to bring you this awesomely warm and huge pad instrument. Analog VCOs and a signature VCF give this synth sound its characteristic tonality that is distinctly contrasting with the famous American analog synths. Combined with our faithful C1 Chorus model, this pad comes to life with depth and motion just like you are playing the real thing … only without the service headaches and expense of maintaining a vintage instrument. From EDM to classic rock to ambient soundscapes, this timeless pad will expand your productions with ease and grace. The BP Sweep instrument puts this analog pad through a modern-sounding bandpass filter for an edgier tonality and spectral motion that evokes a modular synth quality.
MIDI Patterns
3 MIDI Patterns included.
---
Synth FX

Jazz Funk Orch Stabs
40 different dynamic brass, orchestra and percussion hits mapped chromatically up the keyboard for use in any musical production that needs punctuation with character and style. We've also included a brass MIDI pattern that works well with this instrument. Transpose the pattern for different timbres!
MIDI Patterns
1 MIDI Pattern included.
---
Loops

Hip Hop 9 109 bpm
17 expertly-recorded acoustic drum loops with some serious swing and groove to use as the foundation for your Hip Hop, R&B, funk, fusion or even classic rock track! Includes subtle performance articulations that only a top pro drummer can deliver.

EDM 4 128 bpm
63 individual loops mapped chromatically up the keyboard to use as a "construction kit" for building the perfect high-energy modern EDM track. Loops include separate kick drum, snares, claps, percussion, synth effects, bass, pads, comping, etc. so you can choose the exact combination you want for each section of your song.
---
Acoustic Drums

Alt Rock Kit
A 9-piece maple alternative rock drum kit in the style of the Foo Fighters recorded in a large, warm room with two 24" kick drums, wood snare, six toms from 10" to 18" and General MIDI percussion. There are additional tom articulations (flams and rimshots) in the top octave and additional snare and hat articulations in the bottom octave. There are multiple velocities and "round robin" alternating samples for added realism. The SampleTank 3 ConvoRoom effect includes samples of the actual studio space where the drums were recorded, so you can dial in the ambience exactly as you want it.
MIDI Patterns
8 MIDI Patterns included.
---
Electronic Drums

EDM Kit 1
A hard-hitting full electronic drum kit ready to drive the groove in many different EDM subgenres. Two sharp kick drums will cut through any mix, and the aggressive snare drums, pre-processed with top-quality studio compression, will lay down an electronic backbeat sure to get everyone moving. Lively toms, crisp hi-hats, cymbals and assorted electronic percussion fills out the full General MIDI mapping for compatibility and interchangeability with all SampleTank 3 drum kits.
MIDI Patterns
6 MIDI Patterns included.
---
Bass

P Bass Finger
The timeless, classic sound of a Fender® Precision Bass® played with fingers using roundwound strings. This is the undisputed king of bass guitars in pop music from the 1950s through present day. Our SampleTank 3 instrument is a player's dream bass, perfectly set up and maintained with plenty of vintage mojo. Our instruments provides "round robin" alternating samples, random performance noises, automatic legato and Direct / Amp mixing.

Fretless J Bass
Fretless J Bass Solo
Classic Fretless J Bass finger tone with alternating round robin samples, random performance noises, automatic legato and direct / amp mixing using IK's acclaimed SVT bass amplifier model. Easy-to-use macro controls give you instant access to amp overdrive, 3-band EQ, compression and the level of the performance noises. The Solo instrument has the tone and effects adjusted for optimal solo playing rather than traditional bass grooving. Both instruments give you the warmth and vibe of a classic fretless bass, perfect for super melodic lines as well as holding down the low end of the groove.
MIDI Patterns
5 MIDI Patterns included.
---
Synth Bass

Hard Alpha Bass
A delightfully distorted sawtooth wave bass with "Reese"-style detuning and keyed portamento ready to rule the groove of your next electronic track. An aggressive tone with tons of presence and a mighty low end punch. Whether alone with just a kick drum or deep inside a dense production, this bass will never get lost in a crowd.

Hip Hop Bass 1
Hip Hop Bass 1 Legato
A super smooth and groovy hip hop synth bass with a powerful, real analog character brings deep lows to any track in need of some urban mojo. Adjust the attack, release, filter cutoff and resonance with easy-to-use controls so you don't need to be synth expert to dial in exactly the tone you want. Additional controls for stereo positioning and low / mid EQ to get the bass to fit in your specific mix. The Legato instrument give you a monophonic glide between held notes for extra-vibey expression.
Pulse Sub Bass
This square wave bass is filtered down to nearly a sine wave shape to get the whole house moving with its powerful, earth-shaking lows. Put this bass under a snappy, percussive arrangements to fill out the bottom end with the fullness and tonal purity that only a clear, low synth tone like this can deliver.
MIDI Patterns
9 MIDI Patterns included.
---
Percussion

Dumbeks
Two middle eastern dumbek "goblet drums," one Turkish with the edge of the drum head exposed and the other Egyptian style with a rounded edge. The word dumbek comes from the Arabic word, "darba," meaning "to strike." The dumbek is played with the hands, usually holding the drum under one arm. It is a bright, percussive drum that changes its tone with different dynamic hits, and our SampleTank 3 collection provides numerous hits with "round robin" alternate samples for added realism.
MIDI Patterns
3 MIDI Patterns included.
---

Versions