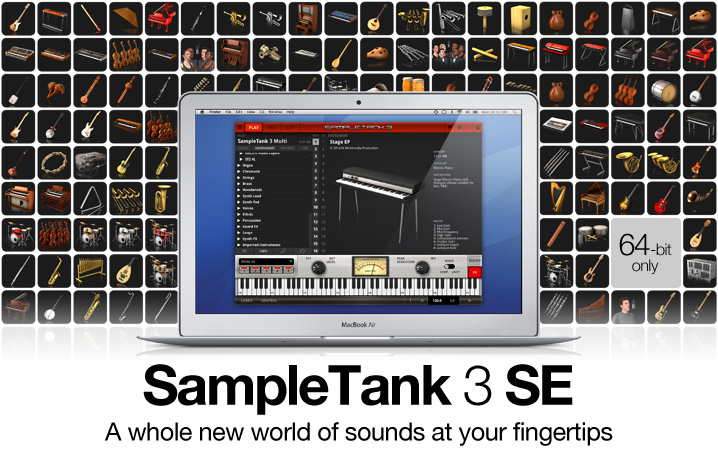 Your affordable gateway to a whole new world of sounds
Experience the full creative power and processing flexibility of IK's ultimate sound and groove workstation with SampleTank 3 SE.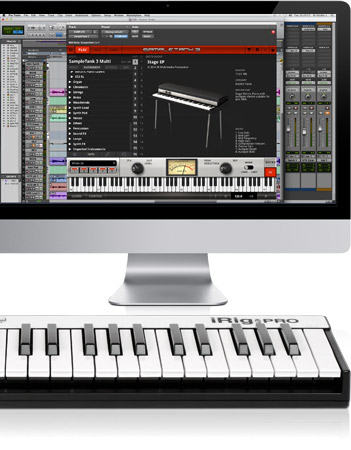 Available as bundled software with iRig Keys Pro, iRig Keys, iRig Keys Mini, iRig Keys 37 Pro, iRig Keys 37, iRig Keys 25, iRig MIDI 2, iRig Pads, iRig Pro, iRig Pro I/O and iRig Pro Duo or as an individual purchase, it gives you the freedom to experiment with the fully functional software and a 6.5 GB library of high quality instruments, loops and MIDI patterns that illustrate the broad sonic versatility available in the full version of SampleTank 3. SampleTank 3 SE also supports user sample importing and the use of Powered-by-SampleTank legacy libraries.
SampleTank 3 SE gives you a taste of the 4,000 instruments available in the full version via 400 carefully selected, meticulously sampled instruments from 20 categories that stretch across every genre, style and type imaginable. With it, you get pianos, drums, basses, guitars, synthesizers, brass, strings, vocals and other more exotic sounds that all shine brightly and stand out in any mix with little-to-no adjustment required.
In addition to its library of sound, you can also choose from a growing selection of exciting and inspiring SampleTank instruments collections, available on the online store and in the Custom Shop. With new additions every month, these instruments are custom tailored to give you the tools you need to create any style of music from acoustic to electronic and beyond.

Beyond its sounds, you also get access to its new built-in MIDI engine that you can use with its collection of 250 loops and 150 MIDI patterns recorded by some of the finest drummers and percussionists in the world.
SampleTank 3 SE lets you access a virtually unlimited world of sound options via its 3 sample engines, 57 high-quality effects, 16-channel mixer and other advanced features. When combined, it provides for unlimited sound sculpting potential and a musical experience that's only surpassed by the full version. Buy it today and discover why SampleTank 3 is considered the new industry standard.
---
Features
6.5 GB of included sounds
400 new instruments with 20 instrument categories covering the entire span of acoustic, electric and electronic sounds
Over 250 drum, percussion and full construction-kit loops played by world-renowned artists
150 MIDI files in all categories
SampleTank 3 Custom Shop: Browse, preview, download and purchase all your favorite IK gear seamlessly
Supports user sample import as well as the use of legacy Powered-by-SampleTank libraries
SampleTank 3 SE users can upgrade to the full version of SampleTank 3 for a low price
What's new
New effects available: Channel Strip and Ensemble Chorus
6 new analog modeled filter types: C-Type low pass, R-Type low pass, O-Type low pass, high pass, band pass and notch
---

Sounds