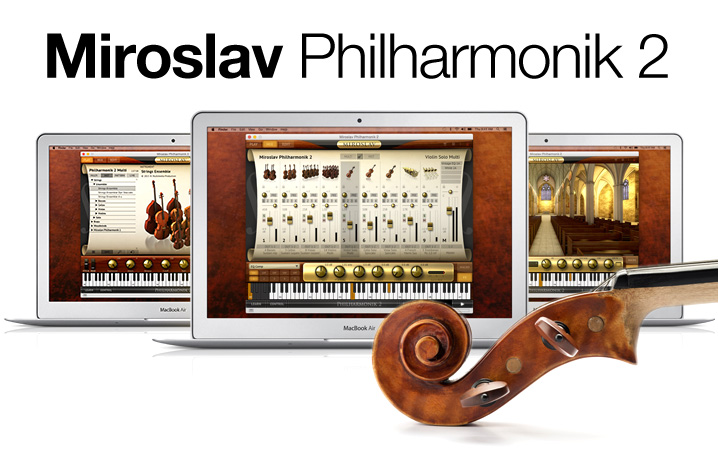 Software
Powerful playing, effortless editing, masterful mixing — all at your fingertips
Before you even hear your first note, the first thing you'll notice about Miroslav Philharmonik 2 is how beautiful it looks. It sports an attractive custom graphic interface that emphasizes the wood, paper and brass textures of real instruments that'll help get you in the creative mood. And while this interface might be easy to look at, it's also equally easy to use — Miroslav Philharmonik 2 provides effortless control of a whole range of powerful features that you can use to enhance your playing or even radically transform your musical compositions.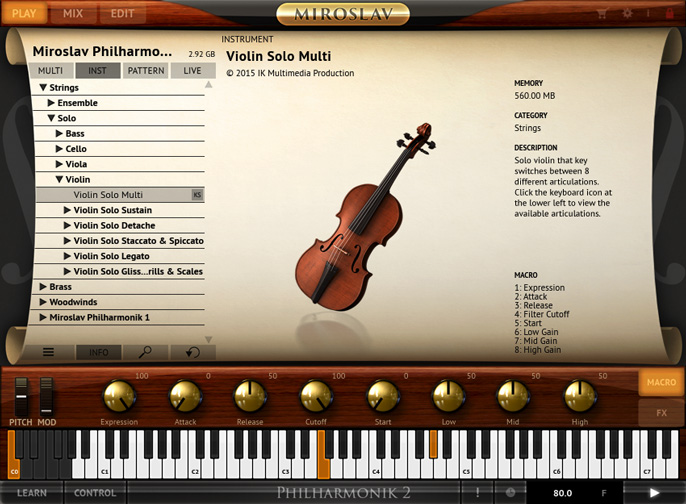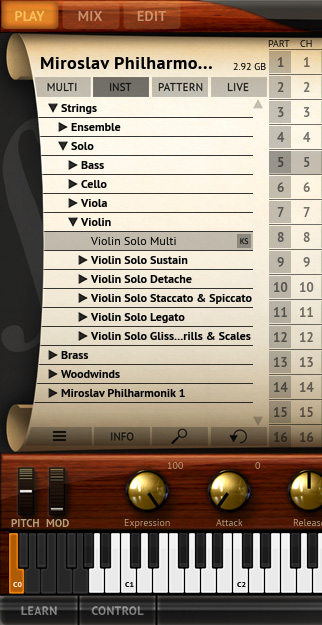 Parts
Like SampleTank 3, Miroslav Philharmonik 2 features a Play page. It's where you'll do the majority of your composing. It gives you 16 "parts" that work like channels on a mixing board or tracks on a DAW. Each part can contain one articulation-switching instrument, and each has its own 5 insert effects slots as well as 4 insert effect sends for global processing (more on that in a minute). Each Part can be assigned to any MIDI channel letting you layer, split and perform complex multi-timbral sequencing with ease.
You can see all the parts using the Part Viewer on the right side of the screen. It displays the loaded instruments and also gives you quick access to essential controls like volume, pan mute and solo.
Browsing
Miroslav Philharmonik 2 has an incredible, streamlined browser that makes finding the perfect instrument a breeze. Its features expandable folders that let you quickly find instruments by category as well as a handy search engine using key words.
Creative combinations
You can let your creativity run wild with Miroslav Philharmonik 2. Building layered instruments is incredibly easy: Just assign whatever Parts you'd like to the same MIDI channel. It's just as simple to split your keyboard to play multiple instruments. Do the same thing, but use the Edit page to set the specific key range for each instrument. To play multiple independent parts at once, such as with a sequencer or DAW, assign each Part to its own MIDI channel. Now you can play each Part as though it were its own sound module! And of course, each Part can contain its own articulation-switching instrument for an added dimension.
Instant editing with macros
Miroslav Philharmonik 2 provides 8 of the most used musical controls in the form of "Macros" that let you quickly edit your sounds with speed and ease. These macro controls give you quick access to the most musically relevant parameters you need to custom tailor the sound of the instrument to fit your composition. Miroslav Philharmonik 2 also provides deep editing capability of all synth parameters in the "Edit" page for true sonic customization and deep sonic sculpting.

The macro controls consist of the expression control which adjusts the volume and tone together for those subtle variations in sustained notes that add extra life and realism. The attack and release controls let you tailor the envelopes of your instrument to meet your exact musical needs. The cutoff control gives adjusts the filter, so you can quickly make any instrument darker or warmer. Start lets you adjust the sample's start point so you can add more punch, edge and immediacy. In addition to these controls, you also get a familiar 3-band EQ that's perfect for those on-the-fly adjustments for tonality while playing.
These macro controls let you customize the library so that it suits your taste and needs. Miroslav Philharmonik 2 gives you the know-how and ability of a master sound designer, only without having to spend the time to get an engineering degree!
Professional effects
Miroslav Philharmonik 2 includes 34 of the best studio plug-in effects from IK Multimedia's acclaimed SampleTank 3 sound and groove workstation. Each of these effects has been selected to enhance your experience with Miroslav Philharmonik 2.

You get 5 equalizers, 4 dynamic processors, 7 filtering and special processors, 9 modulation effects and 9 reverb and delay effects. Versatile, powerful and easy-to-use (a recurring theme, we're sure you'll agree), these effects let you create professional, broadcast-quality productions straight inside Miroslav Philharmonik 2 itself — no additional processing necessary!
EQ and Dynamics
Modulation
Reverb and Delay
Filter / Other
Amp Components
3D Room Visualization – the ConvoRoom
Immerse yourself in real symphonic spaces. Miroslav Philharmonik 2's ConvoRoom convolution reverb lets you quickly and easily switch the acoustic space that your symphony is playing in. It now also comes with a brand new virtual room GUI that gives you a visual representation of the physical space that will help to immerse you in the sound and connect you with your orchestra's environment beyond mere instrument icons.
Mix: A pro studio console and conductor for your orchestra
Miroslav Philhamonik 2 is more than just an instrument; it's a full-featured symphonic workstation. It comes with its own built-in DAW. Explore the MIX tab and you'll find the familiar interface of a DAW mixer that comes complete with console-style channel strips and insert FX.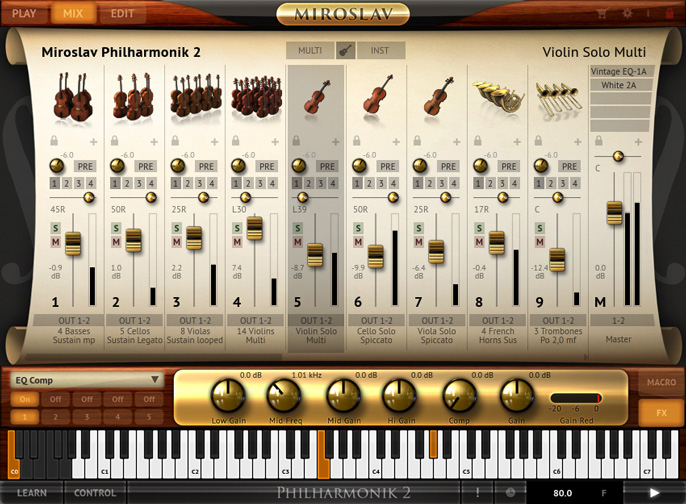 You get three different kinds of channels:
16 Part channels with per-channel volume, pan, mute, and solo controls as well as 5 insert effects slots and 4 send/returns.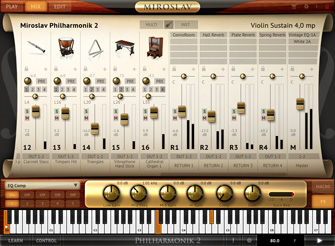 4 return channels that are used for global processing, like adding reverb and delay or bus processing channels with Miroslav Philharmonik 2's powerful included compressors, limiters and equalizers.
And a master channel where you can apply all final mastering and master bus processing. Miroslav Philharmonik 2 comes with 4 of the best analog modeled mastering effects from IK's powerful T-RackS mixing and mastering suite — the Black 76, White 2A and Model 670 limiters plus the Tube Program EQ. Now you have the power to "master" you final mix without ever having to leave Miroslav Philharmonik 2!
Edit: A synthesizer for your symphony
Imagine a symphony…now imagine that symphony processed through a state-of-the-art synthesizer. Sounds pretty wild, right? Well that's exactly what you can do with Miroslav Philharmonik 2's robust Edit page. It's a powerful synthesizer engine that you can use to radically reshape and transform any instrument in Miroslav Philharmonik 2's library to fit your creative needs.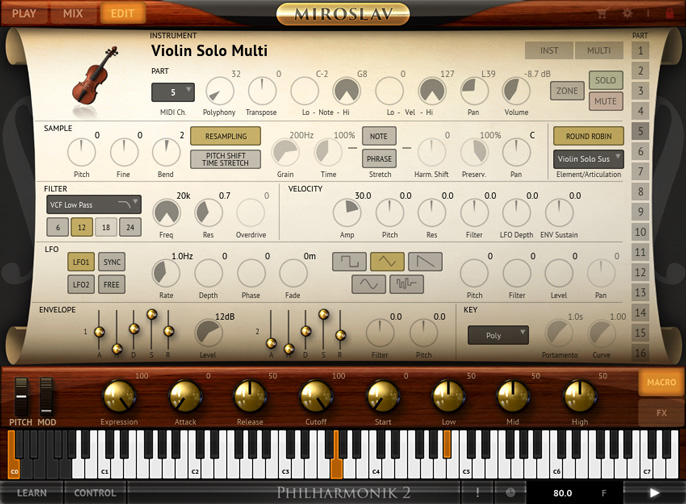 It sports a core next-generation sampler with three different playback engines drawn from IK's acclaimed SampleTank 3 sound and groove workstation: Pitch Shift/Time Stretch for clear and punchy percussion. STRETCH™ (or SampleTank Time REsynthesis TeCHnology) for extremely realistic woodwinds, brass and organic sounds — this new technology gets around the "chipmunk" effect produced by traditional samplers by shifting all aspects of a sample's sound, including fundamentals and formants. There's also a more traditional Resampling engine.
Beyond its sampling, Miroslav Philharmonik 2 also provides 10 great-sounding filters that cover everything from classic to contemporary: You get a famous analog transistor ladder filter plus formant, phaser and multimode filters that all provide an effortless flexibility that you won't find on even the best analog synthesizers. Now you can turn a simple trumpet into a massive synthesizer lead or a mighty brass ensemble into a soft and dreamy pad. With Miroslav Philharmonik 2's included filters, you can color your sound any shade of the sonic rainbow.
Sounds