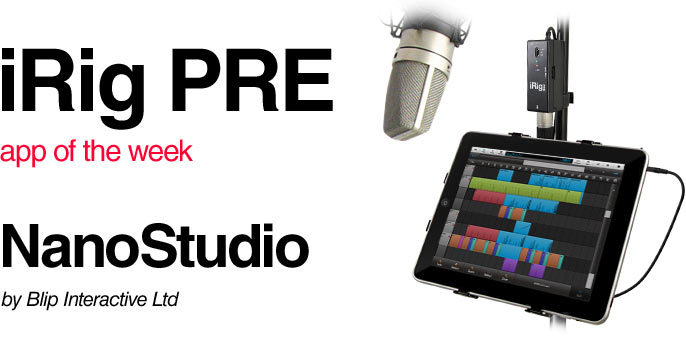 NanoStudio is a recording studio for iPhone/iPod Touch. It has virtual analogue synths, sample trigger pads, a comprehensive sequencer, a sample editor, a mixer and multiple effects all integrated into a single application.
Record your ideas in real time, mix synth layers with samples, compose and arrange your tune using the powerful sequencer and bring the mix alive with effects such as reverb, compression and EQ. Share your tune on SoundCloud from wherever you are or use the comprehensive audio mixdown options and MIDI export feature to get your ideas over to your desktop DAW when you get back home.
NanoStudio's intuitive user interface frees you to get creative yet has loads of depth for when you need it. To try it out head on over to our website where you can download the OS X and Windows versions for free!
INSTRUMENTS
Up to 6 simultaneous instruments (including mixer) or upgrade with the '16 Instrument Tracks' in-app purchase, particularly recommended for newer devices.
'Eden', a powerful 16 voice subtractive synth with dual oscillators, 2 pole resonant filter, 3 envelope generators and 4 LFO's per voice and 2 dedicated insert effects. Eden's virtual patchbay lets you hook up almost anything for modulation mayhem.
The 'TRG-16', a performance pad for triggering samples. Adjust pitch, pan, volume and envelopes and assign each sample to one of the 3 output busses, each with its own effect sends and filter setup.
SAMPLING
Record samples with the built-in mic (iPod Touch requires external mic), resample NanoStudio's own output or upload your own samples using NanoSync for OS X/Windows. Edit your samples using NanoStudio's built-in wave editing tools (with multiple undo/redo) and process them offline with custom effects chains.
SEQUENCER
Record performances in real-time using the keys and trigger pads or create patterns and controller sweeps by drawing them in the piano roll editor. Arrange your patterns into a complete song using the track editor. You can edit while the song is playing and every operation has multiple undo/redo.
MASTERING
Nanostudio's mixer has 2 global effects sends, 4 insert effects per channel and you can record, edit and playback all your fader and pan changes. When you're ready to share your mix with others you can upload it direct to SoundCloud or use NanoSync to copy the exported .wav file to your Mac/PC.
EFFECTS
NanoStudio's reverb, compressor, parametric EQ, waveshaper, delay, chorus, and bitcrusher effects are all highly optimized so you can run lots of them.
FEATURE SHORTLIST (loads more at www.blipinteractive.co.uk)
6 simultaneous instruments, up to 16 with in-app purchase
MIDI input with the Line 6 MIDI Mobilizer, Akai SynthStation 25 and Core MIDI
Audio copy/paste for sharing audio with other compatible apps (Sonoma and Intua standards supported)
Upload your mix directly to SoundCloud
Eden synth (also plays samples) - single or dual keyboards, XY controllers, pitch bend and accelerometer control
TRG-16 sample trigger pads
Sequencer with up to 64 tracks and a piano roll editor for note, velocity and controller events, all with undo/redo
Mixer with 4 inserts per channel, 2 global send busses and volume/pan automation on every channel
Sampling and resampling, sample editor and effects processor with undo/redo
Transfer samples, final mixes and individual track mixdowns to your Mac/PC using NanoSync
Built in help
More iRig Pre apps

StudioMini XL Recording Studio
A powerful yet easy to use recording studio.
StudioMini XL is a powerful yet easy to use recording studio for your iPad with CD quality audio, pro audio Loops & much more!!
PRO AUDIO QUALITY - Records in 44.1 kHz / 16 bit pro quality audio, the crystal clear and uncompressed standard for CDs
WAV - Records WAV audio files, the most universally used Linear PCM format (this means your recorded files and Loops will work perfectly on any computer with any audio software)
MULTITRACK - Multitrack record on 8 tracks
STEREO INPUT - Record in Stereo when supporting hardware is connected
AUDIO LOOPS - Loops track for adding from 78 built-in professionally produced Drum Groove Loops spanning 13 styles of music, includes BPM display
METRONOME - Metronome that sounds just like the real thing
MIXDOWN - create final mixes in WAV or AAC format and email right from your iPhone, or choose Download
DOWNLOAD - connect through iTunes File Sharing or Wi-Fi Sync to download your song files, individual tracks and mixes
IMPORT - add WAV files from your computer into StudioMini through iTunes File Sharing and then import into your song
NOTES - each song comes with a notepad for writing down your lyrics, chord progressions, ideas etc.
SOLO, MUTE, RECORD ENABLE - Buttons for each track, just like on professional hardware mixers
TUNER - Pitch generator with accompanying interactive reference chart with many instruments, including alternate tunings
COUNT-IN - Sets up the tempo before recording starts to keep you in perfect time
MULTIPLE SONG FILES - Record and save as many songs as your device can fit
PRO AUDIO TIMING - Pro audio synchronization and latency compensation
MONITORING - Input level monitoring during recording
DELETE PROTECTION - Confirmation checks for track and song deletes so you don't erase something by mistake
TIMELINE - Timeline slider enables you to move back and forth to any spot in the song
PRO MIXER FADERS & METERS - Calibrated faders and meters for adjusting and monitoring track audio levels
REPEAT SONG - Repeat switch for playing your song over and over, great for practicing
USER MANUAL - Full 33 page pdf manual that's bundled in StudioMini. It's thorough and easy to access, and you don't need to close StudioMini to read it
StudioMini XL includes a collection of 78 Drum Groove Loops spanning 13 styles. These audio tracks are professionally produced and are only available with StudioMini. There are no repetitive 1 bar loops that sound dated or cheesy, these are new and inspiring 4 to 8 bar patterns that sound real and "feel" right.
Drum Groove styles:
Acoustic Pop Rock
Modern Rock
Classic Rock
Metal
Reggae / Ska
Funk
Pop
R&B / Hip Hop
Electronica
Country
Jazz
Latin / Brazilian
Blues
Examples of what you can do with StudioMini XL:
Record a song with your band. Connect with a mixer and use professional studio microphones to record you next hit with StudioMini XL, then create an AAC mix and email it straight from your iPad.
Keep track of your songwriting ideas, riffs, raps, whatever you like. Never let that great idea escape you again.
Use it for practicing: record some chords, then practice your scales, improvisation, a song you're learning, etc. Or just use the metronome & drum grooves to keep you in time while you practice.
Use it as a field recorder. Record a lecture, your band's rehearsal, keep track of your thoughts.
Record a cover song and show off your vocals: pick a Loop, have a friend play guitar (keys, synth etc.), add a bass line and then sing or rap over it.

VocaLive
Real time vocal processor and recording application.
VocaLive is the first professional practicing, performing and recording vocal processor for the iPhone®, iPod touch® and iPad®.
Singers and songwriters will have a suite of 5 dedicated real-time vocal effects (pitch correction, choir harmonizer, voice doubler, vocal morpher and de-esser) plus 7 effects tailored to vocal processing (reverb, EQ, compressor, delay, envelope filter, chorus, phazer) that can be combined on a 3-processor (4 with iPad version) vocal rig chain. VocaLive also includes dozens of presets to help you get up and running in seconds.
With the VocaLive app you can record (single or multi-track), sing along with your iPod song library (with voice cancel included), and warm up with the included vocal tools giving you the most complete, portable vocal solution.
VocaLive can be used with the built-in iPhone microphone, earbuds with built-in mic, or for the best results, with IK's new iRig Mic. VocaLive is the most portable and powerful vocal processing tool always available at your fingertips on your iPhone.
Features:
Real time vocal processor + recording app
3-processor (4 with iPad version) vocal rig chain
12 vocal effects
Single track recorder expandable to full 4 tracks (8 with iPad version) recording studio through in-app purchase
Sing-along backing tracks with voice cancel feature
Dozens of presets included with favorites presets for fast recall
Includes metronome and vocal warm-up tools
Low-latency for real time vocal processing
FREE version also available

VocalizeU
Vocal and musicianship tools suite.
VocalizeU is a ground-breaking new app that provides singers and musicians with a revolutionary suite of vocal and musicianship tools. VocalizeU turns your iPad into a complete vocal studio, providing you with everything you need to be the best singer, performer, or musician. It is a comprehensive, full experience app, taking you from beginner to full artistry.
The heart of VocalizeU is it's patented, fully customized vocal evaluation and workout program, which individually evaluates each singers voice and assigns proper workouts to correct vocal problems and habits.
The most amazing aspect of VocalizeU lies in its unprecedented on demand access to live vocal experts for one on one lessons, directly from the app!
Features:
Custom Vocal Evaluations & Workouts
Live Vocal Experts
Vocal Recorder
Vocal Journal
Pitch & Ear Training Program
Adjustable Warm-Ups
Video Library