Other Partners App/Software
Free included app/software
iRig Mic HD 2 comes with the following free bonus content
iPhone/iPad free content

FREE Mic Pack for VocaLive for iPhone/iPad
Unlock all the microphone models included in the Mic Room section of VocaLive

FREE Pro Bundle for iRig Recorder for iPhone/iPad
Add professional effect such as Normalize, Three Band EQ, Compressor, and Stereo Imager to iRig Recorder

Mic Room
Upgrade from LE (FREE) version to FULL version – for FREE.
Real time microphone modeling app with 9 mic models*

Users who purchase and register this product are eligible to upgrade Mic Room FREE version to Mic Room FULL version – for FREE. Download (or update) Mic Room FREE version from the App Store. Launch the app and tap on the "MENU" button, then tap on the "Account" button to register the app and your accessory using your IK User Name and Password. All the gear of Mic Room FULL version will automatically be unlocked and available inside the app.
Mic Room comes with 9 microphone models (*1 of which is available after registration).
More mic models can be added through in-app purchase.
Included mic models:
Condenser 12
Condenser 87*
Condenser 414
Dynamic 57
Dynamic 58
Dynamic 421
Old Telephone Mic
Ribbon 121
Vintage Dynamic
*By registering
Users who register any IK's digital and analog microphone will receive 2 additional mic models: Velo 8 and Vintage Dynamic 20.

FREE Microphones for Mic Room iOS
Velo 8 and Vintage Dynamic 20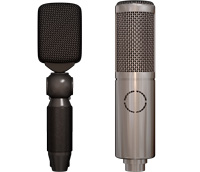 Velo 8
Based on Groove Tubes® VELO-8
This is a double-ribbon figure-8 microphone with a unique Neodymium element. With a silky-smooth high end and good low end body, this mic mixes very well with other microphones for very full-bodied recordings.
Vintage Dynamic 20
Based on AKG® D20™
A vintage dynamic large diaphragm microphone that used to be the standard mic for bass amps and kick drums during the 60's. It's warm and present, and has a smooth roll-off at high frequencies.
These mic models are automatically unlocked inside Mic Room app after registering this product.
Mac/PC free content

T-RackS CS Classic
High-End Mastering and Mixing Suite with 4 Processors

Mic Room
Microphone Modeling Module for T-RackS

Live 10 Lite™
by Ableton®
Digital Audio Workstation application
Limit 1 free bonus content per customer. Bonus content is non-transferrable and has no cash value.
Other IK Multimedia app/software
iRig Mic HD 2 works with other apps and software from IK Multimedia
iPhone apps
iPad apps
Mac/PC software
Other Partners app/software
iRig Mic HD 2 works with other apps and software
iPhone/iPad apps


GarageBand turns your iPad, iPhone, and iPod touch into a collection of Touch Instruments and a full-featured recording studio — so you can make music anywhere you go. Use Multi-Touch gestures to play a piano, organ, guitar, and drums. They sound and play like their counterparts, but let you do things you could never do on a real instrument. Enjoy Smart Instruments that make you sound like a pro — even if you've never played a note before. Plug an electric guitar into your iPad, iPhone, or iPod touch and play through classic amps and stompbox effects.* Use a Touch Instrument, a built-in microphone, or a guitar and instantly record a performance. GarageBand now takes song creation to the next level with support for up to 32 tracks.** Get even more sounds for GarageBand with a one-time in-app purchase or record popular third-party music apps using Inter-App Audio in iOS 7. And share your song using email, Facebook, YouTube, SoundCloud, or AirDrop for iOS.