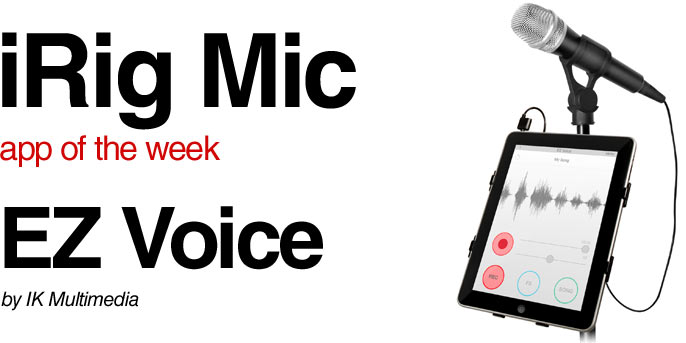 Now you can sing along with all of your favorite songs! EZ Voice is a companion app for iRig Voice and iRig MIC that lets you practice, perform and record vocals using the music in your mobile device's music library.

With EZ Voice, you'll always stand out and deliver a winning performance. Just pick a song from your library and let EZ Voice do the rest — its intuitive controls make it easy to remove original vocals, tune your voice and add fun vocal effects. Share your favorite performances with your friends and fans. It's the easy way to sound great and sing along with your favorite music anytime, anywhere.

EZ Voice Features:
Sing along with any song on your mobile device's music library or through iTunes File Sharing
Sing with or without a backing track
Quick and easy-to-use interface lets you sing anywhere, anytime
No Voice button removes original vocals from imported songs letting you take the lead
Polish your voice with 9 high-quality audio effects: Tune, Morph, Choir, EQ, Filter, Level, Chorus, Delay and Reverb (Reverb is free by registering — the other effects are available via in-app purchase)
Comes with factory effects presets for all singing styles
Preview, adjust and save effects combinations with ease
Lets you share your performances with your friends via SoundCloud and email
Sing using your mobile device's built-in mic or your earbuds' mic
For best performance, use the IK range of microphones, like iRig Voice, iRig Mic, iRig Mic Cast, iRig Pre, iRig MIC HD
More iRig MIC Cast apps

Spreaker Radio and podcast recorder
Create and share LIVE audio broadcasts on the go from your mobile device!
With Spreaker let your inner radio host shine through by recording your own podcasts. Become a sports commentator or report on live events, then share all the latest news with your friends on any major social network. Access the new DJ console to mix voice, music and effects to your liking, and feel like a pro over the airwaves.

Plus, listen to a variety of podcasts and live broadcasts created by users all over the world.

Talk, discuss, chat, and more!

Features:
Broadcast high quality live audio directly through your social networks with one click
Mix and broadcast your voice with sound effects (with iOS 5 and up)
Access over 100,000 podcasts and live channels
Search and find podcasters near you
Connect with car audio systems using bluetooth
Share your podcast on Soundcloud to reach an even bigger audience
Manage and modify your podcasts and profile
Keep updated on podcasts and users you follow
and much much more...

StarMaker Karaoke with Auto-Tune
The only karaoke app with real Auto-Tune™.
By StarMaker Sing & Share
Sing and record over 300 songs and share your recordings using Facebook, Twitter, or email!
Recordable songs are $0.99 each and come complete with scrolling lyrics and removable vocals; simply record your voice singing and the lead vocal gets replaced by you as the star!
StarMaker features more songs than any recordable singing app in the store. We add a batch of new and classic songs every week with their original arrangements; check back often for more tracks made famous by top artists like: Justin Bieber, Katy Perry, Sara Bareilles, Coldplay, Kelly Clarkson, Jay-Z, Alicia Keys, Keith Urban, David Cook, Norah Jones, Elton John, Beyonce, Frank Sinatra, K.T. Tunstall, Regina Spektor, Kanye West, Madonna… and tons more!
You can sing, record, add a photo and share each song as many times as you want. You even get a free song to try it out!
NOTE: Headphones are recommended for recording on an iPhone, iPad, or 4th generation iPod Touch. 1st, 2nd, and 3rd generation iPod Touches require a headset or earbuds with a microphone to record.

StudioApp 2.0
Mobile multi-Track Recording Studio.
Ladies and Gentlemen it has finally arrived... Your Mobile Recording Stuidio. Hip-hop artists, rappers and singers alike have been referring to StudioApp as one of the best mobile recording applications ever!
Whether you're at home, in the car or on a short flight in your private jet, StudioApp allows you to lay down up to 4 vocal/audio tracks over top-pick instrumentals.
With a brilliant user interface and seemless audio sequencing, StudioApp tops the charts in mobile music production and raises the standards for every rapper, singer, DJ, MC and all else who don't want to deal with expensive and time consuming production tools.
StudioApp Features:
Track Count - Infinite via the bounce feature
Track Length - Dependent on instrumental
Recording Quality - 44.1 kHz, 16 bit, Mono WAVs
Latency Compensation - within 1 ms
Lyric Pad
Use With or Without a Mic Headset
Proximity Sensor When Recording
iPhone 4 Retina Display Graphics
Loud Speaker or Quiet Speaker Playback
Wifi Syncing for Importing and Exporting
Audio Store (99c instrumentals)
Album Cover Assignment
Input Audio Decibel Meter
Input Clipping Marker
Calibrating Faders
Seeking Timeline for Overdubbing and Choruses
Unlimited Project Count
Unlimited Instrumental Count
StudioApp supports 16 bit, Mono, 44.1 kHz WAV files

StudioMini XL Recording Studio
A powerful yet easy to use recording studio.
StudioMini XL is a powerful yet easy to use recording studio for your iPad with CD quality audio, pro audio Loops & much more!!
PRO AUDIO QUALITY - Records in 44.1 kHz / 16 bit pro quality audio, the crystal clear and uncompressed standard for CDs
WAV - Records WAV audio files, the most universally used Linear PCM format (this means your recorded files and Loops will work perfectly on any computer with any audio software)
MULTITRACK - Multitrack record on 8 tracks
STEREO INPUT - Record in Stereo when supporting hardware is connected
AUDIO LOOPS - Loops track for adding from 78 built-in professionally produced Drum Groove Loops spanning 13 styles of music, includes BPM display
METRONOME - Metronome that sounds just like the real thing
MIXDOWN - create final mixes in WAV or AAC format and email right from your iPhone, or choose Download
DOWNLOAD - connect through iTunes File Sharing or Wi-Fi Sync to download your song files, individual tracks and mixes
IMPORT - add WAV files from your computer into StudioMini through iTunes File Sharing and then import into your song
NOTES - each song comes with a notepad for writing down your lyrics, chord progressions, ideas etc.
SOLO, MUTE, RECORD ENABLE - Buttons for each track, just like on professional hardware mixers
TUNER - Pitch generator with accompanying interactive reference chart with many instruments, including alternate tunings
COUNT-IN - Sets up the tempo before recording starts to keep you in perfect time
MULTIPLE SONG FILES - Record and save as many songs as your device can fit
PRO AUDIO TIMING - Pro audio synchronization and latency compensation
MONITORING - Input level monitoring during recording
DELETE PROTECTION - Confirmation checks for track and song deletes so you don't erase something by mistake
TIMELINE - Timeline slider enables you to move back and forth to any spot in the song
PRO MIXER FADERS & METERS - Calibrated faders and meters for adjusting and monitoring track audio levels
REPEAT SONG - Repeat switch for playing your song over and over, great for practicing
USER MANUAL - Full 33 page pdf manual that's bundled in StudioMini. It's thorough and easy to access, and you don't need to close StudioMini to read it
StudioMini XL includes a collection of 78 Drum Groove Loops spanning 13 styles. These audio tracks are professionally produced and are only available with StudioMini. There are no repetitive 1 bar loops that sound dated or cheesy, these are new and inspiring 4 to 8 bar patterns that sound real and "feel" right.
Drum Groove styles:
Acoustic Pop Rock
Modern Rock
Classic Rock
Metal
Reggae / Ska
Funk
Pop
R&B / Hip Hop
Electronica
Country
Jazz
Latin / Brazilian
Blues
Examples of what you can do with StudioMini XL:
Record a song with your band. Connect with a mixer and use professional studio microphones to record you next hit with StudioMini XL, then create an AAC mix and email it straight from your iPad.
Keep track of your songwriting ideas, riffs, raps, whatever you like. Never let that great idea escape you again.
Use it for practicing: record some chords, then practice your scales, improvisation, a song you're learning, etc. Or just use the metronome & drum grooves to keep you in time while you practice.
Use it as a field recorder. Record a lecture, your band's rehearsal, keep track of your thoughts.
Record a cover song and show off your vocals: pick a Loop, have a friend play guitar (keys, synth etc.), add a bass line and then sing or rap over it.

SunVox
Music creation tool for iOS.
SunVox is the Most Powerful music creation tool for iOS.
Most Innovative Application of 2008/2009 by results of poll on Palm Sounds blog.
It is a small and fast multi-platform pattern based sequencer (tracker) with modular synthesizers. With this program you can compose music anywhere. On any device. It also available (for free!) for Windows, Mac OS X, Linux, Maemo, PalmOS and Windows Mobile.
Listen to tracks made in SunVox: soundcloud.com/groups/sunvox
Jordan Rudess about this app:
Sunvox is a serious music application. I am personally running it on my iphone. In the overcrowded world of music apps, Sunvox stands out as both unique and powerful. If you are a musician and own an iphone, you owe it to yourself to try this amazing application!
Features:
Modular interface
Highly optimized synth algorithms
Flexible architecture: SunVox can working on variuos devices with completely different CPUs
WiFi export/import
Export to WAV
MIDI IN/OUT
Mic/Line-in recording
Built-in synthesizers & effects:
FM synthesizer; Generator (saw,triangle,square,noise,sine); Kicker; Sampler (supported formats: WAV, XI, AIFF); SpectraVoice (FFT-based synthesizer for deep and beautiful pads); DC Blocking Filter Delay; Distortion; Echo; 3Band equalizer; Filter (Low-pass, High-pass, Band-pass, Notch); Flanger; LFO; Loop (for glitch effects); Reverb; Vocal Filter (for human voice simulation); Vorbis Player; Vibrato.

Tribute
Sing over any song in your music library.
Harmonize with Your Hero's.
Direct Access to Your Music Library.
Sing over any song in your music library with Tribute. Tribute turns on the microphone in your device allowing you to hear yourself in the song mix.
Select any song or playlist from your library.
Mute & balance controls.
Great for practicing your vocals.
Compatible with iRig Mic.
Chant, chirp, harmonize, hum, purr, roar, serenade, shout, trill, warble, whine, whistle, yodel or just plain sing along today!
And when you're not singing , use the app to you hear your surroundings along with your music.
Now Compatible with iRig Mic, the first handheld, quality condenser microphone for iPhone, iPod touch and iPad designed for all of your mobile sound needs.

VocaLive
Real time vocal processor and recording application.
VocaLive is the first professional practicing, performing and recording vocal processor for the iPhone®, iPod touch® and iPad®.
Singers and songwriters will have a suite of 5 dedicated real-time vocal effects (pitch correction, choir harmonizer, voice doubler, vocal morpher and de-esser) plus 7 effects tailored to vocal processing (reverb, EQ, compressor, delay, envelope filter, chorus, phazer) that can be combined on a 3-processor (4 with iPad version) vocal rig chain. VocaLive also includes dozens of presets to help you get up and running in seconds.
With the VocaLive app you can record (single or multi-track), sing along with your iPod song library (with voice cancel included), and warm up with the included vocal tools giving you the most complete, portable vocal solution.
VocaLive can be used with the built-in iPhone microphone, earbuds with built-in mic, or for the best results, with IK's new iRig Mic. VocaLive is the most portable and powerful vocal processing tool always available at your fingertips on your iPhone.
Features:
Real time vocal processor + recording app
3-processor (4 with iPad version) vocal rig chain
12 vocal effects
Single track recorder expandable to full 4 tracks (8 with iPad version) recording studio through in-app purchase
Sing-along backing tracks with voice cancel feature
Dozens of presets included with favorites presets for fast recall
Includes metronome and vocal warm-up tools
Low-latency for real time vocal processing
FREE version also available

VocalizeU
Vocal and musicianship tools suite.
VocalizeU is a ground-breaking new app that provides singers and musicians with a revolutionary suite of vocal and musicianship tools. VocalizeU turns your iPad into a complete vocal studio, providing you with everything you need to be the best singer, performer, or musician. It is a comprehensive, full experience app, taking you from beginner to full artistry.
The heart of VocalizeU is it's patented, fully customized vocal evaluation and workout program, which individually evaluates each singers voice and assigns proper workouts to correct vocal problems and habits.
The most amazing aspect of VocalizeU lies in its unprecedented on demand access to live vocal experts for one on one lessons, directly from the app!
Features:
Custom Vocal Evaluations & Workouts
Live Vocal Experts
Vocal Recorder
Vocal Journal
Pitch & Ear Training Program
Adjustable Warm-Ups
Video Library
Voice Band
A revolutionary new way to make music - with your voice.
By WaveMachine Labs, Inc.
Voice Band introduces a revolutionary new way to make music - with your voice!
Just sing into your phone and hear Voice Band transform your voice into an instrument in real time. Voice Band doesn't simply alter your voice to sound like an instrument, it actually plays a real sampled instrument which follows what you sing. Want to jam to a guitar solo with your favorite band? Voice Band lets you play along with your ipod library, too.
Whether you're a musician looking to instantly capture an arrangement idea, or a music fan looking to make your own music for the first time, Voice Band will inspire and challenge you.
NOTE: Like any musical instrument, Voice Band works better with practice. If you consider yourself non-musical you can still have lots of fun with Voice Band as you continue to expand your musical talent! For help in getting the most from Voice Band, check out our tutorial videos.
Imagine creating an entire song with only your voice!
Voice Band features a recorder which lets you build a song, one instrument at a time. Auto pitch mode helps you stay on key, and if you're a musician, you'll appreciate the adjustable scale and metronome. Voice Band also includes a built-in effects processor with distortion, reverb, and delay.
Features:
Turns your voice into an instrument, in real time
Instruments include: 2 guitars, bass, sax, 2 synths, Drums, and a Mic mode
Built-in recorder allows you to record an entire song, one instrument at a time
iPod player lets you play along with your favorite music
Drum mode lets you play both kick and snare at the same time by singing at two different volumes
Auto Pitch mode helps you to stay on key
Adjustable octave
Effects include distortion, reverb and delay
Adjustable musical scale for auto pitch includes Major, Minor, Blues, Pentatonic, Wholetone and Mixolydian
Built-in metronome with adjustable tempo
Songs can be saved, and e-mailed from within Voice Band
Requirements:
An iPhone 3GS is strongly recommended to reduce the processing delay that can interfere with accurate instrument control
Quality headphones are recommended
A quiet place to record, to avoid false instrument triggering from external noise
Practice is required! As with any musical instrument, your results will improve dramatically as your skill develops

VoiceKeyboard HD
Record any sound, and play it back on the keyboard as an instrument.
Record any sound, and play it back on the keyboard as an instrument! Record anything and turn it into something musical and creative. For example, record one note from a guitar, and instantly you have a guitar piano. Replace your other Grand Piano, Cat Piano, Dog Piano, Bird Piano or Majestic Bug Piano (etc..) from the sounds you record.
VoiceKeyboard is a powerful, easy to use sampler. Import and export from your computer, manipulate the waveform with the touch screen, timeshift to sync all of the notes when playing chords... Record your performances, and play them back with the most dynamic and versatile piano on the iPad.
Features:
Waveform Selection: Quickly drag your finger over the waveform to select the exact part of the recording to use on the keyboard
Reverse Sample Mode: Play samples in reverse, and use the waveform to customize the sample further
Web Sharing: Upload and download recorded samples to and from VoiceKeyboard with your home computer
30-Note Polyphony: Play with all 10 fingers, make your own custom high-quality uncompressed (48.0k 16 bit) samples
Sound Modes: The Timeshifting (or Timestretching) option allows simultaneously played notes to be in sync and the same duration, making the samples sound harmonious and musical when played together
Automatic Sample Trimming: This version automatically recognizes and removes the silence or "dead air" at the beginning and end of the recorded sample, making the keyboard very responsive
Audio Normalization: Normalization increases the loudness of your recordings to a maximum level without introducing any new distortion
Sustain and Looping: Control how the recorded samples are looped and sustained, when played on the keyboard
Fully Animated Keyboard with multitouch glissando (finger sliding)
Save, Load, Preview, and Delete Samples
Save and load Song Performances with Tempo adjustment