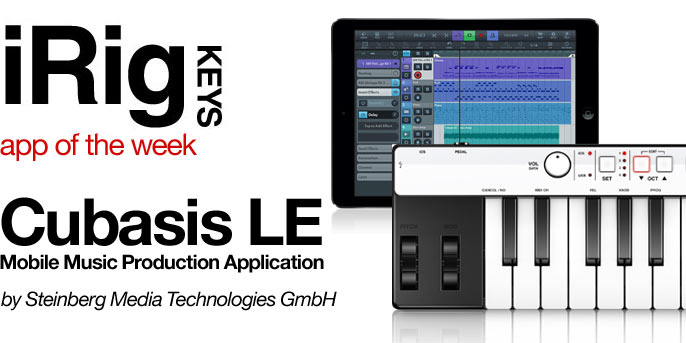 Cubasis LE is the compact version of Steinberg's streamlined, multitouch sequencer for the iPad, providing the same look and feel of its bigger brother Cubasis. Specially designed for quick and easy operation, Cubasis LE makes recording, editing and mixing a breeze. With MicroSonic, Cubasis LE includes a virtual instrument to be played in real time using the flexible virtual keyboard. Song ideas can be captured with up to four audio and four MIDI tracks and further edited and polished to perfection with the integrated editors, mixer and selected effects. Thanks to the Cubasis project importer, Cubasis LE projects can be even opened in Cubase - both on Windows and OS X. With touch-intuitive production tools, Cubasis LE opens up a new world of possibilities for your creativity.

Key features:
Up to 4 audio and 4 MIDI tracks
2 assignable physical inputs and stereo output
32-bit floating point audio engine
Audio I/O resolution of 16-bit/44.1 kHz
iOS 32 and 64-bit support (depending on the device used)
MicroSonic with 25 virtual instrument sounds
Mixer with 4 effect processors
Virtual keyboard
Sample Editor and Key Editor
Export to Cubase
Core Audio and Core MIDI compatible hardware supported
Import audio from your iTunes music library
Audio mixdown and MIDI export
Unlock all the features of the full Cubasis version via in-app purchase
More iRig Keys Pro apps

50in1 Piano HD
Learn to play the piano, create your own songs and even sing to your compositions
Learn to play the piano, create your own songs and even sing to your compositions! 50in1 Piano HD lets you do all that with one single app!
It combines a piano keyboard, 50 studio-quality instruments, 120 piano lessons, real-time effects, 100 beat loops and much more in a user-friendly interface.
Here's a video of 50in1 Piano HD in action with iRig MIDI:
Features:
Photorealistic 85-key keyboard
Instant positioning and resizing with gestures
2 keyboard row mode
Key labels (Cs only, all keys, all keys colored)
50 studio-recorded instruments (sampled from real instruments)
120 piano lessons (from Mozart to Jingle Bells)
100 drum beats
18 demo songs
Microphone recording
4 real-time effects: 6 reverb styles • Delay with adjustable timing and feedback • 3-band equalizer • Pitch bend controlled via device tilt
External hardware support: iRig MIDI • Line 6 MIDI Mobilizer • Core MIDI
iTunes file transfer: exchange your saved song with your Mac/PC via USB
Detailed in-app user manual
Low-latency, high-polyphony, battery saving audio engine

Anaphobia Mini
A virtual analog synthesizer for iOS
Anaphobia Mini (short: AnaMini) is a monophonic virtual analog synthesizer for iOS 5.0. It features a classical analog synthesizer setup using a VCO, LFO, VCA and VCF. Of course, none of it is really controlled by voltage, but rather by a 32-bit digital synthesis engine.

Features
One oscillator with two wave types and scalable within the range of -1 and +1 octave.
Two LFO's with fixed wave type (saw) and selectable frequency/rate and depth. One LFO modulates VCO frequency, the other VCF cutoff.
One VCA with fixed ADSR envelope.
One 24dB/octave VCF with three filter types and selectable cutoff frequency and resonance.
A one-octave keyboard with support for portamento and legato play.
14 factory presets.
20 custom presets.

Arctic Keys
Virtual analog synthesizer.
Arctic Keys is a virtual analog synthesizer. With a classic dual-oscillator subtractive synthesis design that gives you the sound creation flexibility we all know and love. With an easy to use user interface that just wants to be tweaked. The result is a truly professional instrument with an audio quality that rivals that of hardware synthesizers.

ARGON – Synth
Monophonic virtual analog synthesizer
Highly Tweakable Monophonic Virtual Analog Synthesizer
128 Factory Presets
3 x Oscillator: Sawtooth, Square(PWM), Sine, Noise, Formant
FM(Frequency Modulation)
Ring Modulation
Oscillator Sync
FILTER: LP24, LP18, LP12, LP6, BP, HP
AMP
Overdrive
3 Band EQ
3 x LFO
3 x ENV (ADSR)
Step Sequencer (Arpeggiator)
Modulatable Delay
Loop Recorder: copy to clipboard (compatible with Intua Beatmaker, GarageBand) export as a wav file via WIFI
SynthStation25 Support
CoreMIDI Support

BassLine - Analog Modeling Synthesizer
Bass synthesizer.
BassLine is a virtual analog bass synthesizer with built-in step sequencer and on-board effects. Its unique low-pass filter allows to produce the well known high-resonance filter sweeps, that are typical for vintage synths like the legendary TB-303.
Features:
Monophonic synthesis engine including a never self-oscillating, cascaded low-pass filter
Four oscillator waveforms (sawtooth, square, pulse, and saw/triangle)
Low frequency oscillator (LFO) for cutoff modulation
Overdrive with tube-like distortion characteristic
Tape delay effect with tempo-synchronous delay times
Individual pattern lengths & downbeat-aligned switches
Pattern randomizer
Tap tempo
MIDI Clock sync support via CoreMIDI: Receive timing clock, start and stop events via local MIDI, Wi-Fi, and USB Camera Connection Kit (iPad only)
Accelerometer-driven cutoff frequency control
Audio Export via General Pasteboard, AudioCopy by Sonoma Wire Works, or E-Mail
Support for playing along iPod Music
Universal App for iPad, iPhone, and iPod touch
Runs on Original iPhone and iPod Touch 1st generation (Compatible with iPhone OS 3)
Including twenty patterns by Myagi (www.popandlockrecords.com)

bs-16i
Multi-timbral playback sampler.
bs-16i is a 16 multi-timbral playback sampler. It supports SoundFont, and can be used for keyboard instrument, MIDI sound module, and MIDI player.
The sampler engine is ported from bs-1 / bs-16, which is developed as professional plug-in for Logic (Audio Units) and Cubase (VST instrument).
Using SoundFont libraries, you can play with your great number of Instruments.
It supports all standard MIDI messages, so it also can be used as a GM (General MIDI) sound module.
As a keyboard instrument, you can play with scalable keyboard, pitch bend wheel, and many control change controllers.
Check out iRig KEYS and bs-16i in action at:

Chordana Viewer
Support for writing the chord chart for your favorite songs
By CASIO COMPUTER CO., LTD.
Casio original technology automatically analyzes the chords in your audio files.  The analyzed sound is then displayed as chord chart on the screen.  You can also use the app to check the chord positions for the instrument as you play, making it even more fun to play music.

You can also play the results of the chord analysis on the instrument pad to check the outcomes. You can then edit the chords yourself as you listen to the actual sounds and write even more accurate chord chart. This is so much quicker and easier than trying to figure out the chords just by listening to them.

* The analyzed chords will be a close match to the mood of the song, but may not necessarily be the same chords as those used in the original.

As well as showing the analyzed chords, the app has a guide bar that moves along with song playback, allowing you to check the chords being played in real time. The app also supports full-screen display so that you can just check the chord chart.
• Chord Guide
By touching a chord in the chord display pane, you can check the chord position for the instrument selected in the Performance pane.

• Editing Chords
You can modify the chord chart by choosing a chord from up to three candidate chords that are closest in sound to the analyzed chord. You can also specify the chord manually.

CMP Grand Piano
A high quality virtual piano for your iPad, iPhone and iPod Touch.
By Christian Schoenebeck d/b/a Crudebyte
CMP Grand Piano is a high quality virtual piano for your iPad, iPhone and iPod Touch. It is designed for professional usage on stage by connecting an external MIDI keyboard to the iPad / iPhone by using the Apple USB camera adapter or another adapter supported by Apple.¹

CMP Grand Piano provides a very realistic sound by using a very large collection of audio samples of more than 1 GB (uncompressed) in size. Various articulations of each key of a real piano were sampled in full length and high quality to assemble this realistic sound. Real-time disk streaming is utilized to playback the respective audio samples with zero latency.

Cubasis - Music Production System
A portable music production system for iPad
By Steinberg Media Technologies GmbH
Cubasis is Steinberg's streamlined, multitouch sequencer for the iPad. Specially designed for quick and easy operation, Cubasis makes recording, editing and mixing a breeze. Record tracks in CD audio quality, and edit your music with the Key and Sample Editors, while the included mixer and audio effects polish your song to perfection. Cubasis comes loaded with dozens of virtual instrument sounds which can be played in real time using the virtual keyboard and drum pads. Cubasis' projects can be even opened in Cubase under Windows and OS X! Cubasis places touch-intuitive production tools in your hands, opening up a new world of possibilities for your creativity.

Key features
• Unlimited audio and MIDI tracks (depends on the device used)
• Over 70 virtual instrument sounds based on HALion Sonic
• MixConsole with over 10 effect processors
• Over 300 MIDI and audio loops
• Virtual keyboard and virtual drum pads
• Sample Editor and Key Editor
• Export projects to Cubase, Dropbox, SoundCloud, AudioCopy and email
• Core Audio and Core MIDI compatible hardware supported
• Sequence other CoreMIDI apps (MIDI recording only) and run Cubasis simultaneously via background audio
• Audio import from iTunes music library, AudioPaste, Wi-Fi server and iTunes file sharing
• Audio mixdown and MIDI export
Cubasis LE - Mobile Music Production Application
A portable music production system for iPad
By Steinberg Media Technologies GmbH
Cubasis LE is the compact version of Steinberg's streamlined, multitouch sequencer for the iPad, providing the same look and feel of its bigger brother Cubasis. Specially designed for quick and easy operation, Cubasis LE makes recording, editing and mixing a breeze. With MicroSonic, Cubasis LE includes a virtual instrument to be played in real time using the flexible virtual keyboard. Song ideas can be captured with up to four audio and four MIDI tracks and further edited and polished to perfection with the integrated editors, mixer and selected effects. Thanks to the Cubasis project importer, Cubasis LE projects can be even opened in Cubase - both on Windows and OS X. With touch-intuitive production tools, Cubasis LE opens up a new world of possibilities for your creativity.

Key features:
Up to 4 audio and 4 MIDI tracks
2 assignable physical inputs and stereo output
32-bit floating point audio engine
Audio I/O resolution of 16-bit/44.1 kHz
iOS 32 and 64-bit support (depending on the device used)
MicroSonic with 25 virtual instrument sounds
Mixer with 4 effect processors
Virtual keyboard
Sample Editor and Key Editor
Export to Cubase
Core Audio and Core MIDI compatible hardware supported
Import audio from your iTunes music library
Audio mixdown and MIDI export
Unlock all the features of the full Cubasis version via in-app purchase