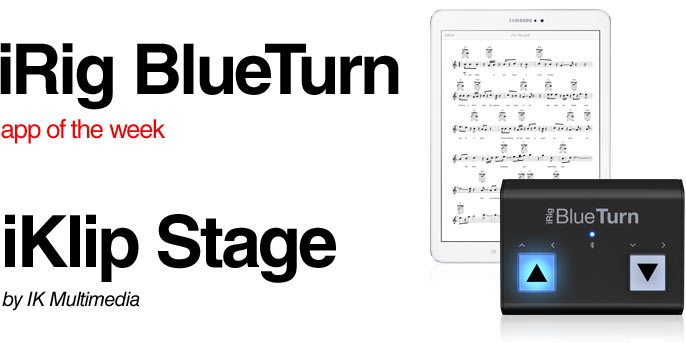 Your live performances and gigs are about to get a whole lot easier: Introducing iKlip Stage, the new iPad companion app for iKlip products that lets you organize, manage and perform with your favorite music scores, lyrics, tabs and more.

With iKlip Stage, you'll have the confidence to play at your best. Its streamlined interface is easy to use and handles all the effort of organization for you. Just import your favorite scores, assemble them into setlists and let iKlip Stage do the rest — just select your score for full-screen view and swipe left or right to turn the page. Now you can spend more time doing what you love: performing music!

FEATURES
Quickly import music scores, lyrics, tabs and more
Fast and easy creation, organization and selection of setlists
Supports popular formats: PDF, TXT, PNG, JPG, TIFF, RTF and BMP
Import files via File Sharing, Copy/Paste, the Photo Album or via apps that support the Open In function
Intuitive interface with thumbnail previews of scores
Designed to work with all iKlip products range (iKlip 2, iKlip Stand, iKlip Xpand)
Supports touchless control through iRig BlueTurn
Portrait/Landscape modes available
Free (30 files and 2 setlists included — register iKlip serial number to increase capacity to 60 files and 4 setlists — unlimited scores and setlists available via in-app purchase)
More iRig BlueTurn apps

BandHelper
Share songs, set lists, chords, lyrics, stage plots, events, contacts and expenses with your bandmates
The BandHelper app works with your BandHelper account to share songs, set lists, chords, lyrics, stage plots, events, contacts and expenses with your bandmates, streamline your management duties and power your live show.
There are lots of "songbook" apps that can replace your collection of printed lyrics and chords. BandHelper goes a few steps further with audio, video and MIDI integration, automation options for hands-free operation, and an option to design your own screen layouts.

GuitarTapp PRO - Tabs & Chords
Tabs and chords on your mobile device
Throw away your song books and start jamming with GuitarTapp today! Search and view 500,000+ guitar tabs, chords, power tabs, bass tabs and drum tabs. Has autoscroll feature, large chords dictionary with diagrams and variations, save, open and edit tabs on your device, transpose songs, create setlists, find YouTube videos and watch video lessons. Free app updates included!
Main Features:
Quickly find chords, guitar tabs, power tabs, bass tabs and drum tabs for 350,000+ songs
Predictive search suggestions
Autoscroll: play along from the screen, using the song's duration to determine scroll speed
On-board chord dictionary: view chord diagrams and fingering alternatives for hundreds of guitar and ukulele chords, includes left-handed support.
Transpose: quickly change the song key by transposing the chords up or down
IntelliWrap: eliminates horizontal scrolling by intelligently breaking up tabs and chords into screen-sized pieces
Favorites: save tabs on your device
Setlists: create and manage setlists for live performances
Power Tab support (are converted to text tabs)
ChordPro rendering engine for PDF-like scores
NEW (simple) metronome
Find songs or video lessons on YouTube
Save and load tabs to/from device, and edit them!
Open your own files
'White on black' option available for tab viewing; reduces battery consumption
Portrait and landscape modes supported
Adjustable tabs font size
Supports iPad: very useful as teleprompter / autocue for live performances on stage
Bluetooth pedals support for handsfree scrolling, turning pages, loading next song on setlist etc
Send to e-mail feature
Export to PDF for ChordPro files

iKlip Stage
Your page turning stage assistant
Your live performances and gigs are about to get a whole lot easier: Introducing iKlip Stage, the new iPad companion app for iKlip products that lets you organize, manage and perform with your favorite music scores, lyrics, tabs and more.

With iKlip Stage, you'll have the confidence to play at your best. Its streamlined interface is easy to use and handles all the effort of organization for you. Just import your favorite scores, assemble them into setlists and let iKlip Stage do the rest — just select your score for full-screen view and swipe left or right to turn the page. Now you can spend more time doing what you love: performing music!

FEATURES
Quickly import music scores, lyrics, tabs and more
Fast and easy creation, organization and selection of setlists
Supports popular formats: PDF, TXT, PNG, JPG, TIFF, RTF and BMP
Import files via File Sharing, Copy/Paste, the Photo Album or via apps that support the Open In function
Intuitive interface with thumbnail previews of scores
Designed to work with all iKlip products range (iKlip 2, iKlip Stand, iKlip Xpand)
Supports touchless control through iRig BlueTurn
Portrait/Landscape modes available
Free (30 files and 2 setlists included — register iKlip serial number to increase capacity to 60 files and 4 setlists — unlimited scores and setlists available via in-app purchase)

iReal Pro - Music Book & Play Along
Professional tool for musicians and music students.
iReal Pro offers an easy-to-use tool to help musicians of all levels master their art. Our app simulates a real-sounding band that can accompany you as you practice, and also lets you collect chord charts from your favorite songs for reference.
It's a Book:
Create, edit, print, share and collect chord charts of your favorite songs for reference while practicing or performing.
It's a Band:
Practice with realistic sounding piano (or guitar), bass and drums accompaniments for any downloaded or user created chord chart.
The basic play along feature includes Jazz Medium Swing, Bossa Nova and Rock.
In-App Purchase is available for: Jazz Styles Pack (13 styles), Latin Styles Pack (8 styles) and Pop Styles Pack (10 styles). See website for demos - www.irealpro.com
Transpose any chart to any key or to number system notation (Nashville system).
Includes 50 exercises for practicing common chord progressions.
Loop a selection of bars of a chart for focused practicing.
Easily share individual charts or whole playlists with other iReal b users via email and the forums.
Global Eb, Bb, F and G transposition for horn players or global setting for number system notation (Nashville system).
Create multiple editable playlists.
Support for AirPrint (requires iOS 4.2).
Export charts as JPEG or PDF.
Export audio as WAV (AudioCopy/Paste supported) and AAC (requires iOS 4).
Support for iRig/AmpliTube and other guitar connection kits.
See the website for demos and a detailed list of the features of iReal b - www.irealpro.com

Set List Maker
A powerful song management tool for musicians
Set List Maker is a powerful song management tool for musicians. With thousands of users around the world and new ideas arriving daily, the app is packed with features to help catalog your music, plan shows, share with your bandmates and streamline your performances.