Other Partners App/Software
Free included app/software
iRig 2 comes with the following free bonus content
iPhone/iPad free content

AMP
Metal W
FREE Amp for AmpliTube iOS


STOMP
Wharmonator
FREE Stomp for AmpliTube iOS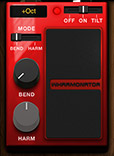 This stompbox model is based on the DigiTech Whammy™ pedal, and is great for both contemporary and classic metal. The original Whammy, which is no longer in production, is capable of a range of extreme effects, and is much sought after on the used gear market.
This model is automatically unlocked inside AmpliTube for iPhone and iPad aftering register this product.
Limit 1 free bonus content per customer. Bonus content is non-transferrable and has no cash value.
Other IK Multimedia app/software
iRig 2 works with other apps and software from IK Multimedia
iPhone apps
iPad apps
Android apps
GALAXY Apps store can be accessed from Samsung devices supporting Samsung Professional Audio.
Mac software
Other Partners app/software
iRig 2 works with other apps and software
iPhone/iPad apps


GarageBand turns your iPad, iPhone, and iPod touch into a collection of Touch Instruments and a full-featured recording studio — so you can make music anywhere you go. Use Multi-Touch gestures to play a piano, organ, guitar, and drums. They sound and play like their counterparts, but let you do things you could never do on a real instrument. Enjoy Smart Instruments that make you sound like a pro — even if you've never played a note before. Plug an electric guitar into your iPad, iPhone, or iPod touch and play through classic amps and stompbox effects.* Use a Touch Instrument, a built-in microphone, or a guitar and instantly record a performance. GarageBand now takes song creation to the next level with support for up to 32 tracks.** Get even more sounds for GarageBand with a one-time in-app purchase or record popular third-party music apps using Inter-App Audio in iOS 7. And share your song using email, Facebook, YouTube, SoundCloud, or AirDrop for iOS.