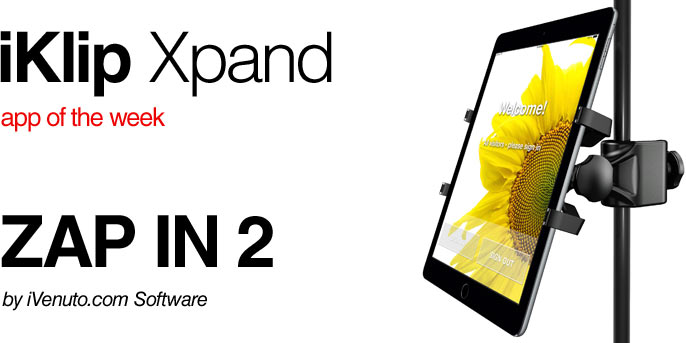 "ZAP IN" converts your iPad into an easy-to-use visitor registry which protects all information – both yours and your visitors.
Each visitor only see's their own information, and the software assigns a sign in, and sign out time stamp.

"ZAP IN" also allow office administrators to print an instant "On-premises" report serving as an evacuation list in the event of an emergency.
Visitor badges (personalized with Visitor Name & Company, and your logo) can be printed to be worn, if needed.

Modern, discreet, elegant, easy-to-use…a welcome addition to any office reception area.
ZAP IN 2 KEY FEATURES:
RE-VISITORS
ARRIVAL NOTIFICATION
MULTIPLE ENTRY/EXIT POINTS
FLEXIBLE
ON-PREMISES
EXPORT
SLIDESHOWS
BADGES
PHOTO CAPTURE
SIGNATURE CAPTURE
REPORTS
CUSTOMIZE
GUIDES/ESCORTS
VISITOR'S AGREEMENT
More iKlip Studio apps

technoBox2
Virtual techno studio.
technoBox2 is your virtual techno studio on the go featuring stunningly accurate emulations of three classic boxes: The legendary 303 bass machine together with the smooth 808 and punchy 909 drum machines. technoBox2 has easy to use sequencing capabilities which lets you tie together patterns, or use it live by improvising pattern switches on the fly!
technoBox2 is the next version of technoBox implementing many asked for features, amongst others:
Dual 303s and drum machines (2x303, 2x808/909)
The 303 emulation is our latest engine which sports improved authenticity
Improved song sequencing with Start/End and Loop markers
Lock parameters song bars
Export recorded songs (as .wav) via iTunes (documents)
Upload recorded song to SoundCloud directly and share
Load your own .wav and .aif samples (uncompressed 44.1kHz 16-bit) into the drum machines (via iTunes documents)
Performance screen with the most accessed controls on one screen
Completely redesigned FX Panel: You can now activate effects on any or all of the 4 machines
Improved tempo synced phaser and distortion effects. Added a damp parameter to the delay
Filter cutoff added to the drum machines
Per part decay added to the drum machines
iPad native resolution support
Retina display support
Requires at least iPhone 3G S (but runs best on iPad/iPhone 4) or iPod touch with Retina display
Additional 606-kit added
Now supports both landscape and portrait modes on iPad
Please note: technoBox2 currently does not work on the iPod touch 2nd generation or earlier. It requires at least an iPhone 3G S or later to work.

Teleprompt+ 3
The most advanced and full-featured professional teleprompter for the iPad, iPhone and iPod touch.
By Bombing Brain Interactive
Teleprompt+ 3 is a simple yet powerful professional teleprompter for the iOS. Perfect for presenters, lecturers, students, teachers, broadcasters, podcasters, filmmakers, musicians, business professionals, or anyone who would benefit from having a powerful visual aid while engaged in a speaking activity.
Standard Features:
Easily write your speaking scripts directly in Teleprompt+ using the built in text editor, or by copying and pasting from Mail, Pages, or any other iPad application
Track your progress using the integrated timer display (estimate, actual, and remaining time)
Pause, play, and adjust playback speed live during prompting
Scroll text during prompting using normal iPad swipe gestures
Customize the following appearance and playback settings per script: scrolling speed, start countdown, timer display, font type, font size, text color, and background color
Advanced Features:
Precision prompting and speed control (new in version 2.0)
Choose from 100 fine tuned scrolling speeds (Yes, our teleprompter now goes to 11!)
New speed wheel allows for precision speed adjustment while prompting
New reset button - restart your script without exiting prompting mode
Double tap using two fingers while prompting to quickly pause or resume playback
Reading guides (new in version 2. 0)
Improve your focus with our new reading guide arrow and shading
Choose from 3 reading guide styles (arrow-only, shading only, or arrow plus shading)
Shading area can be adjusted in size
Text mirroring
Text can be optionally inverted on screen (for teleprompter reflector setups)
VGA output support (new in version 2.0)
Use the iPad as a "wired remote" for an external screen/projector using the Apple iPad Dock Connector to VGA Adapter
Text/reading guides appear on the external VGA device while prompting
Supports text mirroring - can be configured to mirror text on both devices, or only on the external screen, while the iPad text remains normal - perfect for professional teleprompting scenarios
Audio recording (new in version 2.0)
Record audio while prompting using the iPad's built-in microphone
Record and play back multiple takes - excellent for podcasting or for rehearsing a speech
Google Docs integration (improved in version 2.0)
Directly import text from your online Google documents
Text file import (new in version 2. 0)
Use iTunes file sharing to drag and drop your scripts (.txt format only) into Teleprompt+
Settings defaults (new in version 2. 0)
Save your preferred prompting settings as default and quickly apply them to other scripts
Wireless remote control (improved in version 2. 0)
Use a second iOS device with Teleprompt+ installed to remotely start a script and control speed, font size, and scrolling
Text syncing - script text now appears on the remote control's screen (one of our most highly requested features!)
Remote keeps the text appearance, orientation, and position in sync and shows you exactly what is appearing on the teleprompter's screen

ThumbJam
A powerful musical performance experience.
ThumbJam is a powerful musical performance experience. You get over 30 high-quality real instruments multi-sampled exclusively for this app. Hundreds of included scales allow you to effortlessly play in any style from rock to classical, whether you are a musical novice or a seasoned professional.
Jordan Rudess, the world-renowned keyboardist for Dream Theater says:"ThumbJam stands at the very top of the overcrowded music app world. The sounds included absolutely rival those found in pro instruments and making music on the app is a total joy. The only problem I have with this app is that I did not make it myself! Luckily, I'm able to work with the developer and offer a few good feature ideas as well as some choice sounds from my personal collection!"
Two signature sounds from Jordan are featured in the application!
Even if you've only played air guitar, ThumbJam lets you sound like a pro. Pick an instrument and jam -- with all the scales to choose from you'll never hit a wrong note. The high quality instrument samples will make you sound like you just skipped years of music lessons.
For the performing musician, this app is awesome for soloing on an instrument you didn't bring along. Play in any key, any style -- go from a string ensemble to a wailing guitar. ThumbJam was developed and tested by musicians to feel and sound like a real instrument. You'll be surprised at how expressive it can be, make sure to check out the videos and audio at thumbjam.com.
ThumbJam makes use of tilt and shake to add vibrato, tremolo, note bends, and volume swells for more realistic and expressive results. It supports up to five simultaneous touches and up to 16 voice polyphony. Delay and lush stereo reverb add depth to the sound. Put on your headphones or plug in to your home stereo and prepare to be blown away.
Build your own loops from the ground up or import your favorites and jam from there. Layer as many loops as you want, with different instruments for each. Export your loops as audio files or Ardour DAW sessions via WiFi. Copy and paste audio from other apps using Sonoma Wire Works AudioCopy/Paste as well the general pasteboard used by BeatMaker.
Want to jam with your friends? ThumbJam lets you broadcast tempo, key, and scale to other nearby devices via Bluetooth so you can play together live. Even better, you can use it as a MIDI or OSC controller over WiFi to control software instruments on your computer!
The app includes a huge variety of scales, from western to eastern. Save your favorites for quick access. You can even import new scales in the Scala format for complete flexibility.
You can also record your own samples using a built-in or attached microphone and play them instantly. Create your own presets with different settings, scales and keys based on the existing instruments. You can even import samples from other apps using audio copy and paste!
Included instruments:
Cello, Violin, Viola
Upright Bass (plucked and bowed)
Several drumkits
Darabukka
Djembe
Electric Guitar
Electric Bass
Trumpet
Trombone
Tenor Sax
Flute
Low Whistle
Acoustic Guitar
Hammered Dulcimer
Mandolin
Cittern
Grand Piano
Drawbar Organ (2 types)
Rhodes
Pipe Organ
Synth Strings
Synth Choir
Theremin
Sawtooth Waveform
Sine Waveform
Triangle Waveform
Jordan Rudess Zendrix
Jordan Rudess Smooth Steel
Many more for immediate free download in the app including several drumkits, Mellotron instruments, slap bass and more! New instruments posted regularly.

TouchOSC
Send and receive Open Sound Control messages over a Wi-Fi network using the UDP protocol.
TouchOSC is an iPhone/iPod Touch/iPad application that lets you send and receive Open Sound Control messages over a Wi-Fi network using the UDP protocol.
The application allows to remote control and receive feedback from software and hardware that implements the OSC protocol such as Apple Logic Pro/Express, Renoise, Pure Data, Max/MSP/Jitter, Max for Live, OSCulator, VDMX, Resolume Avenue 3, Modul8, Plogue Bidule, Reaktor, Quartz Composer, Vixid VJX16-4, Supercollider, FAW Circle, vvvv, Derivative TouchDesigner, Isadora and others.
The interface provides a number of different touch controls to send and receive messages:
Faders
Rotary controls
Push buttons
Toggle buttons
XY pads
Multi-faders
Multi-toggles
LEDs
Labels
It supports full multi-touch operation, five controls can be used at the same time. Additionally the program can send Accelerometer data. The application comes with five iPhone/iPod Touch layouts and one example iPad layout, each organized in multiple pages. Custom layouts for iPhone/iPod Touch/iPad can be constructed using the free TouchOSC Editor application.
Please go to http://hexler.net/touchosc for more information, video demonstrations and download the free layout editor application for OS X Windows and Linux.

TrakProDJ
Touch control surface for Traktor Djs.
TrakProDJ is a pioneering touch control surface for Traktor Djs. Featuring Ultra Low Latency, the application connects to Traktor via wifi and Coremidi Networking technology, with speeds of around 1-3ms.
TrakProDJ is the most complete Midi DJ Control system available yet for iOS devices and boasts a hyper responsive, well designed user interface. Mixing on TrakProDJ is a absolute joy, as the touch surface and application forge a unique connection between the DJ and the Traktor software.
Features:
High Resolution Jogwheels
Full Mixer Controls including crossfader
Full EQ, including kill switches
Filters
Full pitch control
2 Decks (upgrading to 4 decks in v1.1)
Seek position
Full FX Control, with kill switches and rotary knobs
Monitor Control
Play, Cue, CUP, and Sync
8 assignable hotkeys for any extra services you wish to apply
TrakProDJ is compatible with MACOSX, and Windows, visit our website for instructions and downloads.
You will need to install the TrakProDj.tsi file for midi mappings, visit our website for this.
All in all, one mighty fine package, to unhinge the power of Traktor into your iOS device.

Ultimate Guitar Tabs HD
Get unlimited access to Ultimate Guitar's tabs from your mobile phone or iPad.
Ultimate Guitar Tabs HD is a subscription-based application that lets you access Ultimate-Guitar.com's database of over 300,000 guitar Tablatures, bass Tablatures, drum Tablatures and chords from your iPad. Learn and practice your favorite songs from wherever you are!
** Please note that in order to view tablature, you will need to purchase a subscription from within the app. **
Main features:
Simple Search. Find Tabs quickly by entering artist name or song title.
Advanced Search tool. You can search for Tabs by specifying Tab type (guitar Tabs, chords, bass Tabs), part of the song (intro, solo, chorus), difficulty level, tuning, and rating.
UG Authorization. Sign in with your Ultimate Guitar account, or create a new one directly from the app.
Favorites. Add Tabs to your Favorites to make them available for offline browsing. Synchronize Tabs between the app and your online account!
Playlists. Create custom lists of Tabs in your Favorites, similarly to Playlists in the iPod player.
Chords. View chord diagrams while reading Chords, transpose chords easily. (Subscription required)
ab Packs. Collections of pre-selected Tabs. Tab Packs are based on skills level (Easy, Medium, Advanced), music genres (Rock, Metal, Punk), and special occasions (Love songs, Xmas songs).
Top 100 Tabs list for each Tab type (Guitar, Bass, Chords, Drums or overall).
Auto-scroll feature. View Tablature in the text viewer using the handy Auto-Scroll functionality - The App will scroll Tabs for you! (Subscription required)
Random Tab. Load Tab for a random song.
Now playing. Find Tabs for the currently playing song.
Portrait and Landscape modes are available. You can scale Tabs too.

unrealBook
Access your entire library of music or lyrics on your iPad with ease
unrealBook allows you to access your entire library of music or lyrics on your iPad with ease. Replace your bulky and heavy binders with a small and light device filled with your music PDF files. The alphabetized and indexed list makes it easy to find the song you are looking for. unrealBook is the answer for the gigging musician!

V-Control Pro
Multi-touch control surface for Pro Tools.
V-Control Pro provides a fully-featured, multi-touch control surface for Pro Tools on a Mac and soon for Windows. V-Control Pro uses WiFi to control transport, editing, and mixing functions with Pro Tools 9, HD, or LE. V-Control Pro provides advanced control of sends, automation, groups, auditioning, plug-ins, scrub/shuttle, I/O assignment, and other controls within an easy-to-use interface.
Features:
Large, touch-sensitive moving faders
Solo, mute, record, and pan controls
Flip mode send editing
Scrub / shuttle control
Automation mode controls and display
Automation and group suspend buttons
Automation and group status display
Automation write enable controls
Plug-in editing
Input monitoring switch
Big counter display
Save and Undo buttons
Pre-roll / Post-roll buttons
I/O assignment
Zoom presets
Window display controls
Keypad popover provides access to many Pro Tools features

VocaLive
Real time vocal processor and recording application.
VocaLive is the first professional practicing, performing and recording vocal processor for the iPhone®, iPod touch® and iPad®.
Singers and songwriters will have a suite of 5 dedicated real-time vocal effects (pitch correction, choir harmonizer, voice doubler, vocal morpher and de-esser) plus 7 effects tailored to vocal processing (reverb, EQ, compressor, delay, envelope filter, chorus, phazer) that can be combined on a 3-processor vocal rig chain. VocaLive also includes dozens of presets to help you get up and running in seconds.
With the VocaLive app you can record (single or multi-track), sing along with your iPod song library (with voice cancel included), and warm up with the included vocal tools giving you the most complete, portable vocal solution.
VocaLive can be used with the built-in iPhone microphone, earbuds with built-in mic, or for the best results, with IK's new iRig Mic. VocaLive is the most portable and powerful vocal processing tool always available at your fingertips on your iPhone.
Features:
Real time vocal processor + recording app
3-processor vocal rig chain
12 vocal effects
Single track recorder expandable to full 4 tracks recording studio through in-app purchase
Sing-along backing tracks with voice cancel feature
Dozens of presets included with favorites presets for fast recall
Includes metronome and vocal warm-up tools
Low-latency for real time vocal processing
FREE version also available

VoiceKeyboard HD
Powerful and easy to use sampler.
VoiceKeyboard is a powerful, easy to use sampler. Import and export from your computer, manipulate the waveform with the touch screen, timeshift to sync all of the notes when playing chords... Record your performances, and play them back with the most dynamic and versatile piano on the iPad.
New Features:
Waveform Selection. Quickly drag your finger over the waveform to select the exact part of the recording to use on the keyboard.
Reverse Sample Mode. Play samples in reverse, and use the waveform to customize the sample further.
Web Sharing. Upload and download recorded samples to and from VoiceKeyboard with your home computer.
30-Note Polyphony. Play with all 10 fingers, make your own custom high-quality uncompressed (48.0k 16 bit) samples.
Sound Modes. The Timeshifting (or Timestretching) option allows simultaneously played notes to be in sync and the same duration, making the samples sound harmonious and musical when played together.
Automatic Sample. Trimming This version automatically recognizes and removes the silence or "dead air" at the beginning and end of the recorded sample, making the keyboard very responsive.
Audio Normalization. Normalization increases the loudness of your recordings to a maximum level without introducing any new distortion.
Sustain and Looping. Control how the recorded samples are looped and sustained, when played on the keyboard.
Fully Animated Keyboard with multitouch glissando (finger sliding).
Save, Load, Preview, and Delete Samples.
Save and load Song Performances with Tempo adjustment.