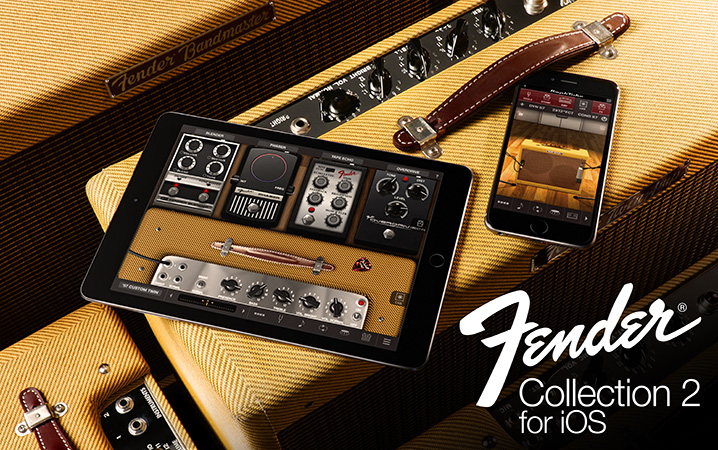 Classic Fender tone,
right on your iPhone and iPad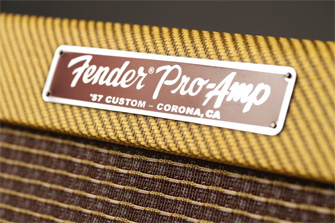 The ultimate collection of iconic classic Fender® tube amps
Fender® Collection 2 for iOS is the ultimate collection of original Fender amplifiers and reissues from the 1950s and 1960s. It draws inspiration from some of the most iconic Fender amplifiers, adding a modern touch to the timeless classics and re-issues that defined a multitude of genres throughout the decades.
Fender Collection 2 for iPhone or iPad comes with classic tweed amp models from the current '57 Custom Series including the '57 Custom Twin-Amp™, the '57 Custom Pro-Amp, the '57 Custom Deluxe™ and the '57 Custom Champ®, plus a '57 Bandmaster™, a '53 Bassman® and '65 Super Reverb®.
Fender Collection 2 captures the vintage vibe, feel and sound of Fender's classic amps and puts them into your production toolbox on your iPhone or iPad.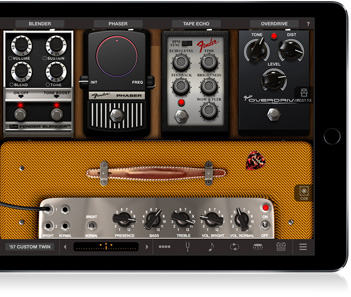 Dynamic Interaction Modeling™
Fender Collection 2 is based on IK's revolutionary Dynamic Interaction Modeling™ technology, which delivers a whole new level of realism, making it possible to fully replicate the behavior of EVERY component in the circuit all the way down to its quirkiest nuance and character in a non-linear and dynamic way.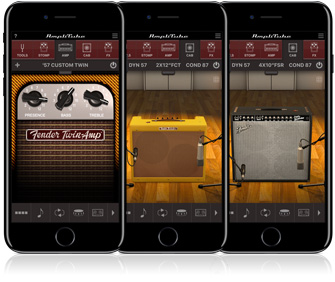 Created for AmpliTube
Fender Collection 2 enriches the professional range of amp and effect simulations currently available for AmpliTube for iOS with an incredibly powerful and versatile selection of superlative amplifier models that are the foundation for modern music today. Users can also take advantage of AmpliTube's renowned tone-tweaking capabilities to achieve unique, hyper-realistic tones.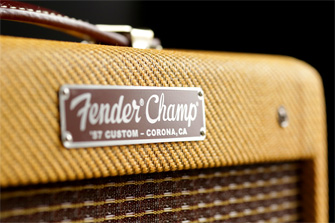 The Fender Collection 2
official amps and cabs
Representing a 12 year journey through the history of Fender's legacy tube amp design, the "Tweeds" are some of Fender's most historic and sought after amplifiers. Fender Collection 2 recreates the '57 Custom Series Amps — reissues based upon these tweed classics adding refined, player-centric enhancements to a classic platform for the modern player. Fender Collection 2 also includes the reissue of '57 Bandmaster™ plus the original '53 Bassman® and '65 Super Reverb®.
These legendary amplifiers are an integral part of rock history and have earned a reputation for delivering an extremely musical tone that fits in a broad range of genres. Famous for their beautiful clean tones, they deliver natural compression, wide dynamics and a deep and rich sound that has become an all-time favorite for thousands of players. Fender Collection 2 for iOS makes the unmatched character of Fender's "Tweeds" readily available on the player's device.
---
Features
Officially certified Fender® Amp models for AmpliTube for iOS
Breakthrough Dynamic Interaction Modeling™ technology
7 of the most iconic Fender guitar amps
7 original matching cabinets
Incredible tonal flexibility: mix and match amps, cabinets, mics and more
Sound-certified and approved by Fender®
Available as in-app bundle (or as single models) in AmpliTube for iPhone and iPad
Use iCloud to transfer in-app purchases between all AmpliTube versions
---
IMPORTANT: you can use iCloud to transfer all the gear models of Fender® Collection 2 to all AmpliTube for iPhone and iPad versions.
Gear