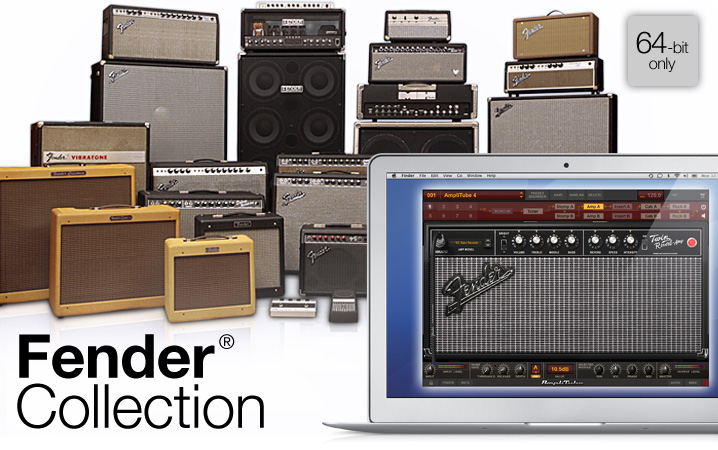 Authentic Legendary Tone, Certified Fender®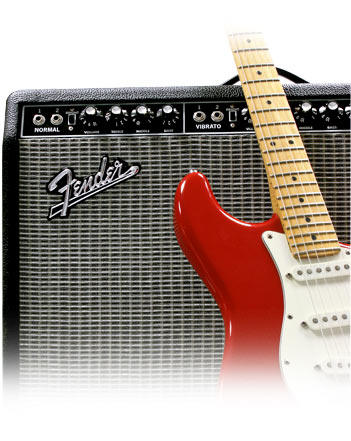 The World's Most Influential Guitar and Bass Tones for your Computer
Welcome to the place where great tone finds you...
Imagine owning a "collector's collection" of Fender dream machines. We're talking about the sounds of your favorite (and sometimes legendary) players, together all in one spot. Now you can.
Fender® Collection is the first and only official guitar/bass Amp and FX collection for AmpliTube made by IK Multimedia and legendary music icon Fender® Musical Instruments Corporation. We worked "hand in hand" with the engineers, sound gurus and management at Fender to bring the sounds of Fender's dream tone machines to your desktop/DAW.
With a collection of 49 pieces of gear collected from the most sought after classic and modern Fender® amps (including the '65 Twin Reverb®, '57 Deluxe™, '59 Bassman® LTD, '64 Vibroverb® Custom, Super-Sonic™, Metalhead™ and many more), cabinets, stomp boxes and rack effects, Fender® Collection sets a new standard for software amplifiers.
The official Fender® guitar/bass Amp and FX collection for AmpliTube
12 of the most influential guitar amps of all time
12 original matching cabinets
9 microphones
9 signature classic stomp effects
7 rack effects
Incredible tonal flexibility: mix and match amps, cabinets, mics and more
Sound-certified and approved by the tone gurus at Fender®
Nailing Every Sonic Nuance
We're not gonna lie to you... we had to do some serious deep thinking while developing Fender® Collection. Countless hours of caffeine induced euphoria, gigantic reverberating think tanks of engineering mania - we had new technologies flying around the room like air molecules. But, that's what you do when you're creating models of the world's leading legendary amplifier manufacturer. Every step in the development process was constantly supervised and sound-certified, step-by-step, by the tone gurus at Fender® to ensure that the same quality process of real gear tone-testing has been strictly followed in the realization of Fender® Collection. Thats a lot of pressure, but we can handle it. We've been at it since the dawn of the digital age.
Never before have you been able to get this close to the real thing on your desktop.
---
How it works
Chicken-heads, Tweed and Tolex
Fender® Collection gives you an accurate and complete replica of included amps, effects and related controls that will immediately feel comfortable to you. Every adjustable parameter is never more than 2 clicks away, making even the most complex guitar tone easy to set-up and edit.
Fender® Collection uses new ultra-accurate modeling technologies developed by IK engineers with years of research in circuitry modeling: in addition to IK's classic DSM™ or "Dynamic-Saturation Modeling" the new VRM™ (Volumetric Response Modeling) technology has been developed to nail down even the finest sonic detail.
Flexible Routing - the Mono, Dual Mono, Stereo Signal Chain
Because Fender® Collection runs from within AmpliTube, you get the full-rig signal path:
tuner —> pedalboards —> amp head preamp —> effects loop —> power amp —> speaker cabs —> mics with room effects —> rack effects. Plus, you can configure two complete rigs and run in stereo.

There are also eight different series/parallel "routing" options available that give you total signal chain control, allowing you to configure tones for every possible playing scenario. You can select and customize different configurations on the fly as you see fit: dual pedal boards running into a single amp head split to two cabs, with different mic sets for each, running into a single rack with a compressor and graphic eq, just as an example. Run a full stereo rig with different amp setups… the combinations are endless.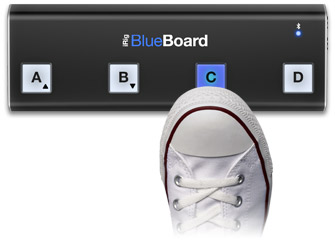 Control yourself
AmpliTube is also MIDI compatible, which means you can use your favorite MIDI controllers to change parameters and switch presets. It's perfect for foot pedal and floor controllers, that you can connect with IK's MIDI interfaces (like iRig MIDI 2), and stompbox-style controllers, like IK's iRig BlueBoard. Now you can wah, control volume, add gain, swap presets, adjust delay times and more, all without ever raising your hand.
Plays well with Others
AmpliTube seamless integration
If you're already an AmpliTube User, Fender® Collection will automatically show up in the gear selection menus, allowing you to mix and match Fender® Collection gear with the other gear in AmpliTube.
Use our line of iRig guitar and bass interfaces and MIDI controllers to connect your instrument to your iPhone, iPad, Mac and PC in order to control AmpliTube.

---
How we did it
Digital mojo: the art of IK's science
Since 1997 with the release of the T-RackS analog modeled mastering suite, IK has been one of the pioneers in the digital tone generation and analog gear modeling field — unraveling the secret DNA and true behavior of analog components, and recreating them for the next generation of musicians, engineers and producers. With unique technologies like DSM™ (Dynamic Saturation Modeling), VRM™ (Volumetric Response Modeling) IK models have set the industry standard evidenced by our co-branding recognition from the most influential partners in the industry such as Fender®, Ampeg®, Orange®, Soldano® and many more.
IK is proud of its "Made In Italy" passionate craftsmanship heritage, and treats each of the models as a unique project — a process that we feel has now been perfected. All the originals are painstakingly researched and collected, paying extreme attention to critical sonic details like finding the best sounding model series or same-era matching speakers.
The original amplifier or effect is then accurately measured, and a virtual circuit representation of it is coded in software, with each component's value and the circuit details carefully matched. Then, a comparison of the electrical signals between the original and the model ensures that the model's behavior matches the original circuit behavior in the gear. After this phase we start a complex audio-engineering comparison with the original amplifier or effect compared to the modeled version. This is followed by a series of tweaks and fine-tuning to the circuit and the sonic characteristics of the model. The result is a sound indistinguishable from the original when fed with various guitar signals and dynamics.
The creation of a single model of amp or effect takes the same time that it would take to build a hardware version of it. All these technologies and development efforts have helped millions of users get the best sounds out of their guitars and basses on countless records and productions – including legendary bands like AC/DC, Rolling Stones, Coldplay, Guns'N'Roses, Queen, Level42 and more. And we are passionately proud of it.
Gear