Reviews
Bobby Kittleberger reviews IK's new guitar/bass audio interface
19 September 2016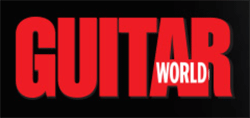 Here are some quotes from the review of iRig HD 2 on GuitarWorld.com:
"IK Multimedia wrote the book on mobile guitar interfaces, and this upgrade of the iRig does everything possible to build on a remarkably solid track record. It's an easy editor's choice."
"If you want to utilize the AmpliTube 4 software, the HD 2 is going to be the most compatible and convenient interface to do so. Quick and easy-access living room practice, that stays at minimal noise levels, is an ideal way to use the iRig HD 2."
"Any guitar player can benefit from the convenience and portability of the iRig HD 2."

"AmpliTube's effects sounded clear, defined and had an almost addictive quality, coming through the iRig HD 2's interface. The tone was also very responsive to changes coming from my guitar. My 2005 PRS CE 24 has five pickup combinations, which all sounded rich and distinct."
Read the review of iRig HD 2 from Guitar World.
Learn more about unlocking the full power of amps and effects for guitar playing & recording with iRig HD 2.