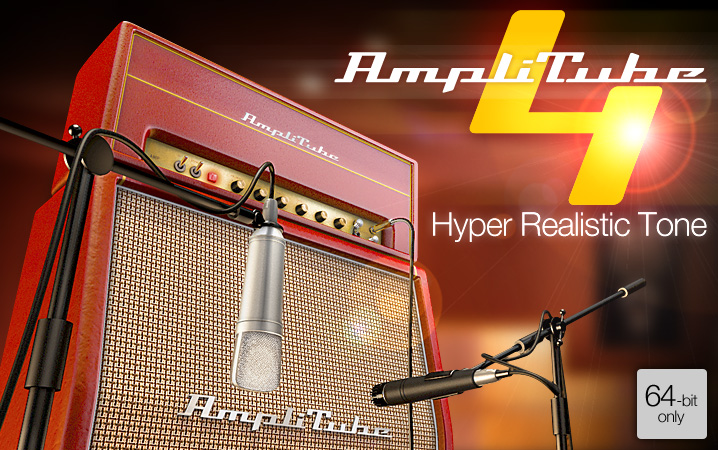 8-Track Recorder/DAW
What's new
Available in Standalone mode only
8-Track recorder & DAW
Waveform visualization of audio material
Full editing split, cut, copy, paste functions
Built in Speed & Pitch controls for learning material
3-band eq, pan and level controls per track
FX button allows for re-amping material
Full suite of export options
AmpliTube works seamlessly with your favorite DAW as a plug-in, comfortably playing well with other plugs in the mix. But what if you don't want to fire up the giant recording beast just to get a few ideas down quickly? Well, you're in luck.
AmpliTube 4 also operates as a standalone guitar & bass tone studio AND idea capturing 8 track recorder and DAW. This means several things…
First, you can just hit record and start wailing as the tone inspires you. The quickest way from brain to ears is the push of one button and WHAM — there's your phrase in all its splendor. Need to add a layer? Bass? Drone riff? No worries, you've got a full 8 tracks of space. And with the new DAW section, you can do some other pretty nifty tricks.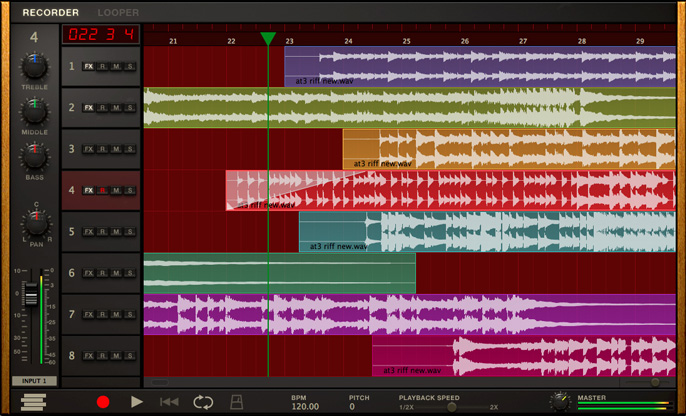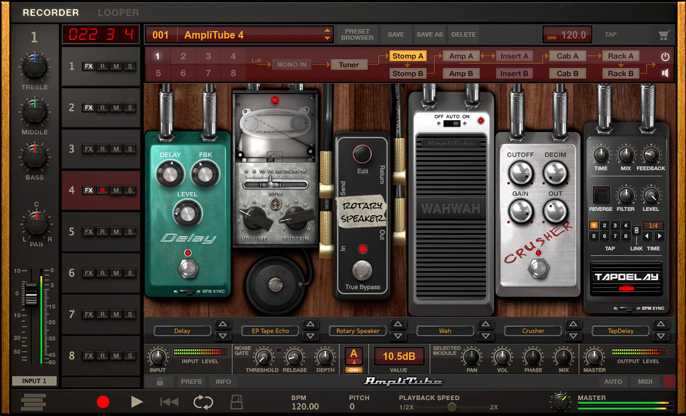 Split, Cut, Copy, Paste
Manipulating audio in the DAW couldn't be easier nor more intuitive. Audio waveforms accurately represent your recordings for precise editing. Each track features your standard treble, mid and bass eq, pan control, level, mute, solo and record enable functions, plus there's an FX enable button allowing for application of different tone chain configurations to individual tracks. Add a crunch rhythm to track 1, clean shimmering chunk chords to track 2, layer overdrive and heavy tones on 3 & 4… anything is possible in AmpliTube!
Loop
As a learning tool, you can import any audio tracks into the DAW section, define loop points and use the built-in Speed control to slow down difficult passages without affecting pitch, and use the Pitch control to change keys without affecting speed. This feature is perfect for working out difficult solos or practicing different leads or melodies over a series of chord changes in a backing track. Want to hear a passage at a different tempo or pitch? Simply use the speed & pitch controls to adjust. AmpliTube 4's DAW can do it all!
Export
AmpliTube 4 lets you export your masterpieces however you see fit… as individual tracks or as one master file for mastering — the choice is yours. And you can export in a variety of file formats to suit your needs, .wav, .mp3,. .aif and more.