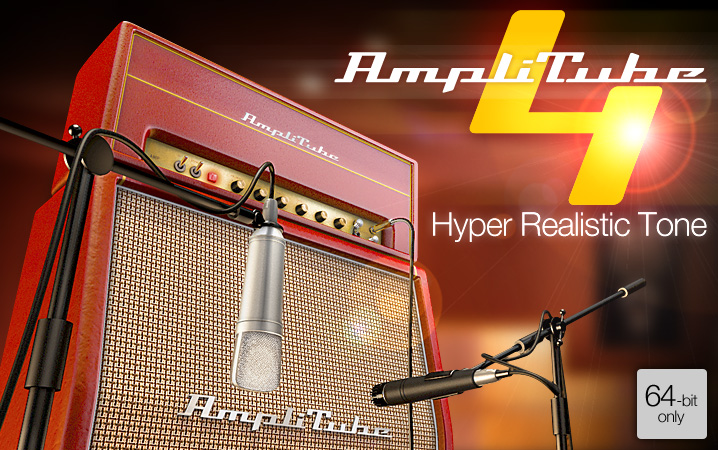 The Essential Cab Room
What's new
3D Room environment emulation
Select different speaker cabinets from different amps
Change individual speakers in the same cabinet
Dual Mic Placement on any speaker in the cabinet
18 of the most desirable microphones in recording history can be used in the Cab Room (comes with 3, 15 available in Custom Shop)
29 individual speaker models
Choose from 6 different room scenes
Cabinet Mixer section to fine tune and mix all elements
Hyper-realistic cab room
AmpliTube has always been about realism, and now that extreme commitment to accuracy is a part of its completely redesigned cabinet section. The new Cab Room feature is the most advanced cabinet section ever made, giving you a new level of customization and flexibility never before seen in software or reality.
The cab room now has 5 distinct customization sections: cabinet selection with size adjustment where you can choose the speaker cabinet you'd like to match to the amplifier, individual speaker selection where you can swap out individual speakers, mic selection and placement for finding the speaker "sweet spot", room selection where you select the recording environment, and a mixer section that allows you to control and mix the levels of speaker mics, room ambience, direct amp signal and overall main mix. Never before has such a level of control and customization been available for fine-tuning tones from the speaker section.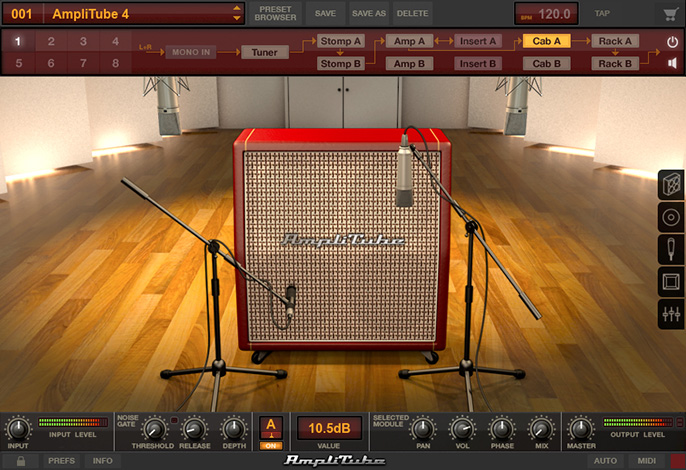 3D Speaker Cabinet Selection
AmpliTube 4 ushers in some amazing control features when it comes to fine-tuning and tone sculpting one of the most important components in the signal chain: the speaker cabinet. First, it lets you mix and match speaker cabinets with the amplifier you're using. Choose the cabinet that's most commonly used with the amplifier, or select a completely different cabinet from all of the available models. This allows you to do some things you simply can't do in the physical world — break up combos and use the individual cabinets from them. Plus you can use any available cabinet with any amplifier — impedance matching in AmpliTube 4 is automatic so you never have to worry about blowing up your power amp! Pretty sweet.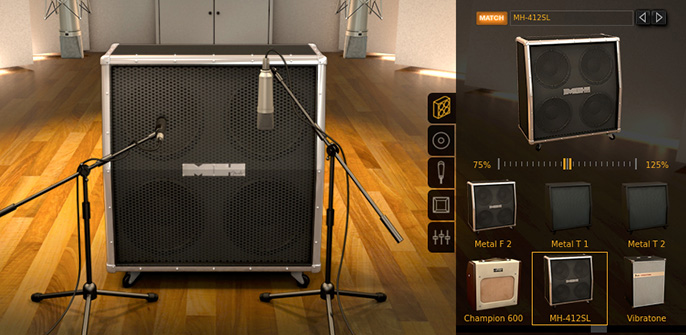 In addition to cabinet selection, you can also change the physical size and depth of the cabinet, thus adjusting the material resonance and response that naturally comes from the speaker cabinet. This creative tool gives you another level of tonal flexibility — increase the size of the cabinet and you'll notice more natural bass response. Decrease the size of the cab and the signal "tightens up" and the higher end becomes more articulate. The size adjustment features adds one more level of hyper realism to your signal chain.
Individual Speaker Selection
Want to hear what a Vintage 30 sounds like next to a Greenback? No need to get the drill and soldering iron out, AmpliTube 4 lets you swap out individual speakers with the click of a button! AmpliTube 4 comes with 29 precisely modeled speaker emulations of some of the most popular speakers in cabinets today, with more available in the AmpliTube Custom shop. Now you can experiment with different speaker combinations to sculpt that perfect cabinet sound, all in the convenience of your personal recording space.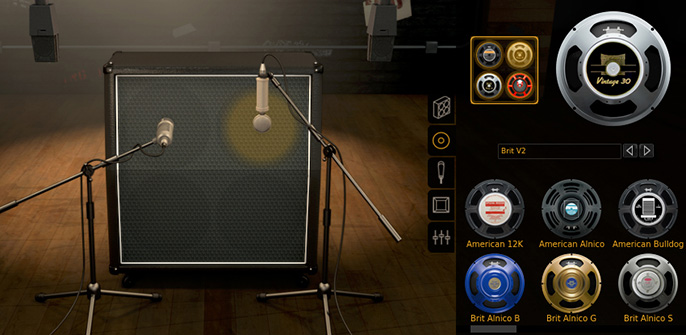 But what makes the new cab room even more realistic is the fact that it not only picks up the tonal character of the individual speakers, but it replicates the harmonic and physical interaction that occurs naturally between the speakers giving you the most realistic sounding environment available. In short, you can go hyper — hyper real with mic'ing up a cabinet!

Mic Selection and Placement
Imagine having access to 18 of the most coveted recording microphones of all time. Now imagine being able to choose and place those mics exactly where you want them — right in the "sweet spot" that truly evokes the range and emotion you want to express. Now you can. AmpliTube 4 comes with 3 highly coveted recording microphones and there are an additional 15 mics available in the AmpliTube Custom Shop. AmpliTube 4 gives you the choices and ability to go hyper-real with your mic placement.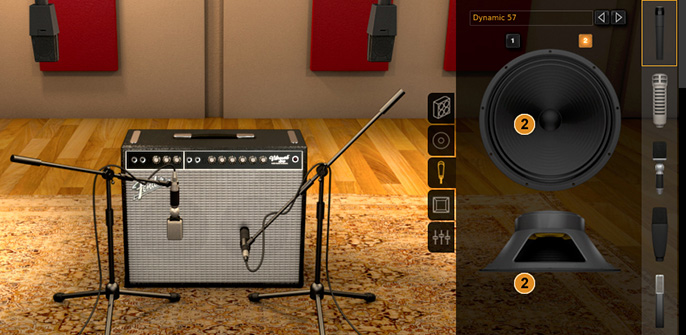 And AmpliTube 4 not only picks up on the tonal characteristics of the individual speakers, but it actually picks up the physical and harmonic interaction between the individual speakers, surrounding cabinet and space between the speakers and mics. With AmpliTube 4, you'll quickly realize what you've been missing with other amp sims.

Recording Room Selection
Want to record in the garage? How about in a hardwood studio room with a rug? A cabinet isolation room? With AmpliTube 4, now you can. The Recording Room selection tab lets you choose from 6 different ambient recording spaces.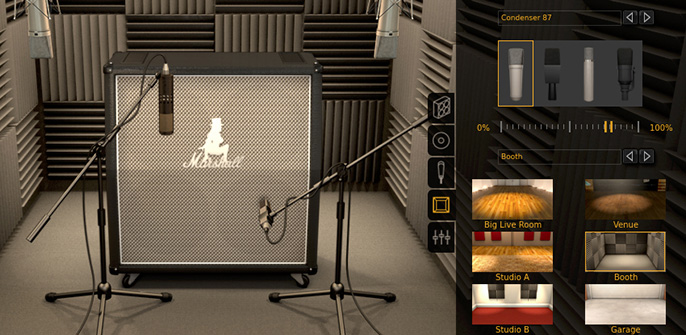 Choose from a big live room, venue stage, two studio rooms, an isolation booth or a garage. You can also select which pair of room mics you want use and then dial in the amount of stereo room ambience to your liking.
The Recording Room selection adds a completely new level of hyper-realism to your guitar tone.
Mixing it all together
AmpliTube 4 now has a dedicated mixing environment for the speaker cab room.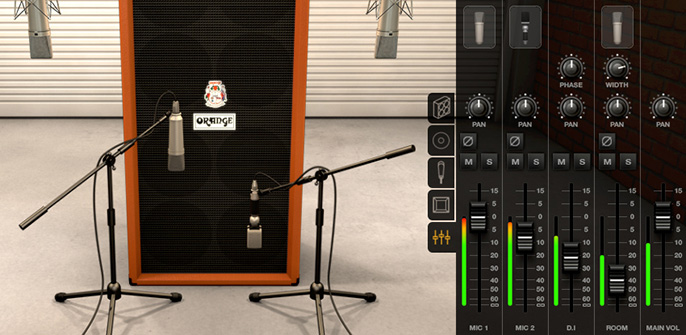 Now you can custom mix all of the audio components in one easy to use mixer — speaker mics, room mics, direct amp signal (that's right… you can even blend a little DI into the mix!) and control the entire volume level with a master fader. Never before has it been so easy to get hyper-real!