UNO Synth Editor allows users to take full advantage of all of the features on the UNO Synth and is available for both stand-alone or plug-in use on Mac, Windows, and iOS.
---
The UNO Synth Editor is a plug-in and standalone app that lets you access all the parameters of IK's groundbreaking UNO Synth, the real analog synthesizer for everyone. TheEditor lets you go beyond the front panel controls and access deeper programming settings like full 4-stage ADSR envelopes for both filter and amplitude, pulse width and waveform shape modulation of the oscillators, modulation wheel assignments, velocity control and much more. The Editor does not make sound on its own. Rather, it is a controller for the UNO Synth hardware that gives you remote control of this innovative instrument from your computer or mobile device.
Analog and digital studios meet
The editor can be used as a software plug-in (Mac/PC) for all major DAWs including Ableton Live, GarageBand, Logic, Pro Tools, Cubase, Studio One, Reaper and more, for seamlessly creating, storing and recalling settings in a session.
For iOS* mobile musicians, the editor is also available as a free download for both iPhone and iPad, with full support for the new iPhone X. The UNO Synth Editor app offers all the same great control as the Mac/PC version.
*A lightning to USB adapter is required; iPhone/iPad operation requires battery power.
Virtual control with realtime response
For more precise control, the editor incorporates a full-size GUI that maintains the same look and feel as the UNO Synth hardware panel, while offering deeper programming settings and new sound sculpting options. Users can easily access functions on an intuitive virtual panel that offers even more ways to shape their sound.
For extreme flexibility, UNO Synth responds to parameter changes from the editor in real-time, while the editor can track changes made on the UNO Synth's front panel. All edits can also be saved directly into the UNO Synth, for instant recall.
The editor can also be used to change the operation of the Uno Synth's front panel knobs to suit different users' hands-on preferences. Three modes can be selected – Absolute, Relative and Pass-Through – to determine how the knobs behave when moving between different parameters, based on the user's preferred style of operation.
Create amazing sounds
The editor's Synth panel includes virtual knobs that allow users to easily tweak and edit synthesis parameters such as the oscillators and envelopes, fine tune additional control parameters, animate performance effects and much more. In addition, a full 88-note virtual keyboard is included, as well as virtual pitch and modulation wheels.
Specific Synth Panel sections include:
Oscillators and envelopes – this section lets users modulate waveform shapes for each oscillator via LFO or the filter envelope. Pulse width (Classic PWM) can also be modulated in the same way. In addition, full ADSR access is provided for both the filter and the amplitude envelopes for creating sweeps, punchy basslines, and more.
Amount knobs – users can control UNO Synth's five performance effects, by setting the speed of the DIVE and SCOOP pitch effects and setting the depth of the VIBRATO WAH and TREMOLO, adding instant and deeper animation. For even more precise control, additional Amount knobs are provided for ModWheel, Velocity, Delay Mix and Time, Pitch Bend and Glide.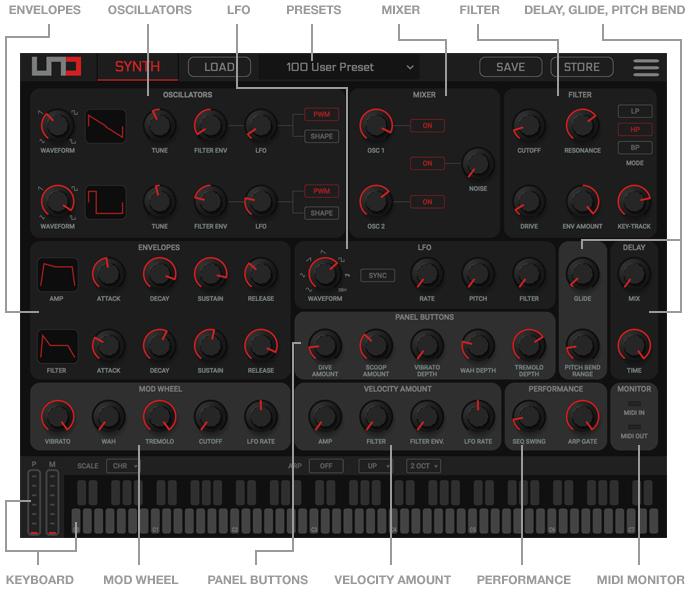 Make your preferences known
The editor software is also useful for setting preferences. A dedicated menu allows an array of options to be set, ranging from MIDI routing to knob behavior selection. Users can adjust all MIDI settings including In and Out channels, Sync, Overflow and Soft Thru.
Connect your rig
UNO Synth can be configured for convenient integration in an existing rig. Users can map MIDI routings to freely assign communication across both the MIDI DIN ports and USB ports. Outboard gear and virtual apps can be instantly connected, enabling UNO Synth to be used as both a MIDI interface and MIDI controller.
Set and save
Presets stored on the UNO Synth, a Mac/PC, or an iPhone/iPad can be loaded into the editor for further refining. Edits can be saved directly in the editor, or loaded back into the UNO Synth, computer or iPhone/iPad. When used with a DAW, the UNO Synth editor will also recall settings from the previous session.
About UNO Synth
UNO Synth is our first entry in the hardware synthesizer world. We have created a no-compromise instrument with massive analog sound that's also easy to use with hands-on programmability and advanced features at an unbeatable price. With both classic and modern synth sounds instantly at hand, UNO will put a smile on the face of synth fans of every musical genre. All this in a synth module that can be easily carried anywhere.
How to obtain
The UNO Synth editor is available as a free download for everyone. For the Mac/PC version, visit www.unosynth.com/editor; for iOS, visit the Apple App Store. To get started make sure to download the necessary firmware update here.
For more information about the UNO Synth editor, visit: www.unosynth.com/editor
For more information about UNO Synth, please visit: www.unosynth.com
To see UNO Synth in action or watch the tutorial series: www.unosynth.com/video