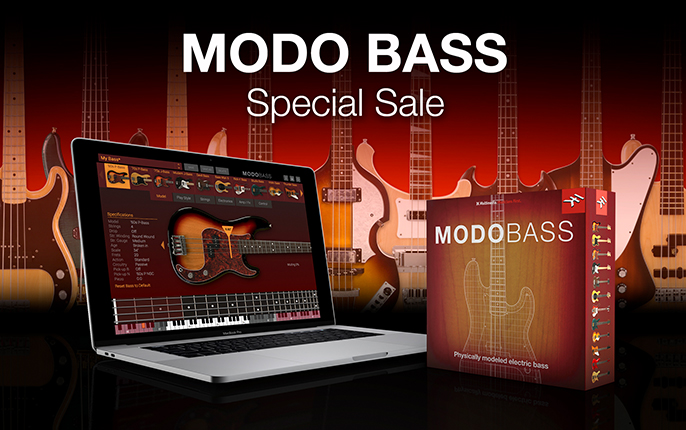 Save up to 40% off the breakthrough physically modeled electric bass virtual instrument for Mac/PC
1 August 2018
IK is pleased to announce our special sale on MODO BASS®, the breakthrough physical modeling technology virtual instrument that brings a completely new level of realism and playability to your recordings. From August 1st through September 4th, 2018 you can get MODO BASS for just $/€179.99. That's 40% off the normal price of $/€299.99. Eligible crossgrade users can save too and get the crossgrade version for only $/€129.99 during this special promotion.

MODO BASS is a customizable physically modeled virtual bass instrument that recreates the sound of the electric bass and how it's played in real time - from all of the physical instrument components, the human technique of how the instrument is played, to the entire sound signal chain with effects and amplifiers.
Buy MODO BASS now

MODO BASS contains a collection of 14 physically modeled iconic electric basses that span the history of bass sound in recorded music - more bass models than available in most other virtual instruments. Every detail of each bass has been meticulously analyzed and modeled to capture their true sonic character. But the sounds available with MODO BASS extend far beyond the 14 modeled basses — with the available customization features, users can craft virtually every electric bass sound imaginable. MODO BASS is able to produce an unmatched and unlimited palette of bass sounds because everything can be customized.

MODO BASS also comes with 7 bass stomp boxes and two classic bass amplifiers derived from our flagship software AmpliTube. You'll have full control over the signal path with a configurable 4-slot pedalboard and send that signal to a classic all-tube amplifier and 1x15 cab or the powerhouse solid-state model with a 4x10 cab.

Don't miss out on this great opportunity. Get MODO BASS today from the IK Online Store for just $/€179.99* or $/€129.99** for crossgrade qualified users.
JamPoints ARE valid on this promotion.  Although IK strives to provide accurate product and pricing information, unintentional pricing or typographical errors may occur. All prices from the IK online store exclude taxes and may vary by country. IK reserves the right to correct, change, or update information such as pricing, availability and product descriptions, at any time without notice.
*All prices excluding taxes.
**Any previous purchase of an IK Multimedia product with a value of $/€99.99 or more qualifies for crossgrade pricing.