IK Multimedia is pleased to announce the newest UNO Sounds preset pack from DTOX. 
UNO Sounds is your one-stop-shop for exploring over 600 NEW sounds we've curated for UNO Synth Pro, UNO Synth and UNO Drum. All the latest collections will be announced right here.
---
DTOX
Saw basses, poly keys and leads from Designer and Producer DTOX
Quantity: 32 presets
Style: '80s focused
Daniel "DTOX" Wisniewski is an industry-leading Sound Designer and Music Producer. He has worked with many artists including John Legend, Aretha Franklin, G-Unit, Nas, Lou Reed, Jay-Z, and Mix Engineer Tony Maserati. DTOX has DJ'd countless Hollywood mega clubs in addition to his songs being licensed thousands of times for TV.
The presets in this pack are inspired by the '80s-ish sounds used on his EP "ELARA" which uses a variety of saw basses, pitch varying poly keys and leads, along with FX, which also can be played chromatically or simply used as transitions.
The goal for DTOX in designing these patches was to show the capabilities of the UNO Synth Pro, especially the routing matrix section. In his words: "This area of the synth is so important when designing interesting patches using basic wave shapes with only three oscillators. Looking at this section on each patch will give you a better understanding of what's happening under the hood and inspire you to create your own unique tones."
---
Zardonic
Signature presets from the king of Drum & Bass and Metal
Quantity: 30 presets
Style: Drum & Bass / Industrial / Metal
UNO Synth Pro users, hold on to your pants! As part of our new FREE monthly preset packs for UNO Synth Pro users, we are pleased to announce this pack from the undisputed king of Drum & Bass and Metal: DJ Zardonic.
With almost two decades of experience, Zardonic has a tour history of hundreds of events across 40 countries, as well as remix clients ranging from Bullet For My Valentine to Fear Factory, music features on All Elite Wrestling (TNT), World Series Of Fighting (NBC Sports), SUPERHOT, Synth Riders, Redout 2 and many more to come.
His sound design ethos is decidedly straightforward: to push the limits of all synthesizers he gets his hands on. The result is a mind-blowing, epic collection of sounds ranging from Drum & Bass to Dark Ambient, Industrial, Heavy Metal, Soundtrack and everything in between.
---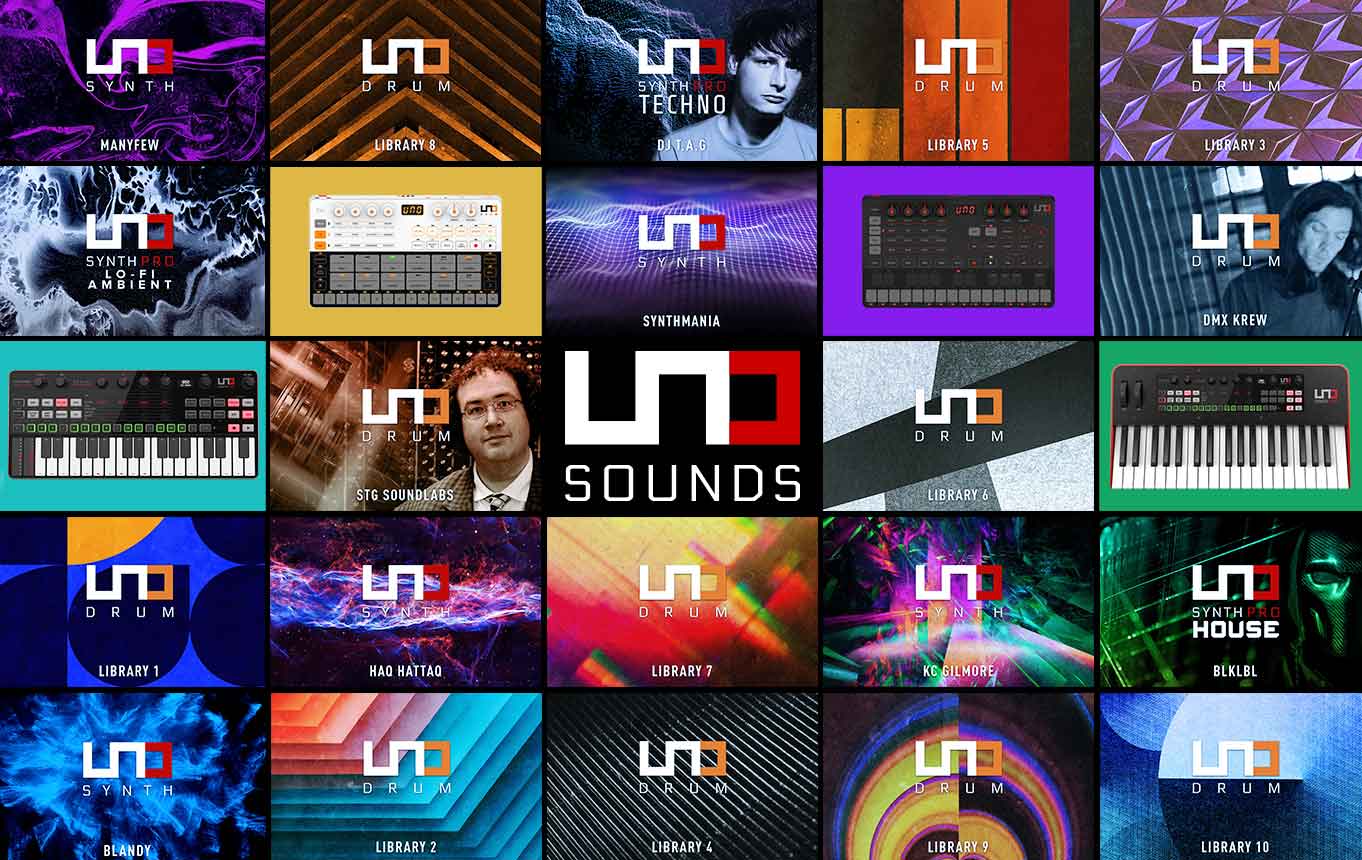 All UNO Sounds are FREE to registered users and can be downloaded from the IK Product Manager. Use the Product Manager to update your firmware and find the specific editor for your UNO. Then load any of the presets detailed at UNO Sounds and make them your own.
For the synths, you'll find sound collections from respected artists, DJs and designers, and for UNO Drum, more vintage kits from legendary brands.
We love new sounds as much as you do. We're excited about the new collections to come and will be updating UNO Sounds as we continue to release presets.
Check back regularly or follow us on Instagram, Twitter and Facebook for the latest news @ikmultimedia.
Share your creations with the hashtags #UNOSynth, #UNODrum and #UNOSynthPro for a chance to be featured on our pages!
Learn more at UNO Sounds