Sound On Sound has just published a detailed review of IK's UNO Synth Pro praising its sound and design. Both the desktop and the larger keyboard models are considered and there's a section that discusses the new UNO Synth Pro Editor. Below are some extracts. A link to the full review follows.
Pros
Very easy to use while remaining highly functional
Great-sounding core architecture
An excellent onboard reverb
Integrates well with a studio or DAW
Summary
"You might say that this is the moment for IK Multimedia to show whether or not they are serious about synthesis, and the answer is that they very much are.
The UNO Synth Pro is not just ideal for budding synthesists; with quality at its core it will stand up in any synth array.
What are the standout features of UNO Synth Pro?
"It shouldn't come as a surprise that accessibility is the name of the game with IK, who have made every effort to engineer a synth that offers easy navigation and quick results for users of all abilities. This they have very much achieved.
"Straight out of the box I was creating presets, dialing in effects and adjusting modulation routing without so much as glancing at the quick-start guide.
When it comes to the core engine of the UNO Synth Pro, I'm happy to say that its three oscillators sound good. Really good!
"My general metric for the quality of an oscillator is the sound of its triangle wave by itself, and the UNO Synth Pro stood this test.
"The twin filters offer a variety of modes. This is because the two filters are different: one is an OTA-based (operational transconductance amplifier) switchable high- or low-pass two-pole filter, while the other offers two or four-pole modes and is based on Sound Semiconductor's SSI2164 VCA.
"The onboard sequencer is generally intuitive and flexible in its functionality, as is the arpeggiator. Steps in a sequence are easy to record and edit on the fly, and it even has the option to play a metronome when recording in real-time.
The desktop version, sitting comfortably beside my main keyboard workstation, syncs effortlessly with a DAW (as one would expect from IK) and could be used for all sorts of things, from sequencing other instruments to serving as a simple outboard effects unit with its ability to process external audio.
Expansive Onboard Effects
"The effects on the Synth Pro are, for the most part, laudable. Based on prior experience of onboard synth effects I didn't have high hopes, but I have to say I am very impressed. The FX section of the UNO Synth Pro is worth having for the quality of the reverb alone."
UNO Synth Pro Editor
"The UNO Synth Pro Editor allows seamless and detailed integration with a Mac or PC. Available as a standalone application or as a plug-in, it gives quick access to all the Synth Pro's parameters. Usefully, the editor also allows easy organization of a potentially massive library of presets, expanding its storage capabilities enormously."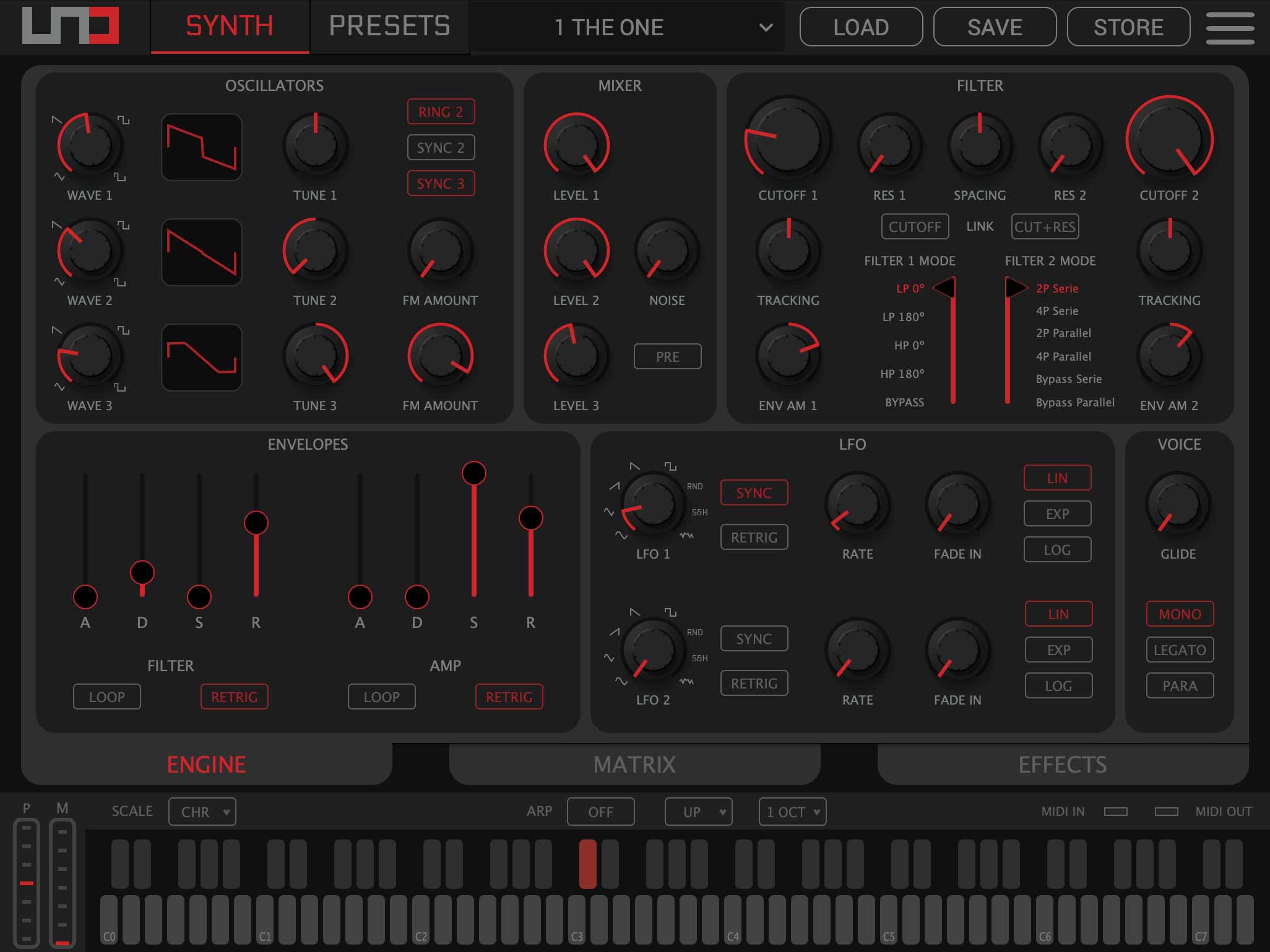 Sound On Sound Conclusion
"The UNO Synth Pro nicely demonstrates many of the benefits of a digital-analogue hybrid, further widening its appeal to those who might not feel confident diving into the purist world of analogue to have their synth needs met. Considering its almost wildcard status, the UNO Synth Pro is surprisingly powerful.
The onboard effects are surprisingly good. The full-size keyboard felt surprisingly nice. If there's one takeaway from all this, it's that maybe we shouldn't be surprised anymore.
"IK have proven themselves in the analogue synth arena with an instrument that will not only meet the needs of those looking for something affordable, accessible, reliable and playable, but which will hold its own in any studio or live setting."